And the Next 'Sharknado' Title Is … 'The 4th Awakens'!
In Syfy's long history of so-bad-they're-(maybe)-good original movies, none has taken off into pop-culture consciousness more so than the Sharknado franchise. For the past three years, eager fans of guilty-pleasure B-movies have anticipated the summer release of the latest installment, ready to snark on Twitter about the latest C-list actor to become shark bait. Syfy's announcement of a new installment's subtitle has also become eagerly anticipated, starting with the second one (cleverly subtitled The Second One), and continuing last year with Sharknado 3: Oh Hell No! (a little better).
RELATED: Sharknado 3: Let's Talk About That Insane Ending
Now, Syfy has announced the title and date for Sharknado's upcoming fourth installment. Sharknado: The 4th Awakens will premiere on Syfy July 31 at 8/7c. Punning nicely off of the title of the recent smash Star Wars: The Force Awakens (not to mention kind of referencing another Star Wars pun, "May the 4th Be With You"), Syfy's latest Sharknado epic has already cast franchise newcomers Gary Busey, Tommy Davidson, Imani Hakim, Cody Linley, Masiela Lusha and Cheryl Tiegs to costar alongside returning stars Ian Ziering as Fin, Tara Reid as April, David Hasselhoff as Gil and Ryan Newman as Claudia. More casting is expected to be announced "soon."
RELATED: Sharknado 3 and the Cycle of Intentional Garbage
Syfy says that Sharknado: The 4th Awakens takes place five years after the events of Oh Hell No! Fin and his family are supposedly living sharknado-free, but you know that can't last, and sharknados do start up again in "unexpected" places and ways (it will be interesting to see how much more "unexpected" the films can get, given that the last one involved sharks attacking an orbiting space shuttle).
The 4th Awakens will also reveal the outcome of the fan-voted #AprilLives or #AprilDies campaign, and since the Sharknado movies are Tara Reid's highest-profile regular gig in recent years, I'm guessing she's hoping very much for the former.
Sharknado: The 4th Awakens, July 31, 8/7c, Syfy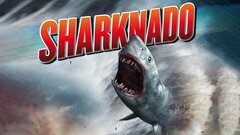 Powered by