'The Last Sharknado' Director & Cast Reflect on Final Movie in Franchise
If TV right now is a pool of prestige programs, the Sharknado movies swim in the shallow end. Campy and brazenly proud of their lo-fi effects, these made-for-cable disaster yarns have been a summer staple since Ian Ziering's Fin Shepard first faced a storm swirling with the carnivorous fish back in Syfy's surprise 2013 hit. But it's time for the franchise to cut bait.
With each installment, "I always was thinking, if we ended this, how would we do it?" says Anthony C. Ferrante, the director of all six movies, adding that he ultimately went for closure. "Instead of ending it obliquely or depressingly or with a big question mark, it's like 'This is the end,' and it's appropriate for every one of our characters."
See Also
And 'it's not the Brits they're fighting' says star Cassie Scerbo.
Picking up right after Sharknado 5: Global Swarming's apocalyptic epilogue — Fin, wandering a devastated Earth carrying the head of bionic wife April (Tara Reid), encountered the future version of his missing son (Dolph Lundgren) — The Last Sharknado immediately starts swimming around time. "The crux is that they have to stop the sharknados that have happened and [find] the reason they happened in the first place," explains Ferrante.
Along the way, there will be what sounds like the resurrections of characters who have bit it in the past; visits to the Revolutionary War, Old West and Jurassic periods; and, of course, the sea of guest stars we've come to expect. So far, Vivica A. Fox (reprising her role as Fin's old friend Skye from Part 2), Alaska from RuPaul's Drag Race, La Toya Jackson and Tori Spelling and hubby Dean McDermott have been announced, and you can definitely count on more.
See Also
Plus, she gives the scoop on her upcoming daytime talk show, her memoir, and if she'll return to soaps!
Sadly, the same can't be said for Sharknado. "All good things come to an end," muses Ziering after six runs through really choppy weather. His next project: a zombie flick. "After dealing with sharks, I should be able to handle them!"
The Last Sharknado: It's About Time, Movie Premiere, Sunday, August, 19, 8/7c, Syfy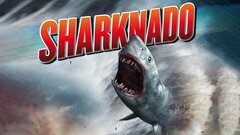 Powered by