'Sharknado's Tara Reid Among New Cast of 'Marriage Boot Camp Reality Stars'
WEtv's reality trainwreck Marriage Boot Camp Reality Stars—a.k.a. the show where most of the couples aren't married, but they're in "marriage boot camp" anyhow—has announced its cast for Season 5, which premieres in June.
Here's the latest crop of 15-Minutes-Of-Famers who will fight amongst themselves under the watchful eye—and occasionally helpful tutelage—of husband and wife "camp directors" Jim and Elizabeth Carroll and their associates Ilsa Norman and David Bishop. And some dubiously placed surveillance cameras that make the show super fun. And sometimes gross.
RELATED: And the Next Sharknado Title Is … The 4th Awakens!
• Sharknado princess Tara Reid and her equally tan main man Dean May, who both share an affinity for writhing on tables and have no real specific serious-dating history that I can scare up.
• Bachelor in Paradise stars Michelle Money and Cody Sattler—requisite representatives of the Bachelor franchise—who are a sure bet at acing this thing, since Money announces she's "done" before the "challenging exercises" can even begin. Someone always, always does.
• America's Next Top Model Cycle 5 winner Lisa D'Amato and her doomsday prepper hubby Adam Friedman, a guy with a fear of everything and a fondness for the d-word. Divorce. Not doomsday. Although it's kind of the same thing, where Lisa is concerned, even though he doesn't much cotton to her freewheeling lifestyle.
• Wee little Brittish Williams and her towering man Lorenzo Gordon, stars of VH1's Basketball Wives L.A., whose path to the altar is apparently lined with other women.
• Toya: A Family Affair stars Toya and Memphitz Wright, who have discovered that affording Memphitz that infamous eight-day "hall pass" does not keep him in the marital classroom the rest of the time.
RELATED: What's Worth Watching: Reality Stars Hash it out in Marriage Boot Camp
Montel Williams guest-stars on the June 3 season premiere, hosting a Marriage Boot Camp Reality Stars talk show designed to nicely pick the scabs off of everyone's relationship booboos and get the ball rolling for the Carrolls.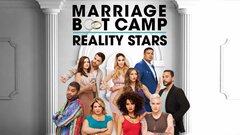 Powered by