'Shark Tank' Knits Together Some Bearded Hat Fun (VIDEO)
VuixuvDp
Will things be jolly on Shark Tank, when Beard Head stops by hoping to stir up a "perfect storm of success"?
On the fall finale, Beard Head founder David Stankunas aims to impress the sharks with his quirky knitwear hat business, considered "the largest bearded headwear brand in the world." He hands out samples of knitted Santa hats and knight helmets to an amused and enthusiastic crowd.
But one potential obstacle looms: shark Robert Herjavec points out, "Haven't I seen this before?"
RELATED: 17 Holiday Episodes to Make This December Merry and Bright
Whether Beard Head will be rewarded is yet to be seen, but other ideas that will be considered on the fall finale include: high-tech Christmas decorations (think synchronized musical trees), pop-up greeting cards, and all-natural deodorant created from activated charcoal.
Watch this exclusive clip as David explains what makes Beard Head completely original while the sharks also grill him about some numbers.
Shark Tank, Fall finale, Friday, Dec. 10, 9/8c, ABC
RELATED: Get a sneak peek of other ABC fall finales: Last Man Standing | Dr. Ken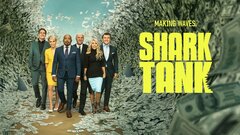 Powered by