The 'Supernatural' Guys on Reaching 300 Episodes, On-Set Pranks & Other Burning Questions
Despite Supernatural's gunslinging ghouls, evil archangels and multiple apocalypses, laughter is never more than a few minutes away on its Vancouver set. While shooting in mid-September in the horror show's Men of Letters bunker (the Winchesters' home base), any cast member's flubbed line sets off a torrent of quips and witty retorts.
It's this natural chemistry, first between Jensen Ackles and Jared Padalecki as demon-hunting brothers Dean and Sam Winchester, then adding in Misha Collins (their angel ally Castiel), that's helped make Supernatural the network's longest-running series — 14 seasons so far! ­— and fueled an army of passionate viewers.
After an Ackles-led private tour of the cavernous set, TV Guide Magazine sat down with the trio to talk all things Supernatural, boosted by fan questions. The mood was celebratory and, naturally, punctuated with good-natured teasing, particularly of Collins, who hadn't filmed since August 13.
"Cas has been written out," Padalecki states, straight-faced. With a resigned smile, Collins says, "I really missed you guys." A grinning Ackles responds, "I bet."
Jared and Jensen, what do you remember about your auditions?
Jared Padalecki: Everybody was reading for Sam.
Jensen Ackles: He was the pivotal character then. After I did two scenes, [executive producers] David Nutter and Eric Kripke were having a sidebar, and I interjected, "Can I just read the Dean character and see how that plays?" And they turned to me and said, "That's exactly what we were saying. You're Dean, not Sam."
Padalecki: We were already network-approved by The WB: I was on Gilmore Girls and Jensen was on Smallville, but the rumor goes that when I was floated for Sam, Kripke said, "I don't know, I'm looking for someone bookish, like [David] Duchovny." My manager was like, "Jared was a National Merit Scholar. He can pull it off." I always tease Kripke for thinking I was too dumb to play Sam.
Ackles: That's why he looked at me and said, "He's not a Sam." [Laughter]
Misha, you signed on 10 years ago. How did these two treat you when you first arrived?
Misha Collins: Like I was a pledge at a fraternity that has a really heavy hazing ritual.
Padalecki: In all fairness, you were weird. His second day on set, we saw Misha staring at us with this enigmatic look. It kind of freaked me out.
Collins: I was afraid you were going to beat me up!
Ackles: So he does what any new recruit would do.
Collins: Any self-respecting actor…
Ackles: He hides in the grip truck. And I'm like, "Does he know he has a trailer?"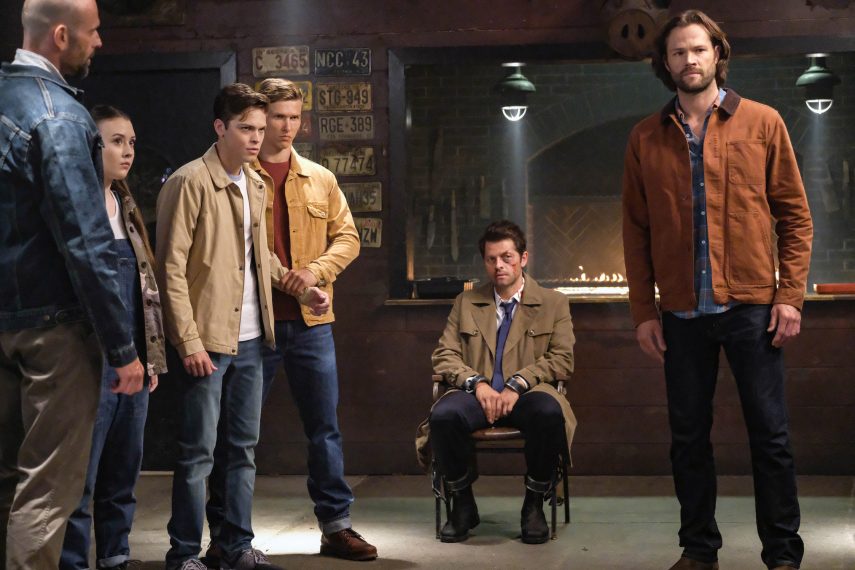 Here's your first fan question. Lisa asks: What's the worst prank J2 have pulled on you, Misha?
Collins: When I was directing, Jared had a pie in his hand, threw his hips into it and hit me in the face.
Ackles: The whipped cream that didn't hit you was 30 feet away on the back wall.
Collins: I was lucky he didn't break my nose! But the true trauma was after. Jensen gave me a fresh T-shirt and I got cleaned up. Then he pied me!
And now you're approaching the 300th episode, which will air in early 2019. How does that feel?
Collins: At the end of Season 5, we had the 100th episode party, and someone joked, "See you at the 200th party!" and everyone was like, "Yeah, f**k off." Then someone made the same joke at the 200th. I was like, "Yeah, right." I just opened an invitation today to the party for 300.
Do you have a favorite episode?
Ackles: It's like asking a band that's put out 47 albums!
Collins: The meta episode, "The French Mistake."
Padalecki: I agree. The sheer absurdity that we were playing ourselves — well, Dean and Sam, but called Jared and Jensen. It's funny, because we didn't really play ourselves.…
Collins: I played the douchiest version of myself.
Padalecki: And you went all in.
Besides those in the room, which character do you love and would want to try out?
Padalecki: Lucifer, who I briefly played. Mark Pellegrino did a great job as our most recent Lucifer. Sam's relationship with him has always been special to me.
Ackles: John Winchester. The history he's given the brothers is very rich: losing his wife, raising his sons in this volatile lifestyle and the sacrifice he made for them. I love what [Jeffrey Dean Morgan] did so much, I've been trying to emulate it for 13 years as an homage.
Collins: Chuck [Rob Benedict], aka God. [That character] worked on multiple levels because God is writing the Winchesters' story.
When we pick back up this season, Alternate Universe archangel Michael has taken up residence in Dean's body. What's his game?
Ackles: He's building an army of supermonsters. He doesn't see much in the human race to salvage, which is an interesting dig on where we are as a society. He believes that the angels — one of whom is Sister Jo, played by my wife, Danneel — are corrupt as well. He ends up going with vampires because their desires are pure. All they want is to feed.
Viewer Janessa asks: Is Dean consciously fighting against Michael?
Ackles: He is — he's aware of what's happening.
Emily wants to know: How will the possession change Dean?
Ackles: I was told by [executive producer] Andrew Dabb that what Dean experiences as Michael will come back to haunt him. I'm not quite sure how yet.
Another fan query, this time from Shaun: Is there any possibility Sam or Dean will have a relationship or kids?
Ackles: No. We saw that kind of attempt at domestication early on. As soon as they invite someone into their world, [that person is] instantly a target.
Padalecki: But the writers could add more flings or one-nighters in the Letters' library.
This is an abbreviated version of TV Guide Magazine's latest cover story. For more on Sam and Dean's romantic relationships, the future of the show, and the rest of our conversation with Ackles, Padalecki, and Collins, pick up the latest issue, on newsstands Thursday, October 11.
Supernatural, Thursdays, 8/7c, The CW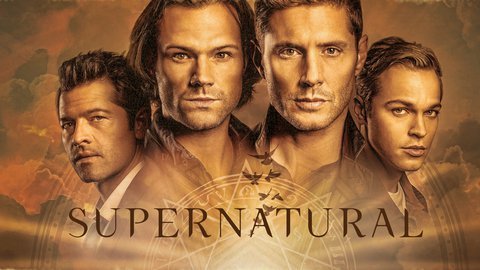 Powered by