The 'Supernatural' Guys on Brotherhood & Their All-Important Fans (Including Stephen Amell?) (VIDEO)
It's arguable that Supernatural has the best fans in the biz — after all, they've kept the show on the air for 14 seasons!
The stars of the CW series, Jensen Ackles, Jared Padalecki, Misha Collins, and Alexander Calvert, seconded that opinion when they stopped by the TV Insider and TV Guide Magazine suite at San Diego Comic-Con 2018 to chat with Damian Holbrook about the show's enduring popularity after all of these years.
See Also
Plus, is there a chance he and Jared are related in real life?!
It all comes down to their loyal viewers, and there's a reason why fans still connect with the series.
"The show has great mythological storylines on it that are often drawn from Biblical mythology," Collins explains. "But this show is grounded in these very relatable characters, this family dynamic that everybody can relate to."
That family dynamic is grounded in the tight-knit relationship between the guys — a brotherhood, if you will. And that includes newer addition Calvert, who says he's been fitting in quite nicely — aside from a little hazing from Padalecki, Collins, and Ackles.
On the subject of fans, Ackles admitted to stanning for Peaky Blinders' Tom Hardy. Plus, all of the cast members weigh in on their #1 fan Stephen Amell (Arrow), and his very specific autograph.
All that and more in the clip below!
Supernatural, Season 14 Premiere, Thursday, October 11, 8/7c, The CW
For more exclusive content from your favorite shows like Supernatural, Arrow, and more, pick up TV Guide Magazine's Special Comic-Con Issue, on sale now. It's an all-access SUPERFAN guide with 88 pages of behind-the scenes photos, scoops, and interviews .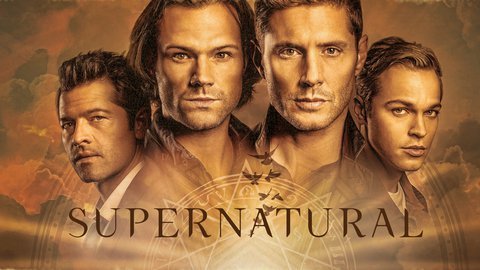 Powered by