6 Reasons to Watch Louis C.K.'s 'Horace and Pete'
If Louis C.K.'s HBO series Lucky Louie and an off-Broadway play had a fling while his current FX series Louie looked on, their knowingly depressing, world-weary offspring would be something like Horace and Pete. C.K. released a streaming series on his personal website to surprised fans on Saturday, and the accompanying news update—titled "A Brand New Thing from Louis C.K."—didn't give would-be viewers much to go on, except that the first episode clocked in at 67 minutes and cost $5.
But the opener of the difficult-to-define series sets the stage for a multi-generational family drama centered around two men, Horace (C.K.) and Pete (Steve Buscemi), who both co-own and operate a 100-year-old dive bar in Brooklyn. Even though a few Horace and Pete reviews are already out, here are the reasons why we think you should put $5 in C.K.'s pocket and look out for more eps as they become available, however many there will be.
Update: In an announcement that went out to fans via email on Thursday, C.K. explained that episode 2 of Horace and Pete is currently shooting and will be released on Saturday, Feb. 6. The second episode will cost $2, and each episode after that will be priced at $3.
It's a quick way to get a Louis C.K. fix while Louie is on hiatus.
Many of the themes and stylistic idiosyncrasies that C.K.'s fans have come to expect from his comedy and TV series are on full display here, in a characteristically experimental, albeit more dramatic, format. Horace and Pete is reminiscent of the intentionally low-production value sitcom spoof Lucky Louie (largely due to the presence of sitcom vet Alan Alda and the Cheers style setting), but the list of comedian guest stars and the subplots related to fatherhood, politics, aging, American entitlement and apathy also call to mind C.K.'s more recent work.
It's unclear when Louie will return to FX, with C.K. having gone on hiatus to pursue other projects, so excluding producer credits like FX's Zach Galifianakis vehicle, Baskets, this is the only way to get a direct dose of Louis C.K. in the foreseeable future.
RELATED: Louis C.K. and Albert Brooks Working on an Animated Fox Pilot
Alan Alda and Steve Buscemi play two different Petes.
Louis C.K. himself does a fine job starring as Horace, and Edie Falco and Aidy Bryant deliver commendable performances as his sister Sylvia and his daughter Alice, respectively, but the two actors who play different characters with the same name are the ones stealing the show.
Steve Buscemi plays the younger Pete, who runs the bar with Horace while struggling with health insurance and medication levels. After remaining in the background for a while, Buscemi flexes his acting muscles in the episode's final act with a monologue that stands out among the rest of the show's dialogue. Alan Alda, on the other hand, is Uncle Pete, the willfully ignorant, intentionally offensive old-timer who clings to the traditions of an imperfect past. As the older Pete, Alda delivers a standout, love-to-hate-him performance.
The supporting cast is just as memorable as the leads.
Some of the show's most pointed political and social commentary, and one of its poignant moments of surrealism, come from conversations held by side characters—without the direct involvement of Horace or Pete. Among the most memorable side characters is the Assistant DA, played by Nick DiPaolo, who, after getting caught in a discussion about job satisfaction and the expectation of upward mobility, reprises the role of conservative political foil he's played on Louie in the past.
Updated references make scenes feel really fresh.
It's clear that certain scenes from the first episode were written within the last few days. Timely references to the Trump/Fox feud and the 2016 Super Bowl prove that C.K. intended the show to be completely current upon its release.
Scenes with up-to-date references don't have too much bearing on the plot structure, but it's an interesting accomplishment for a scripted drama to be topical with such specificity and to implement stories from the current news cycle before they go stale.
The stage style adds more intimacy to the story.
Louis C.K. is a comedian who can make effective use of both absurdity and brutal realism in his work. Horace and Pete, with its two sets, long, uninterrupted static shots and theater-style lighting and sound production, skews toward the latter, trading in some of Louie's subtle surrealism for the frank emotional immediacy more common on the stage.
It's jarring at first, but just as with a live play, after a few minutes, a feeling of closeness and intimacy with the proceedings overrides mental barriers, which leads to engaging character drama.
Paul Simon sings the Horace and Pete theme song.
During the episode's brief "intermission" and the end credits, the former Simon & Garfunkel singer performs the somber Horace and Pete theme song, which he also wrote.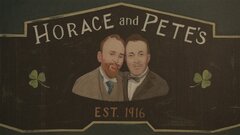 Powered by