Louis C.K. and Albert Brooks Are Working on an Animated FX Pilot
Louis C.K. is joining forces with Albert Brooks to make an animated pilot for FX.
The pair will create and write the pilot, as well as voice the two lead roles, according to the Hollywood Reporter. The name and concept of the show are not yet known.
Louis C.K.'s namesake Louie is currently on a hiatus at FX, while his new series Baskets, starring Zach Galifianakis, will debut on the network Jan. 21. Brooks, known for his work in films like Broadcast News and Drive, has worked in television via stints on Weeds and The Simpsons. Brooks also famously voiced the clownfish on the hunt for his son in Finding Nemo.
Brooks and Louis C.K.'s voices can also be heard together in the animated film The Secret Life of Pets, hitting theaters this summer.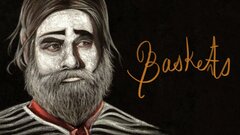 Baskets
where to stream
Powered by