Katherine McNamara: 'Shadowhunters' Season Finale Is Brutal, Heart-Wrenching and Deadly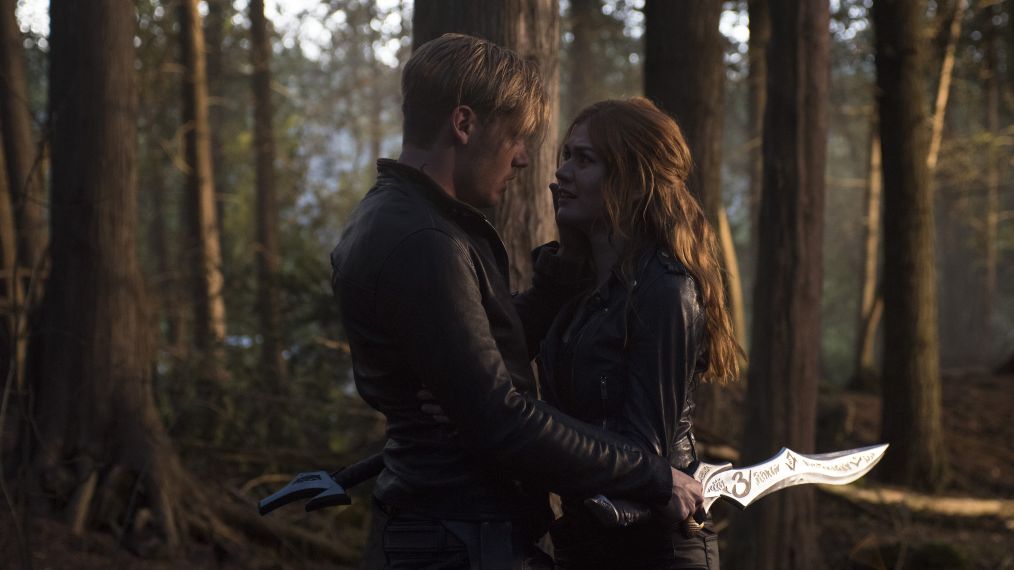 You didn't really think the second season finale of Freeform's Shadowhunters would be any less than heart-wrenching, right?
Those are the words star Katherine McNamara (Clary) used when TV Insider chatted with her about Monday's episode. In addition to the usual life-and-death stakes, McNamara talked about the fact that Clary and Jace (Dominic Sherwood) are back in each other's arms, whether Jonathan/Sebastian (Will Tudor) is truly gone and, of course, what's next for Magnus (Harry Shum, Jr) and Alec (Matthew Daddario) given the recent Malec rough patch.
Clace is back ON! Will this be a good thing for the battle they have coming in the finale?
Katherine McNamara: This is an exciting moment for Clace because for the first time in the series, both of them are in a place where they are open to exploring what this connection means and what a relationship could be like for them. Up until this point, one or the other has been either suppressing their feelings or avoiding the situation whereas now, they have an opportunity and they seem to be taking it. Their connection has been electric from the beginning, but in that tracking rune scene in 2019, we finally got a glimpse of the true power their feelings for each other can have. This kind of raw emotion activates their angelic powers in a way that exceeds anything we have seen until now and they will need that power if they want to beat Valentine (Alan Van Sprang) and the Seelie Queen (guest Sarah Hyland).
Clary and Simon are in a good place but might we see some love triangle-ness again once Simon finds out about Clace?
Clary and Simon (Alberto Rosende) are in a good place and I think, at least for now, it will stay that way. Simon realizes that what Clary and Jace have is much different than what he and Clary have, and he has been able to move on for the most part. It wasn't easy for either of them but in the end, Clary and Simon are more solid than ever now that they've been through the impossible together. Simon and Jace are building a respect for each other as well. I think he will be happy for them just as Clary is happy for him and Maia (Alisha Wainwright).
How scared should we be for Maia, who we saw is definitely not in a safe place in last week's episode?
Without spoiling anything, let me put it this way. The Seelie Queen is the most powerful, and some might say most manipulative, being in the Downworld. She wants Simon all to herself. The only thing standing in her way in her mind is Maia. She now has Maia in her grasp…our favorite beta is in a bit of a precarious situation. The good news is Luke and Simon are onto the Queen's meddling… the bad news is, well, we've seen the lengths she will go to in order to get her way. Dire consequences will assuredly result.
Without spoiling too much, have we seen the last of Jonathan? [Will Tudor is just too good to let him go!]
I can neither confirm nor deny the death or life of any of the characters at this point. We teased major deaths by the end of the season and even though there is only one episode left, we haven't seen the last of the brutality of this world. Look, Jonathan is one of the most deadly and most powerful beings in existence, so don't underestimate him, but Jace had a pretty solid blow… Regardless, danger is still prevalent as Valentine is close to having all of the mortal instruments in his grasp as well as allying himself with the Seelie Queen. Things are not looking good for our heroes.
See Also
What's going on in Central City now that Barry's gone? Tons, apparently.
Everyone's freaked about Magnus and Alec being apart. How would you describe any Malec moments we may see in the finale?
Regardless of where they stand in their relationship, there are certainly a lot of Malec scenes in the season finale. We have seen in the several clips and trailers they have an epic battle with a new demon that is quite intense. Magnus and Alec love each other and always will, but the issue that has come between them is their duty and responsibility as leaders to their people. Both have such loyal hearts that they are quite literally torn apart by being forced to choose between their love and their duty. Ah, but the course of true love never did run smoothly.
Valentine and the Queen truly aligned now can't be good for our heroes, right? Is bringing them down the ultimate goal in the finale?
Let me frame it for you in this way, Valentine has been the source of the majority of evil and destruction in the series thus far. The Seelie Queen is the most powerful being in the Downworld who will do literally anything to manipulate her way. Plus, we all know that Seelies will always align themselves with what they believe to be the winning side…as such, you can only imagine what these two are planning… but yes, stopping Valentine's plot is one major peril in this finale but we have lots of surprises up our sleeve.
One surprise a lot of folks don't know is that my first single, "Ember," is on the soundtrack for this episode and is being released after it airs on the 15th. I wrote "Ember" just after shooting season one of Shadowhunters. It was partially inspired by the characters in the story but mostly inspired by events that happened in my life. We all have moments where we doubt and we question who we are and what we think we're supposed to be because some thing or someone or some event has caused us to second guess. In spite of that, there's always a glimmer of hope, and ember in the ashes that still burning and is ready to reignite at any moment. That is what "Ember" is about—that moment of reignition.
Three words to describe the season finale??
Brutal, heart-wrenching, deadly.
Here are videos from the cast from the TV Insider Studios at San Diego Comic-Con in July:
Shadowhunters, Season Finale, Monday, 8/7c, Freeform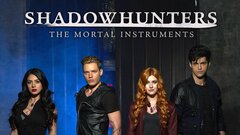 Powered by