'Shadowhunters': Harry Shum Jr. on Malec Obstacles and Getting That Spell Book Back
Now that Malec have taken a big step in their relationship (yes, they slept together) on Shadowhunters, Magnus (Harry Shum Jr) and Alec (Matthew Daddario) have bigger things to worry about moving forward. Besides continuing the fight with the Shadowhunters against Valentine (Alan van Sprang) and saving the Downworlders, Magnus also is frantically wanting to find his spell book, which was taken from him in last week's episode and could cause a lot of trouble if it lands in the wrong hands.
TV Insider talked to Shum about just how dangerous it is for Magnus to be missing his book as well as when we might see more romantic moments with Alec.
How dire is it going to get now that Magnus has lost his book of spells?
It's a really, really bad thing. Counter spells can reverse everything! All the good that has been done, all the warlock policies, all the magic that has been done, at least with the help of the Downworlders, and even on the outside aspect of the Shadowhunters. I think it's really, really bad. It's very, very bad.
See Also
Matthew Daddario fills us in on what it's like kissing Harry Shum Jr now that Magnus has facial hair.
Is it going to be awhile before they find it or does it get picked back up in the next episode?
You would love to hear that answer, wouldn't you? [laughs] The thing is Valentine is always two steps ahead so whatever everyone else is thinking, he's always finding ways to get ahead, especially with the Soul Sword and having this mortal instrument that would destroy so many Downworlders, if not all of them. That's something that obviously is in dire need of Magnus and now the Downworlders to try and stop. I think, for the Shadowhunters, it would be a smart thing to not let a border or wall in between the Shadowhunters and Downworlders because as you saw in last week's episode, when they work together, they also have the strength of what Downworlders can bring.
What's the next obstacle for Magnus and Alec because it looked like there's definitely some heated moments coming in the next episode?
There are a lot more. I think with Magnus and Alec, this is still so new but at the same time they're really feeling a lot more comfortable. You saw Alec really be in a position to tell his mom, "this is the way it is, so you either have to accept it or not. I'm trying to ease you into it but at the same time, you need to give me a little bit to work with." As you saw, Magnus wasn't initially open to it but became open to it. I think their relationship is growing stronger and when it grows stronger, you're also going to have different mindsets on how things are dealt with that they need to figure out just like any relationship. I think it's just cool that the fact that they're acknowledging they're boyfriends and the fact that Alec came to Magnus and was like, "Look, this, what we have right here, it's not going anywhere," and for someone to say that, I think that's a big deal in any relationship.
So much has been about Alec adjusting to this new part of his life but does Magnus have any adjustments he needs to do in this new relationship?
Yeah, he's never been with a Shadowhunter so I think that's a big difference. I think with anything, these are experiences that people read in books but when then they do experience it, it's a completely different story. At least having the knowledge helps a little to know what you're dealing with but that feeling of being completely different and not feeling accepted, I think it's going to be an obstacle for him. Luckily, he has Alec on the side who will hopefully fight for him and at least try to understand as opposed to push him away.
RELATED: Sign up for TV Insider's Shadowhunters Newsletter
I know I had some people tweeting at me that they were bummed out we didn't get to see more of Alec and Magnus in the boudoir so I'm curious if we will see some romantic moments moving forward?
Oh, definitely you'll see romantic moments. One thing I'll say to that is that the cast, the writers, and the producers, we all care about all the relationships and we all always champion the idea of showing the progression of the relationships. Specifically for Malec, and I can speak for Matt, we always try to play it as real as possible. There will be a lot more romantic moments coming up while trying to battle Valentine and hopefully not getting killed in the process! [laughs]
I love the scene with you and Dominic [Sherwood, who plays Jace] talking about how Jace senses that Magnus and Alec had gone that next step. There's something really comical about the fact that Jace is aware of what's going on in their relationship, isn't there?
You forget that [Jace and Alec] have the perabatai bond and I think they wrote that brilliantly. Jace's line of, "I know…" and I'm like, "Oh, whoa!" [laughs] I think that was really, really funny but it also shows the relationship, the bond that they have and it's so important that Magnus realizes how important that is to not just Alec, but to Jace as well. Even though Magnus doesn't really like any Shadowhunters besides Alec, he's cozying up to knowing that their intentions are good even though he knows the history of the family line and the Shadowhunters in general. I thought that was a well-needed scene and it was good to see those two have that conversation.
Moving forward, is everything pretty much about saving the Downworlders?
It starts to head towards the direction of a life and death situation. It's always been that but I think when someone as evil as Valentine gets hold of such a destructive, almost nuclear bomb, you're in dire need for protest and try to fix that and do as much as possible because if things aren't done quickly, or react quickly, then you're gonna have a situation where the Downworlders might not exist anymore.
Here is a clip from this week's episode of Shadowhunters:
Shadowhunters, Mondays, 8/7c, Freeform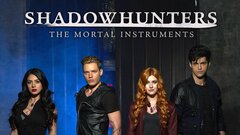 Powered by