Bruce Campbell Gets Blinded By Blood in 'Ash vs. Evil Dead'
When the Evil Dead franchise rises again with the Starz series Ash vs. Evil Dead this fall, fans can expect the same amount of guts and gore that made the 1980's horror film series so iconic.
"People ask me how much blood there is going to be," said star Bruce Campbell (Ash Williams) at the Television Critics Association press tour on Friday. "I went blind the other day shooting a scene. I've been gagged once and went blind."
Ash vs. Evil Dead, which premieres its 10-episode first season on Halloween night, finds the monster hunter with a chainsaw hand being forced to confront his past when a Deadite plague threatens to destroy mankind. He's joined by Lucy Lawless (Xena: Warrior Princess) as a mysterious new character named Ruby. "She's a powerful adversary for Ash," said director and executive producer Sam Raimi. "She's someone who can be formidable and kick his butt, but she's also a human being with some heart and soul."
RELATED: Starz Partners With Antonio Banderas
Campbell and Raimi both admit the audience demand for more Evil Dead installments has always been passionate, and the half-hour episodes on Starz will hopefully reinvigorate the franchise for old and new fans alike. "This is better than a fourth movie, and I think this series will force us to make more movies," Campbell said. "This is unrated because it would be silly for us to give fans a watered-down version of this series, so we have no content restrictions whatsoever."
Ash vs. Evil Dead premieres Saturday, October 31 at 9/8c on Starz.
More TCA Coverage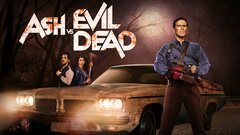 Powered by