Bruce Campbell on the Extraordinary Tales Coming to 'Ripley's Believe It or Not!' Reboot
Rather than the Necronomicon Ex-Mortis, it was a red cloth-bound Ripley's Big Book that Evil Dead star Bruce Campbell couldn't take his eyes off of as it regularly sat on his shelf. So, when the actor was approached about hosting Travel Channel's reboot of the beloved Ripley's Believe It or Not! series, it was an easy sell.
"It makes sense," he said. "A lot of people who are my fan base are very … let's just say, 'interesting' people. It's a pretty good fit for the extraordinary characters we are documenting."
The show comes as the iconic Ripley's brand celebrates its 100th anniversary. Campbell, also an executive producer, follows in the footsteps of the likes of Jack Palance and Dean Cain, who have hosted previous TV series versions of the franchise that began life as a comic strip and has also been featured on radio over its lifetime.
Before having your mind blown watching the stories of the incredible, strange and awe-inspiring, we sat down with the new host about what to expect.
You got to shoot the show in the Ripley's Warehouse in Orlando. What was that experience like for you?
Bruce Campbell: It's as cool as you would think. Shrunken heads and giant people and costumes and molding departments because they swap out all the displays for all of the museum. You start to realize the extent of Ripley's. The warehouse is enormous. It's a very Indiana Jones type of warehouse. You wouldn't expect it. It's sort of this unassuming warehouse. The treasures they have collected really are amazing. They've kept them going and curated them. One of our best-known collectors in the world as far as companies that collect stuff. They still collect stuff. Just that part out of curiosity alone was just great.
You talk about the fan base you have. What do you think you bring to the table as a host that maybe even past hosts haven't?
I know 'amazing' when I see it. As an actor, I've been around 40 years now, so I've done some stuff and been some places. I think I have a pretty good idea what is amazing and what is normal and what is not normal. Everybody in this show is pretty much a jaw-dropper in some kind of way from the visual arts to the physical impairment to ways they overcome it. Things they do to change their body. Things they do to their body. Things their body can withstand. There is a lot of natural wonders as well. We're going to look at that as well. Just in the natural world, things that are extraordinary.
There is a great message here in today's world about inclusion and embracing what makes us different and stand out. How do you think the concept for this show fits in today's environment, within this YouTube age and people doing all these crazy things on viral videos?
It helps us find the people. We are grateful to YouTube and Instagram, who have tons of followers already. We're going to be highlighting some people who are already popular. We're just going to give them another platform. What's amazing people have their own footage that they've shot themselves that is HD good quality. Everyone is a lot more media savvy, so it's easier for us to find them and translate their footage on to television.
Watching the first episode, you see things like a couple getting hitched while standing on a thin net strung 800 feet above a canyon in California. Looking at the 10 episodes, what are some of your favorite stories that we're going to watch?
I'm a sucker for the human overcoming adversity. The natural world is fine, because it's natural and odd, but it's part of this crazy thing called life. I like when humans overcome problems. A guy with no lower half to his body becomes an incredible balancing performer. A guy who lost lower half of his body gets back on a motorcycle. People who have lost limbs figure out ways to keep on going.
It's a very positive show as far as what it says about humans. So, what is kind of nice about is not necessarily focusing on the oddity, but the triumph. It really is jaw-dropping what some of these people do. It's hard to list them all because with 10 episodes, you're talking about six segments per show. That's 60 stories. I couldn't possibly list them, but they really are impressive.
I think another aspect that is great is the educational component, using diagrams and information to give people a look at what's involved for them to do these extraordinary things.
It's infotainment. It's more uplifting than down. It's a sunrise show, not a sunset. We're showing people who had a problem, then showing what they're doing to overcome it or how are they going to meet that challenge. Some person who is given an amazing gift, what are they doing to enhance something to share or give back. There are beautiful stories here.
In additional to hosting this show, you're getting a chance to further flex your acting muscle in other projects as well. You've gotten great response for your work on Lodge 49. After all these years in the business, what is it like to still be able to challenge yourself in new ways?
The joke is I started hosting industrial stuff in Detroit back before anyone ever saw it. I'm sort of back doing it again. Things are sort of cyclical. I used to host these industrial films, talking to the camera and how things are working. That was 30 something years ago, so it's funny to get back to that now. It's new material at the same time. Ripley's is great. I just love the bottomless pit of stories we have.
What were some of the industrial videos you did?
I did some things for Chrysler. I did the cross-section of seats for the Chrysler seats versus the Chevy seats versus the Ford seats We went through which was more comfortable and ergonomic. Things only dealers and car salesmen would see.
It's been a year since Ash vs. Evil Dead has left our screens. Do you think we will see another incarnation or installment within the Evil Dead universe, with or without Ash?
We'll see more Evil Dead, that's for sure. There is an Evil Dead video game out. A fully immersive video game probably within a year. I'm not sure about the day. There will be variations of that. There won't be the original Ash anymore. That guy is done.
How do you think the universe will change compared to when you started out and what we've seen since?
Actors have a different challenge now. Actors are now looking at tennis balls on sticks. When we did the first Evil Dead, we used live ammunition on set. So, it's a different world now. Everything is different. Everything is fake now. You're on fake sets with a green-screen or blue-screen. And you're not talking to actors because they're not there because there are different sides that have to be filmed and at different times. It's a new skill. It's much more technical than it used to be, which is fine. We adapt. We are adaptive creatures, but it's not as much fun though.
One thing that is real are these Ripley's stories.
They are. The human factor really draws me into this.
Ripley's Believe It or Not!, Series Premiere Sunday, June 9, 9/8c, Travel Channel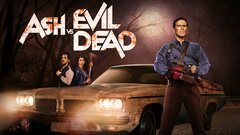 Powered by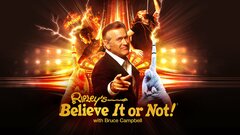 Powered by