Conan Goes to Cuba (But Where Should He Go Next?)
The late night talk world has seen quite a fireworks show over the last few weeks: Jon Stewart's The Daily Show retirement announcement, John Oliver's triumphant return, the media blitz surrounding James Corden's impending debut as host of CBS' Late Late Show. Under the cover of all that flash, Conan O'Brien snuck off to Havana to become the first late night host to visit Cuba since Jack Paar in 1959.
The trip has been packaged into an hourlong travelogue episode airing tonight, and the tone is a little different from previous excursions. "I did not want this to be a snarky American comedy take," O'Brien says. "I wanted to go as a comedian making fun of himself and trying to make people laugh."
The wheels began turning in December when President Obama declared his intention to end America's five-decade embargo against Cuba. Inspired by Paar's visit, and eager to be the first non-news show on the ground, the Conan team reached out to a production company who procured a letter from Ministry of Culture inviting the show to film in-country. This, the company assured them, eliminated the need for special visas.
Not quite. After deplaning, O'Brien says, "We were greeted by a very genial man who goes, 'Your papers?' So we hand him this form that we'd been told takes care of everything, and he looks at it and just says, 'NO.' And he folded up the paper and walked away. We sat there for an hour and a half, we have no phones, no internet, no idea what was going on." O'Brien, his assistant, longtime producer Jeff Ross, and one Conan writer were convinced they'd be stranded: "We didn't tell anyone at the company we were going," says O'Brien. But just when hope seemed to fade… "The next thing we know, we're being handed visas and we're on the other side." No explanation, no apologies.
The actual filming went off without a hitch over the next four days. O'Brien describes the Havana residents as warm, funny, and curious about how America views them. "I didn't get into how people feel about the Castro regime," he says, "and I don't think they wanted that either, but I told them polls were overwhelmingly in favor of normalizing relations with Cuba, and they were very happy to hear that."
Success! The positive reception for this particular trip gave us a few ideas for other not-officially diplomatic missions Conan could attempt, too:
Venezuela: O'Brien's Spanish is pretty good, though he claims to need a day or two of adjustment to really get into the groove, and this is a crucial election year for the hobbled South American country. Potential downside: Getting eaten by one of the myriad giant reptiles that reside in the Amazon.
Greece: If anyone can convince the Greeks not to defect from the eurozone, it's … well, maybe not Conan, but at this point he's worth a shot.
Germany: The whole "spying on our own ally" snafu isn't something that can be smoothed over with a state dinner. O'Brien's special brand of "joke's on me!" humor could do a lot to reassure Chancellor Angela Merkel we really are sorry for hacking her phone in 2013. Also, lederhosen.
North Korea: He couldn't possibly hurt relations any more than Seth Rogen and James Franco did with The Interview, and the Supreme Leader seems to be fond of tall people.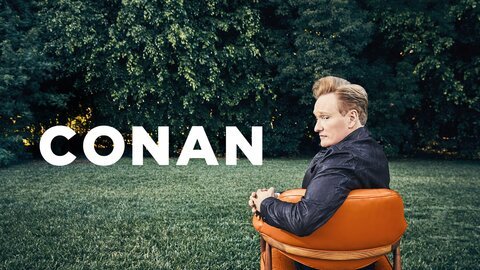 Conan
where to stream
Powered by