James Corden Wants His Late Late Show to Be More Than Viral
James Corden isn't yet a household name in America. Actually, he's not even a household name at CBS' Television City studios in Los Angeles, where The Late Late Show with James Corden will be taped.
"I couldn't get in the other day," he says with a laugh. "I went out to get some sushi and didn't have my pass. The security guard was going, "Dude, I can't let you in." Corden even pointed to a billboard with his face, but the guard wouldn't budge.
That will all change soon. Corden takes over The Late Late Show on March 23 with first guest Tom Hanks. We sat down with Corden in his still-empty Television City office to discuss his new show, and adjusting to his new life in Los Angeles.
Earlier today you stood above Fairfax and Beverly for three hours on a billboard to promote the show. How did that stunt go?
It went great. It's a promo, so it's all in the edit. But it was warm, really warm.
It went viral.
Did it?
Well, a couple of Tweets.
I hardly think that's viral. A couple of Tweets. You're very kind.
Next up are test shows. But are you ready to go? Itching for March 23 to come and get in the chair already?
I don't know. That fluctuates. Sometimes I think I'm really ready, and other times I think, "What the hell are you doing? This is a complete disaster waiting to happen."
Which feeling is overriding the other right now?
Oh, it's a complete 50/50. And that can change minute to minute. But I'm excited for what the show will be, and can be. What it will be in its first incarnation will not be what it ends up as. No other late night show has achieved that, so why should we be any different? I'm excited to see it in six months' time. I'm excited about when we've ironed out the knots and we smoothed the edges and know exactly what it is. Hopefully, please God, touch wood, we might know who our audience are. And then we'll know who we're talking to.
Who do you think you'll be talking to? Do you have a sense of the viewers you might attract to the show? Who's going to discover you first?
I don't know, but all I know is we don't want to make a show that excludes anyone. We don't want to make a show that says to people, "You're not welcome here." We want to make a show with arms that are wide and whose reach is long. And says, "If you're in for fun, this is where you want to be at this hour."
Looking at the set…
What do you think of the set?
It looks like a cocktail party. It's got a working bar, it's stocked with vintage record albums, and it looks like a comfortable lounge.
I hope so. I hope it can feel like that. I'm so aware that the show is on immediately after another talk show. What we have to do is create an environment that feels fresh somehow. That respects the traditions of late night and honors them, but also feels organic and vibrant and fresh and new in so many ways. All you ever want people to say about the show is, "I just don't know what it's going to be tonight." That's a reason to tune in and I hope it feels like that.
It sounds like you're hoping to do more of panel-style talk show, where the guests all come out at once and riff with each other. Sort of like Graham Norton in the U.K. or Rove McManus in Australia. That format hasn't really caught on here yet.
I don't know why it hasn't, and I hope it can. Because I think America will enjoy it. I feel like people will really enjoy seeing people interact in that environment. A singer, athlete, actor, author and a movie star. From what I know about America, I think it's a country that will respond to that. It's whether the guests do. That's our hurdle, that's our leap. I hope they will see something refreshing and a warm environment where actually you shine more in the presence of other people than you do in a singular environment.
It looks like you've got a strong roster of guests in week one: Tom Hanks, Will Ferrell, Kevin Hart and Kerry Washington.
Yeah, week three doesn't look so good. We just want to make an environment that the viewers at home, the audience in our studio and the guests feel that this is a place they are valued and respected. All we want people to do is shine and have fun. That's it. No one is ever going to be blindsided on this show. There's not going to be an agenda of anything.
Talk about getting to know your music director, Reggie Watts. What's your dynamic going to be like with him?
I've got no idea, and find that to be the most exciting thing of all. He's amazing and I'm a fan. I feel very lucky that I'm going to get to sit and watch him every night. I don't want to ever know what he's going to bring. I don't want to be in a situation where I'm trying to give a fake laugh on something we rehearsed that afternoon. I want it to be an environment where I'm laughing. Our time slot allows us to have that freedom. If we were making this show at 11:30 I would be talking to you about the tentpoles and home comforts that people want, need and require in that slot. There is an element of structure to those shows that the audience at home appreciates and hangs on to. But in our time slot at 12:30 we have a freedom we have to embrace. We have to give people a reason to not fall asleep.
That, and there are so many shows now, and so many more coming, that you've got to stand out. You've got to have clips that people pass around and say, "Did you see James Corden last night?"
Yes, but then, you can't think about that in that sense. If we want to create a viral clip right now, we should just strip naked and run down Sunset Boulevard. We would gain viral traction like that. If you want to make viral clips, make viral clips. Go jump off a building. Millions of people will share it. What we have to do is make a great show. People will share it. The more I realize it, the success of the show will come down to effort. Audiences appreciate effort.
These are time-consuming jobs, and I'm sure you thought about that before accepting it.
I haven't had a job that hasn't consumed my life for years. When I was in One Man, Two Guvnors on the West End, I would leave my house at 9 a.m., get to my dressing room at 10 a.m., I would write a TV series I wrote for the BBC called The Wrong Mans, we would write all day in my dressing room until 5, then I'd eat, sleep for 20 minutes and do probably the most exhausting three-hour play I'll ever be in.
I haven't had a job that isn't all-consuming. Into the Woods, all-consuming. Gavin and Stacey, all-consuming. The joy of this job is that every night, whenever I finish, I get to go home and get into bed with my wife. And if my son needs me or my daughter needs me in the middle of the night, I'm there. Whereas last year I was shooting in Johannesburg for six weeks in a prison, I was on a junket for Into the Woods where I was away a lot and that was just in the last few months.
Now, every Saturday I wake up, and my son wakes up at 6 a.m., which is when Premiere League Football is on NBC, so I sit with him and it's wonderful. I feel very lucky that I have a job that requires me to give my everything. Most people don't but want to. You need work. People need to work.
How has the move been?
Good, but hard. Two jet-lagged children.
You got choked up at the Television Critics Association press tour talking about having to move away from your extended family.
Yeah, it's tough. I owe it to the grandparents and aunties and uncles that we left behind, to really make this a success. It's worth tearful goodbyes at airports and it's worth Facetime calls at 5 a.m. This will be a really great place to bring up my family. I can see it. I can see what our life as a family looks like. That my son will be able to be outside so much of the day. Between me and that vision is this show. Which I have to get right.
It seems like CBS will give you time. They can't expect too much from you over the summer when drama repeats replace David Letterman as your lead-in.
The summer is going to be a fucking nightmare. We're going to be following NCIS repeats. We even had an idea the other day, you know how they do that show Talking Dead? We don't know what we're following, but to start some show like Talking CSI Repeats. "Whoa, that was a hell of an episode!" We have to embrace that really and actually the mark of our show will be after we follow Stephen Colbert for six months. I think his show is going to be brilliant. I'm so excited to see it.
That's how I ended up getting this job, I met [CBS CEO] Leslie Moonves and [CBS Entertainment chairman] Nina Tassler about something else and I told them how spectacular I thought the Colbert decision was, and how deftly they had done it. What a class move. David Letterman says he's stepping down, and seven days later they announce a multi-Emmy award winning writer and host. It was seamless. You've only got to look back in the road to see how difficult that is to do. Books have been written. They just got it right. But that's how I ended up here. I told them, "Wow, what an appointment." I went flippantly, "This really frees up a space for you to take a bit of a risk."
How has CBS been since then?
Just amazing. I felt incredibly lucky. The only shows I've ever written are for the BBC and they are a supportive network where they really give freedom to creatives. I didn't know if I'd ever work for a corporation like that again. I was under the impression they were one of a kind. I have never experienced a level of support that I've had from Leslie, Nina, [CBS TV Studios president] David Stapf. The three of them have been incredible and their willingness to patience in this is admirable. And I genuinely believe it. This is going to take time, but you're not taking over Late Show from David Letterman. Don't get me wrong, I'd give anything to have the Tonight Show's resources. I daydream about show we could create. I think it would be amazing. But it's not where we are and it's definitely not where I am. So this is going to take time and we have to make use of the resources we've got and the small staff that we have. But you know, we've got Reggie.
You're going to have the summer to experiment. So it does seem like by the time Colbert premieres, you'll have a better idea of what the show is.
There's only one way to find out, buddy. Sink or swim, it's going to be interesting to watch. And if it doesn't work – which it might not—there is nothing to say the kid in Nebraska or the couple in Ohio or the grandparent in Michigan is going to buy into me or this. No reason to say that they will. But if they don't, it's not going to be because we didn't try. And it's not going to be because we didn't try and do something original. That's all I really care about. If it doesn't work, we tried. And good on CBS for giving it a shot. And good on us for trying. But honestly, if you ask me right now to bet which way I'm going, genuinely I fancy our chances. I feel like we're in a landscape where people might be ready for it and thirsty for it.
So earlier you said you were 50/50.
I'm 51. 51/49.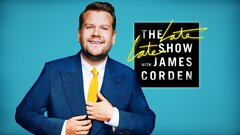 Powered by