Ahead of the 'Bones' Series Finale, Creator Hart Hanson Reflects on the Show's Run
As Fox prepares to air the Bones series finale on March 28, series creator Hart Hanson looks back at the journey to reach 246 episodes.
What was it about David Boreanaz and Emily Deschanel that made you know they were right for Booth and Brennan?
We cast David first. I didn't even need a meeting when [now-chairman and CEO of Fox Television Group] Dana Walden said, "Would you consider David Boreanaz?" I was going, "Yes, I'll take him." We had been looking for our leading man for a couple of months, and I didn't want a pretty boy. The idea was to have this incredibly strong female lead, I wanted a guy, so we had lots of sparks. We'd seen some very good man-boys. [Laughs.] And David is incredibly that guy; he's an American male. He has a retro feeling to him.
That gave us our next huge problem: how to find the woman who would go toe-to-toe with him. Two of the [finalists] were very solid. One was safer. The other was Emily, who had never done a TV series, but had done some independent films. When [she and David] did their read together, they had chemistry, and I got excited. Emily pulled into the front position for me…I still figured I'd have to go in and argue for her against this more established actor.
But then at the reading in front of the network and studio, there was this moment with David and Emily where he stepped toward her. He just steps toward Emily, and Booth was trying to establish himself as the alpha with Brennan, and she just steps toward him. It sounds like a simple thing, but it was her instinct and it was electric. Everyone in that room was a pro, and knew chemistry when they saw it—I didn't have to make any argument at all. It was obvious they had this chemistry. Chemistry is impossible to find. When you see it in a scene, you are the luckiest people on the planet. Here we had this incredibly chemistry between these two and bam—12 seasons.
When did you realize the show had legs?
I think it was the fourth episode ["The Man in the Bear"]. Off they went to a little town in the mountains, together, and [there was an] amount of comedy to tension. To me, I thought this was one of those network shows that could go forever, like Magnum, P.I. or X-Files.
[However,] I expected us to not be picked up for the back nine. After we got it, I didn't expect to be picked up for a second season. Later we got picked up for two seasons in a row. That's when we kind of thought, oh, we're now something that could go many years before they decide to cancel it.
The other thing is, we got moved all over the place. The fact that that didn't kill us…by that second and third episode in a new slot, there that audience would be; they found us. I'm not sure if Fox would have realized what a powerful little hit Bones was if they hadn't tried to kill us. [Laughs.] They never really tried to make us a hit…but we were a mighty little program you schedule around. That gave us a certain longevity that maybe if we hadn't had the chance to prove that, we would have been canceled as not a bad performer in a protected slot.
There was also the constant threat of a move to Fridays…until they made the move, the show held up, and they moved you back.
[Laughs.] That's us in a nutshell. We were just their utility player, which is simultaneously flattering and extremely insulting. [Laughs.] But mostly flattering, by the way. During all those years at Fox we had one secret weapon, ninja supporter at the network: Preston Beckman, the head of scheduling. Preston liked Bones and fought for us every single season. He never wavered.
I'm proud of our show. I've never worked on a show where there was so much camaraderie between cast, crew, writers and producers. Everyone liked working there. There was very little drama behind the scenes.
To this day, David and Emily, if you know them as human beings, there's no way they should get along. You could not find two people who were more predestined to irk and irritate each other. And they're fantastic friends. They took care of each other offscreen. They were very sibling-esque offscreen and behind the scenes. That's the other reason we went forever: You've heard all those stories of what happens between co-leads on series; they tend to really dislike each other. Ours didn't.
The show also established the supporting cast from the start. What discussions were had about laying that groundwork early on?
That was part of my philosophy. I was hired to make a long-running show on network TV. The industry has changed a lot since then, but the goal of a network show in 2005 was to get to 100 episodes; get to syndication. It's just a truth for that to happen that you have to have a deep bench. We were really careful in our casting of the secondary characters; we put a lot of thought into their storylines. And some of the toughest changes on Bones were made early on as we solidified that necessity. [We] brought in Cam to be where the rubber meets the road; a more involved character than the head of the Jeffersonian.
[Jonathan Adams, who played Jeffersonian boss Goodman in Season 1] is a lovely actor and a wonderful presence onscreen. That was a bad design; I couldn't get him into stories. Later on, the strength of the show was David and Emily out in the world together…[but] we needed to tell more stories in the lab. That meant bringing in the rolling interns to keep the lab fresh. And Cam was a part of that, too. It was all a hard part of the meat and potatoes of making a network show with a deep bench.
What was the network/studio reaction to the squinterns, especially when it became clear they would continue to rotate versus landing on just one?
They were up for it as we explained what it did. I'm still shocked by how many of them we were able to bring back. It became a bit of a chestnut of who had availability, because we didn't have any of them exclusively. I don't recall us getting a lot of pushback on that after the network realized that the audience had their favorites, too. Social media was a very good sales tool for us, because we could point to our loud, wonderful audience on social media who would argue about who they liked most and who they wanted to come back. The minute people are doing that, you can see it's a good element in the show. It raised interest in the show. You rolled the dice and it worked, thanks to those incredibly good actors.
The other thing that I've never seen before is those actors are very good friends. [Laughs.] They met through the show, they're hardly ever on the show at the same time, because there are very few shows where we had more than one intern in. So they were competing for time on the show—some of them were depending on it for rent while they looked for other work—and yet, they're still really close friends. [Laughs.] It's the strangest thing you've ever seen.
What do you remember about the internal conversations about the timing of Booth and Brennan getting together?
They were constant at every level. Everyone did have an opinion, and there are many opinions you disregard. We had lots of people with stakes who had an opinion about when that should happen. Very few people questioned "if," but at the beginning of every season, we'd go "What if they don't?" and we'd debate that. And then we would discuss when. The idea was if we were going to get them together, we'd do it at the last possible moment.
And then the strangest confluence of events: We knew they would sleep together after Vincent Nigel-Murray's death to take comfort, and we knew then we'd have to contend with that. That was when Emily whispered to me she was pregnant [in real-life] and we went with that. We put it off as long as we could without—I'm not saying we didn't piss off anybody—we pissed off lots of people—but there's nothing wrong with people being mad as long as they don't abandon the show. Which, it is really difficult to see negative input as a positive. But it is.
Finally, I felt it was time. My pal Stephen Nathan felt it was time. The first people you want to talk to are David and Emily, and they felt it was time. And I'm pretty sure when we pitched it to the studio and the network, they were both like, "Oh, thank God." [Laughs.] They had been pretty good about not trying to force us into it. I hate to praise network and studio executives, but they were pretty good.
During your time on Bones, your studio deal had you creating other shows, too. What led to you ultimately deciding to fully step back?
I went off to do pilots, and each time I came back, it seemed unfair. Stephen Nathan would take over running the show. And I would be gone for the latter third of the season, and then back for the last couple of episodes. I went away to do [Fox's] The Finder, which went for 13 episodes, and came back to Bones and thought this is getting to be unfair to Stephen Nathan. He was always gracious about it, which is probably why it made me feel guilty. When I went off to do Backstrom, I said to Stephen, "If this works, I'll go do that, and I'll be an executive producer and advise you, but you'll be the showrunner. If it doesn't go, same thing: I'll come back and be your right-hand man."
I have a really good relationship with [Bones studio] 20th [Century Fox]. I was on an overall deal with them for like 15 years. My decision was I've got to see what's out in the world. I'm not going to have an overall deal with anyone. I wanted to write a book. The world had changed, and I had been in a submarine for a long time in the studio system.
Stephen was running the show, and then it was time to replace Stephen, and in came Jon [Collier] and Michael [Peterson]. By that time, I was like their crazy uncle saying, "I would do this, I would do that." But they were running the show; there's nothing worse than the old showrunner coming in and mucking it up. I tried to hand over the show to Stephen and Michael and Jon without interfering with their vision. And the fact is they did a bunch of things I wouldn't have done. Which is precisely the way it should be; invigorate the show and have a new view in there. You're either on the bus or you're off the bus. I was increasingly off the bus.
Given all of that, what was it like being on set for the series finale?
It was really complicated. I stopped going to set because I really thought it was time. Whenever I walked on set [before], I could hear set PAs whispering into their intercoms, "Dad's here." [Laughs.] Which is horrifying, by the way.
"For me and them, I just thought I have to stop going to set. I talk with actors all the time, but I thought I'm not going to go to set and stand behind the monitors like I run the show, because I know what would happen: The actors would come up and start saying, "We should do this" or "How about this?" which has always been a great thing for me; listening to actors talk about their characters is great. The focus goes to the showrunner on set, and I wasn't the showrunner. I thought I didn't want to usurp that.
"I hadn't been on set for an extremely long time; I had seen actors, but I hadn't been on that stage. So, it was the amazing and delightful [co-writer of the finale] Karine Rosenthal who was like, "You should come at least one more time." She's often my human conscience.
The other thing is I didn't want to because it's painful. It's very painful to walk away from a show. My best friend ran it after I did, but I imagine it would be like trying to stalk an old girlfriend who had broken your heart on Facebook. It's painful, and a complicated set of emotions. So I went on the last night we were shooting on the set. You saw what it looked like, which was its own thing. That brought tears to my eyes. I knew it was going to happen, but Jesus, they did a good job.
And then there's everybody; time slips away. My pal [long-time Bones director] Ian Toynton was there, and all the [main] actors. It was incredibly emotional. It was emotional watching them play their characters, and they were playing out the final scenes. And then when we broke for lunch—David was the director—and we broke to take the cast and crew photo on the platform. You do it every year, but this is the last time. And so we stood there, and then speeches broke out, spontaneously. From department heads, actors, directors, and, of course, the actors are the best at these sort of things—and then it was my turn.
I turned around to face everybody on the platform—and I still get emotional [thinking about it]—and there they were; the village, everybody, looking at me. There they were, the people that made this show for 12 seasons. We lost some people. People died. Babies were born. It was a village for 12 years. I could imagine the people that had been there and gone on to do other things.
When you make something like this, you get really close. You really bond with people. Especially if you argue with them and have different opinions. It was one of the most amazing experiences of my life. I have no idea what I said, because there was nothing to say. It was them. It was those 120 faces looking at me. I was beaming back love at them the way they were beaming at me. It was very, very emotional. They shot a couple more scenes on location after that, but I never had the guts to go back again. [Laughs.] I'm a weak, weak man.
They also shot deep into the middle of the night on location.
Yeah, it would have been anticlimactic. But when I talk to people who are becoming showrunners, you do so many things wrong. The one thing I did right, that helped in so many ways, was on Friday nights, in the first few seasons, I would stay until they were done—and that's often deep into Saturday. For one thing, I put them there. Whatever reason they were there until that time in the morning, it was my fault. But also, that's when you talk to crew, the department heads, and you check in; you take the temperature of the production…because it's 2:30 in the morning and you're trying to stay awake. People get the giggles. I did that for several seasons before I got too old and realized I couldn't do that and show up for work on Monday morning. There was a part of me that thought I should go for that last night.
What does it mean to you to have Bones be Fox's longest-running live-action series?
It is everything. Very early on, when we were the little engine that could, that was the image we had: we were marathoners. Every year there is a show that is the bright and shiny apple. Every year, there was a show that was going to replace Bones, through now five network heads. We were the tortoise every year. That worked; our reward came late. No one particularly loved us early on. We had our fans, but we were never a network priority.
There were even network heads who didn't want to talk about us…they didn't love Bones. Our vindication is just surviving this long. It's a lot like life; if you live long enough, they just start to like you. It's really gratifying that what we set out to do we did: entertain people and repay the loyalty of the audience by sticking around. That was why it was so hard for any of us to be angry or upset when it was announced the 12th season would be our last. I think all of us are very grateful to be able to take out the show the way we wanted. In the end, we were respected by our network, which was a lovely thing to experience.
Is there anything else you'd like to say about your Bones experience?
It was awesome! [Laughs.] It was great. I created it when I was old, and yet it's probably my defining professional work so far. It's a funny thing: I started it out of a sense of duty. I owed 20th Century Fox a pilot. They said, "Will you do a procedural with Barry Josephson?" I said "Ugh. No." But I wanted to meet Barry, so I went, and he seduced me.
And then the material seduced me, which was a documentary on [author] Kathy Reichs; I thought she was one of the most interesting people in the world. This did not spring from my heart. It was me doing my job and me getting seduced by my own job along the way. That's my experience with Bones. I just did my work and then fell in love with it. It was an arranged marriage that took. I ended up desperately in love with Bones, which was a cobbled together project. That's really interesting to me, that life can be like that. It was an interesting epiphany.
Bones, Series Finale, Tuesday, March 28, 9/8c, Fox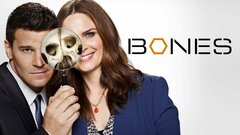 Bones
where to stream
Powered by