'Bones' Showrunners Share Behind-the-Scenes Intel About the Series Finale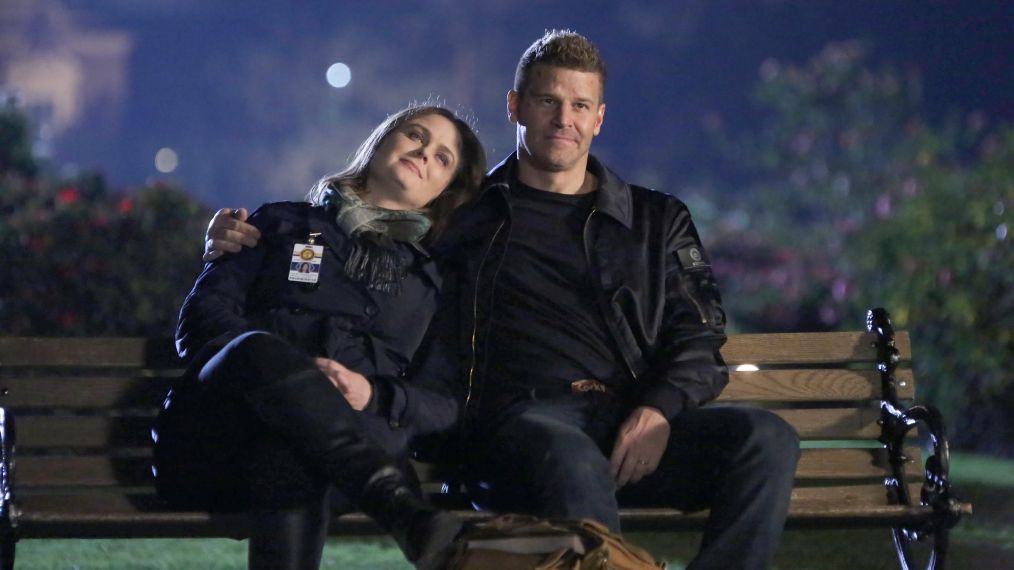 After 12 seasons and 246 episodes, Fox's Bones is preparing to sign off on Tuesday, March 28.
"It's not just about ending the season, it's about ending the show," executive producer Jonathan Collier says. "Ending what we started—and what [series creator] Hart [Hanson] started with the pilot—we feel like the biggest task and the most fun of breaking and making the episode was that it's about the characters."
Originally, Hanson—who stepped away from the show in 2014—was scheduled to write the long-running drama's final episode. Ultimately, he was unable to pen the script. Showrunners Collier and Michael Peterson, as well as long-time Bones writer Karine Rosenthal, wrote the script with additional story input from former Bones showrunner Stephen Nathan.
"We talked to Hart early on with ideas of what he would want to do," Peterson says, noting they did attempt to do a version of the original ending before realizing it wouldn't work without Hanson. "A lot of the things he came up with were things he came up with [earlier in the run]. Some of them we'd already done. But we wanted to go out big; we wanted to go out with a bang. At the exact same time, we realized it needed to be character-focused."
"We were respectful of the fact it was [Hart's] show; he created it," adds Collier. "We ran everything by him. He was a wonderful resource, as was Stephen Nathan. Hart and Stephen, you have to look at as pretty much a team. We really wanted everyone who shaped the show in the past to weigh in on it. [Stars] David [Boreanaz] and Emily [Deschanel] also were involved in the discussion. And David, of course, helped shaped it as the director of the final episode. And so everyone was an important voice."
One bit that was always in the cards? The destruction of the show's lab, which was blown up in the final seconds of the penultimate episode of the series. "That was always going to be," Hanson says. "That element was always going to be there from halfway through Season 1. [David] said, 'I f—ing hate this lab.' I said, 'We can destroy it in the series finale.' And I said, 'Please guys, don't make me a liar to David.' And it was fine."
In the aftermath of the explosion, a storyline blossoms that really impacts "the very definition of who Brennan is," Peterson says, crediting Nathan for the idea. "She has to challenge herself as far as who she is as an individual. I think that's something that's wonderful to be able to do in the finale of a show."
The final episode of the series also allows for reflection by the characters, and touching, perhaps even tearjerking, moments between fan favorites. "We're fans of the show," Peterson says. "We set out to write something that would satisfy for us. It's very much going to deal with Booth and Brennan's relationship. It is very well going to deal with Angela and Brennan's relationship. Hodgins and Angela. We're really going to touch on all of our characters."
"That's also part of the reason why we did 11 and 12 for the finale: there's a lot of things we needed to set up to get to these great character moments," Peterson continues. "In 11, in particular, even the structure was designed to give each character space to have a nice resolution. It was. It was daunting, but we're feeling pretty good. Finales are always tough, whether it's Seinfeld, Sopranos, Breaking Bad, Lost. Everything is second-guessed. We came up with something at the end of the day. David Boreanaz knocked it out of the park in terms of directing this final episode. It's big. It's emotionally rewarding. And hopefully the fans will ultimately satisfied."
The process of saying goodbye to the show has been tough for the showrunners, too. "Certain days I was a wreck," Collier admits. "My last day on set, it was 3 in the morning in the middle of nowhere on a freezing cold night. It was really about getting in my nice warm car and going home! It was certainly tempered by extreme physical discomfort and exhaustion. Saying goodbye to everyone was a process. It was a two-week long process. And it was beautiful. There is something very powerful and emotional and gratifying in a situation where the prospects are good…this show has been good to everyone, everyone is in a good place in their lives, and one of the really nice things about it is it was emotional."
"All of these people have been on the show for 12 years," he adds. "Some of them have 40-50 years experience. They're all out there not wanting to leave until we get the last shot, in the freezing cold, middle of nowhere. And not complaining. Everyone is just happy for the experience of being together and ending the show in the right way."
Months after the show wrapped, Peterson acknowledges its end is still hitting him. "I went up to somebody the other day and was like, 'Oh my God, it's over,'" he recalls. "And they looked at me like I was an idiot. 'We know; it's been over for a while.' I think for me, it's been [hitting me] in the process of packing up my boxes, looking at old scripts, looking at old photos of the cast and crew…looking at notes from Hart from a really poorly-written script I did. All of it. It's still hitting me. It's hugely emotional. I'm packing up pictures of my children, who were both born while the show was running. Hundreds of children have been born from cast and crew members during the time of the show's run. It's been our lives. For some people, 12 years, for me, eight and a half. That is a fair chunk of your life. It couldn't have been on a better show. It's as rewarding as humanly possible. It's emotional now, it's going to be emotional even more so when it's gone. It's tough, but I wouldn't change it for the world."
And in addition to the show living on via DVDs and streaming, there is an added bonus: "A bunch of our stuff is going to the Smithsonian archives!" Collier says of the museum that inspired the show's fictional Jeffersonian Institute.
Bones, Series Finale, March 28, 9/8c, Fox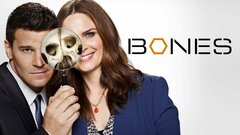 Bones
where to stream
Powered by