'Bones': David Boreanaz and Emily Deschanel Look Back on 12 Seasons Together
Ever since they shared an "electric" pivotal audition together, Bones' David Boreanaz (Booth) and Emily Deschanel (Brennan) have been a match made in TV heaven. Over a dozen seasons, the duo has portrayed Booth and Brennan as they transitioned from a spark-filled working relationship to something far more complicated to a family unit (with an eventual marriage).
As Bones winds down—with its series finale airing Tuesday, March 28—Boreanaz and Deschanel reflect on bringing the drama to its end.
What were the emotions you had going through this final season, knowing it was the end, especially as you approached the very end?
David Boreanaz: It's always been a consistent understanding of where these characters came from, how the show started. Using the emotions to elevate the next moment to the next moment or scene we're working on. Operating from an understanding of appreciating the moment and understanding what's there and using that and going forward. For me, it's such a blessing and so fortunate to do what we've been able to do and show that and give it back to the fans who enjoyed it. [To] give them these last few episodes we've done, and all the hard work that every cast member put into it…and the crew. Standing by my partner here who has always been there for me has given me strength to continue and push myself. That's pretty much what I feel.
Emily Deschanel: It's been a slow realization of it ending. Obviously we knew going into this last season that these were our last twelve episodes, our last season. Every step there was "lasts": this was our last Upfronts, this was our last season premiere. As we got to the end, this was our last scenes with these actors who may not be in every episode. This is our last scene in the FBI or this room in the lab or house. It was a very slow process. But that doesn't prepare you for the last moment, which was very emotional for me. You could follow the trail of tears to where I was. [Laughs]
What was your last day of filming like?
Boreanaz: So quick. We were working nights the last three nights. The last night, we had two nights out. It was cold, it was windy, and a lot of stuff that had to be shot in the two days we had to shoot.
Deschanel: And David was directing.
Boreanaz: And it was tiring. So by the end [of the night shoot], I wanted to go home. I do remember, for me, when I was done, I went to my trailer, I cracked open a cold beer, and I watched the [Philadelphia] Flyers highlights. And it was the best cold beer I had—top five. [Deschanel laughs] It was like 3:30 in the morning and I was finished, and I was all bloody and dirty from all the work, and I just had a moment to myself.
Deschanel: You shouldn't have taken that time, because the traffic gets real bad. When I finished at 5 the day before, it was two hours to get home. It was a long time.
Boreanaz: It was crazy. I don't think Emily realized—
Deschanel: I wrapped early. I thought I'd be working the next night.
Boreanaz: But I realized I was done, I got everything.
Deschanel: He filmed me out, by the morning. I thought I would come back the next night. And 20 minutes before [I wrapped], he said, "I think I could get you out." And he did.
Boreanaz: It happened so quick. I don't think Emily realized it. And then there are you, and it was goodbye, and we had to go to the next set up.
Deschanel: I was so tired.
Boreanaz: It was weird. It was a weird end!
What did it mean for you to bookend the final season with each of you directing?
Boreanaz: The best. To have Emily—and I've been telling her to get in the whole run of the series to get in and direct an episode; I encouraged her to do that. The fact that she started us off was such a fantastic thing. I'm so proud of her. For her to be able to get that under her belt. And it was remarkable to be on the other end receiving her commands. [Both laugh]
Deschanel: I'm always trying to boss him around, but I had the official OK to do it this time.
David, was there any particular touch you put into the finale because you were the one directing it?
Boreanaz: I just wanted to take [my personal feelings] out of it and have the ensemble enjoy it. There are certain things I like to do when I'm shooting and ways of getting things done efficiently. But I got the moments I wanted, which was the most important thing.
Deschanel: You got Mike Grasso in.
Boreanaz: I got Grasso in.
Deschanel: He's a law enforcement consultant.
Boreanaz: It was physically demanding because the lab was destroyed. It wasn't a very healthy area to work in.
Deschanel: We all were coughing up black stuff for days. I had my kids on set and I was like, "Uhhh, you should go back."
Boreanaz: There was a lot going on. I almost broke my leg; I fell on a steel bar and I kept going. I got a huge gash on my leg. It was very hard, physically; more because of the chaos of the week in the lab. It was dark and dreary and smoky.
Deschanel: It wasn't inviting.
Boreanaz: No.
Deschanel: It wasn't the lab we knew.
Boreanaz: It was depressing.
Deschanel: It was easier to say goodbye. That's another step that was nice in a way: this is the last scene in the lab before it's destroyed. And okay, that's sad, but we're still going to be in the lab next week. And then it was like, you can't sit down and be comfortable. Nothing feels comfortable about that; nothing feels like the lab we knew. We're so used to working and filming in it [and on breaks] you'll just go sit in your chair. But you couldn't put anything down, it was such a mess. It was easier to say goodbye for that reason. David went there the other day and sent me a picture of it.
Boreanaz: There's like one wall up. One small wall. And half of the catacombs. I tried to get into the FBI stages and the doors were locked. [Laughs]
Deschanel: They locked him out of the FBI!
Boreanaz: I was, like, kicking.
Deschanel: Did you walk over to the other side?
Boreanaz: No. People walked by going, "What's wrong with that guy?" But I'll get back there; I have stuff to do.
Did you get Booth's bobblehead?
Boreanaz: I'll never tell you what happened to him. He lives on. I don't know where he is. I can't say. But I will say he's in good hands.
What did you guys take from the set?
Boreanaz: Yeah. I took only a couple of things. It wasn't much.
Deschanel: I took something and I gave it to David as a joke. I wrapped it all nice.
Boreanaz: The Laurel and Hardy papier-mâché mask.
Deschanel: He was always creeped out by the mask things.
Boreanaz: I laughed so hard when I opened it.
Deschanel: I wrapped it up as a nice gift.
Boreanaz: I'll get you back.
On a personal level, what will you take from this working relationship going forward?
Boreanaz: It's such a give and take between the two of us. There is a cadence and a rhythm that was always maintained with the two of us, finding that relationship in whatever moment we were working on. It's really the hard work that took us on weekends away from our families to go back and give the writers or [series creator] Hart [Hanson] notes. That's what I'll take—the [shared] hard work. And continue to do that. You have to.
Deschanel: It's rare as an actor to work on something for so long and have a character evolve so much. And to be able to play that character through all of those changes…even doing a series, which is obviously longer than a film where you have an hour and a half or two hours to explore a character. We have 246 hours; that was really special.
What does it mean to you to have Bones be Fox's longest-running live-action series?
Deschanel: We never got the credit we deserved.
Boreanaz: [Laughs] I know, right?
Deschanel: We were the little engine that could. I feel proud that we did so many episodes, that we were on for so long; it's quite an accomplishment. I feel like our fans were always so loyal and they always found us wherever we were, no matter how many times they bounced us around. Sometimes it was really frustrating because we weren't appreciated by the network. But I also now realize they probably knew how strong we were and knew they could bounce us around to different times and we'd survive. And we did. So there you go. But we never expected to go this long, but it happened. Sometimes it goes so long you think it will never end, and then it does end at a certain point.
Boreanaz: I'm proud of it. The other day, I saw the two stages we worked in, and they have the plaques. There are things like M*A*S*H…
Deschanel: And we're on those plaques!
Boreanaz: We're on those plaques now. It's a big thing to be immortalized on a plaque outside of a stage. It's a testimony to everyone who came on the show—guest stars, people who were on the crew for a week or whatever—they all touched their energy into the show and made it move forward. From Episode 1 to Episode 6, 2 to 27, whatever it is, they all had impact. That's what made that name go up on that plaque. When you go back there, it will forever be there. That's a big, huge accomplishment for us.
Bones, Series Finale, Tuesday, March 28, 9/8c, Fox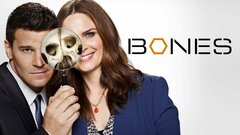 Bones
where to stream
Powered by