Watch: Fox's 'Bones' Retrospective Special Brings Insight and Emotions
Bones' run is nearly complete.
With only two episodes left of the long-running Fox series, the network has put together a 22-minute special, Back to the Lab: A "Bones" Retrospective, to pay homage to the show's 12 seasons.
The cast (series stars David Boreanaz, Emily Deschanel, Michaela Conlin, TJ Thyne, Tamara Taylor, and John Boyd) and producers (Hart Hanson, Stephen Nathan, Michael Peterson, Jonathan Collier, Kathy Reichs, and Barry Josephson) reflect on the series in the 22-minute special.
Watch the entire special below:
The special—most of which was filmed in the final days of the show's production—showcases the stages sans the sets that became fixtures during the drama's run. "It's not easy for me to see the FBI office or to see the lab gone," Josephson says. "For me, the heart and soul of the show were those sets."
See Also
The series finale of the long-running series airs on March 28.
The retrospective also looks back at the pilot—and the tweaks they made to Booth's (Boreanaz) arc in the first episode—and the true origin of the series (the documentary on forensic anthropologist/author Reichs); the parts of the Fox lot that have been used during the show's run ("We've used every corner of this lot," Peterson notes); original fixtures on the show (the Angelator); and more.
Back to the Lab: A "Bones" Retrospective, Saturday, March 18, Fox On Demand and Fox's YouTube page; Running locally in select markets.
Bones, Tuesdays, 9/8c, Fox. The series finale airs March 28.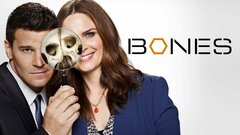 Bones
where to stream
Powered by