20 TV Shows We Lost in 2020
Like any year, 2020 was filled with more than enough TV to keep us occupied, but shows can't last forever.
Quite a few notable shows came to an end, some in unexpected ways due to scheduling (Empire, Supernatural), others in shocking ways with how they ended for the characters (The 100, Arrow). Some left us wondering exactly what we just watched (Blindspot), while others were wrapped up neatly with moments fans had waited for (Suits).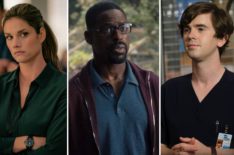 See Also
'This Is Us,' 'The Good Doctor,' 'Yellowstone,' and more favorites remain strong in 2020.
Below, we take a look at 20 (of the many) shows that said goodbye in 2020.