'The Watch': What Is Discworld, the Setting for the New BBC America Series ?
BBC America just unleashed a trailer for The Watch, a "comedic yet thrilling series that pits trolls, werewolves, wizards and other improbable heroes against an evil plot to resurrect a great dragon, which would lead to the destruction of life as they know it," as the network explains.
The eight-episode season, premiering January 3, will be must-see TV for Terry Pratchett fans. For other viewers, however, The Watch will be a first spin on the late British author's Discworld.
See Also
Plus, 'Game of Thrones' vet Richard Dormer whips out some impressions!
Discworld, you see, is a flat planet balanced on the backs of gigantic elephants standing on the shell of a colossal turtle swimming through space. And Pratchett, who died in 2015, explored Discworld and its motley inhabitants across 41 novels spanning multiple decades and even multiple genres.
Some might call Discworld a book series, but it's more a collection. The Discworld books share settings, characters, and ideas, but most of the 41 novels tell self-contained stories.
View this post on Instagram
And then there are Pratchett's Discworld short stories, the "Mapps" of Discworld, and even books about the science of Discworld.
And then there are all the Discworld adaptations. Audiobooks! Comic books! Radio shows! Stage plays! Board games! Video games!
Yes, with a literary universe that extensive, you might be overwhelmed by options. But one of the beauties of Discworld is that you're able and even encouraged to jump in anywhere. Following the publication order is one tack, but Pratchett himself advised not starting at the beginning, finding it "rather embarrassing" that people start with his earliest novel, 1983's The Colour of Magic.
Even so, the official Discworld website offers a downloadable reading list sorted by publication date, which might suit you if you "want to see the saga unfold as it was originally told."
The site also offers a character-based reading list so you can follow your favorite Discworld denizens or just stick to your favorite literary genre. (The City Watch books are fit for mystery buffs, for example, while the Witches books are good for fantasy fiends.)
A fan-sourced "Discworld Reading Order Guide," meanwhile, shows you the direct and minor connections between the books—color-coded to note starter novels, standard novels, young adult novels, science novels, illustrated novels, and short stories.
But if none of those lists and guides strike your fancy, you can let algorithms do the deciding. Just use the Discworld Book Generator, which suggests a starting point based on the Discworld experience you're after.
See Also
Meet the newest members of the TV series bringing Middle-earth to life.
Start with any Discworld book, and you're likely to see how Pratchett became the U.K.'s bestselling author of the '90s. And you're likely to realize that for as weird as Discworld might seem at first, the human issues the novels explore feel very familiar.
The Watch, Series Premiere, Sunday, January 3, 8/7c, BBC America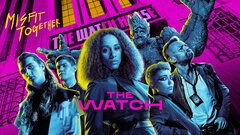 Powered by