'Darcey & Stacey': Here Comes the Drama (RECAP)
Race to the Alter
Season 1 • Episode 7
[Warning: The below contains MAJOR spoilers for Season 1, Episode 7 of Darcey & Stacey.]
Darcey and Stacey put it all on the line for love. Georgi moves in with Darcey only after a few dates, and Stacey ties the knot with Florian—but not without a few hiccups.
Put on Pause
"It's a work in progress," Darcey describes her life during quarantine. While she did confront Shanti the week prior about Florian's videos, Darcey has chosen not to tell Stacey yet.
Meanwhile, Stacey and Florian have moved into a hotel suite while looking for a permanent place to call home. "Everything feels like it's in limbo right now, but we still have to get married before the K-1 visa expires," Stacey states.
Darcey is also relocating to an apartment to co-quarantine with her long-distance beau Georgi. "It is going to look crazy that we're moving in together after a couple of dates," she admits. "But if we're willing to do it, then let's do it. If everybody's OK with it—my daughters, my dad, and Georgi included—then let's see."
Darcey's daughters Aniko and Aspen film her moving crystal lamps around the house. Darcey asks her girls if they would be OK with her moving out to be with Georgi. "I don't want to see you hurt again," Aniko tells her. "I just don't want to see you upset." Aspen and Aniko are especially cautious after meeting Darcey's ex, Jesse. Darcey is saddened that her daughters worry about her, but she hopes they know they deserve better and so does she.
"Fighting for Our Love"
Stacey is forced to reevaluate her dream wedding to Florian. While her ideal nuptials would be held at an Italian castle, she has to settle for a Connecticut courthouse. The couple have decided to move the wedding date until TOMORROW (um, what?!) so it's 4-20-20. We're not going to ask why they selected 4-20, but their urgent elopement is definitely too rushed.
"I feel like it's just better to keep it to ourselves and just get married and tell [my family] later," Stacey tells Florian. "I just don't need to hear the negative comments or people trying to sway our decision. I feel like it's for us to work out. It's our relationship. It's nobody's business but our own. Florian and I love each other and we're fighting for our love."
New Space, Under the Same Roof
Darcey packs her crystal lamps and fashionable ensembles for the new apartment. Stacey and Florian also happens to be moving into the same building as Darcey. "I found the apartment first. Florian and I needed a place to stay and Darcey got an apartment in the same building. It's like we can never really get away from each other," Stacey somewhat jokes.
"For us, getting identical apartments is usually how we do things," Darcey tells the camera. "We like the same vibe. We like luxury, we like brand new." Stacey also warns Darcey to not get too attached to Georgi.
Welcome Home
Speaking of Georgi, we see his home in Washington, D.C. before he travels to Connecticut. "I'm so excited about this, I cannot wait," he gushes to the camera. His massage business is on hold due to the pandemic, and he feels that this is the perfect timing to move in with Darcey. "I think it's going to be something great, but it's kind of risky," he realizes.
Darcey prepares for Georgi's arrival, donning an all-white ensemble. She sets up champagne with two glasses. "His and hers, king and queen, husband and wife," she smiles. Georgi stops to get roses and explains that quarantine is the ideal situation for him and Darcey. Their days will consist of having sex, working out, eating, and having sex. Darcey echoes that she hopes to have a lot of "sexy time" and intimate moments, in between deep conversations.
Georgi arrives at the apartment, calling Darcey his own "sunshine." She feeds him strawberries as they drink champagne after toasting to new beginnings.
Bride, Interrupted
It's officially Stacey's wedding day, and while she's even unsure what the ceremony will look like, she's still wearing her gorgeous dress. "Hopefully I'm the bride of his dreams!" she smiles. As she does her makeup, Florian sets up candles on the floor of their apartment, spelling out their wedding date.
The officiant arrives, and Florian dons his tuxedo. Stacey breathes deeply before coming out to say her vows. Both Stacey and Florian say "I do" and they are pronounced husband and wife…or are they?
The officiant asks to sign their marriage license, but it turns out the wedding has to be in the same town that the license was registered in. "This was the day was supposed to be special for us," Stacey stresses. "My whole day was ruined!"
Surprise! There's (Another) Wedding Outside
Stacey decides to redo the ceremony in front of her dad's house, knowing that it is the correct town. There is also a convenient outfit change.
OK, so after all that, Florian and Stacey are actually legally wed. "Five years in the making, a lifetime to go," she gushes. "We're married!" The happy couple return to their apartment building as newlyweds.
Videos Don't Lie
Darcey also had a "magical" night with Georgi. "One down, hopefully an eternity to go!" she similarly grins about him. She spies on him in the shower and is invited to join him.
Stacey begins her and Florian's beach-themed "honeymoon" indoors. "We're just trying to make the best we can with what we have. At the end of the day, it's just about being together," she tells the camera. She sets up a mini cocktail bar with a beach towel and flamingo cups. They cheers to a quarantine honeymoon and begin making out.
Post-shower, Darcey receives a private video from Shanti. There is a disclaimer that the video was made when Florian had claimed he and Stacey were broken up. The very, very short clip is of Shanti laying down with a shirtless Florian holding her and laughing. It seems like they had just kissed, and Shanti shakes like Florian is having sex with her, but the editing is unclear. Darcey is still very skeptical of the cheating allegation but confirms that Florian choosing to partake in such staged videos is even stranger.
"Obviously they were in the same room, the same bed, like what the eff? Why would he even want to be on her phone doing something like that, if he's with my sister?" Darcey asks in a confessional. "The last thing I want Stacey to feel is that she's marrying someone she can't trust. She definitely needs to see these videos before she gets married to Florian." Of course, in a true comedy of errors, Darcey doesn't realize that Stacey and Florian secretly wed the night before.
Previews
Darcey introduces Georgi to Stacey and Florian, and Stacey reveals that she and Florian got hitched. Darcey privately shows Stacey the compromising videos, bringing Stacey to tears.
Later, Darcey opens up to Georgi about her own trust issues…and we learn that Georgi is still married. We need to know more!
Darcey & Stacey, Sundays, 10/9c, TLC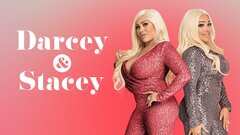 Powered by