'90 Day Fiancé: Happily Ever After?': Put a Ring on It (RECAP)
[Warning: The below contains MAJOR spoilers for Season 5, Episode 14 of 90 Day Fiancé: Happily Ever After?]
With two weddings, there's bound to be double the drama. Angela and Michael happily tie the knot in Nigeria after some hesitations, while Elizabeth's family has mixed feelings about her and Andrei's lavish Moldovan nuptials. Plus, Colt and Larissa both undergo transformations in Las Vegas. Let the bickering begin.
Tradition, Tradition
An unrecognizable Elizabeth asks her sister Jenn to do her makeup for her second wedding. Andrei gets ready with his brother and friend Marcel. While Andrei somewhat scolds Marcel for sharing details about his past with Elizabeth's family, they eventually all cheers.
Back in the bridal suite, Elizabeth dons traditional Moldovan attire ahead of the ceremony. "I don't feel like I'm going to get married right now," she smiles into the camera. "I feel like I'm in like a Halloween costume or something. But this is Andrei's culture and I know that he's going to see me and think that I look beautiful and what he envisioned, so here we are."
Wife Over Mother
Asuelu invites his mother and two sisters to Utah to hopefully smooth things over with Kalani. "I think this is the last chance to build a relationship with them," Asuelu confides to the camera. Immediately, his mother complains that Kalani is not with him at the airport and asks if Kalani is still mad about what happened in Washington. Well, understandably. Asuelu asks his mother to calm down and "fully, fully apologize to Kalani."
She has a more direct response: "I see now what happened. You put your wife first in your mind. So what about your mom? That's why I need divorce, please." Asuelu is rightfully worried about how the sit-down between Kalani and his mother will go.
New Woman
Eric drives Larissa to the doctor for her breast implant surgery and nose job. His excitement is obvious. She teases him that soon he'll have a "new girlfriend with new boobies" because of how drastically different she expects to look.
"I'm trading in and getting an upgrade," Eric laughs back in a cringing way. The three-hour long elective surgery starts to make Larissa nervous, especially with the anesthesia. She enters into the doctor's office, and Eric waits outside.
Married at Last
In Nigeria, Angela continues her wedding ceremony. But Michael's aunt is still hesitant about the nuptials. "Anything [Angela] says, she wants Michael to dance to her tune," his aunt Lydia explains. "I don't want to ruin their wedding."
Angela walks down the aisle as Michael gushes over how beautiful she looks. The couple begin reciting their vows, which for Angela includes the phrase "to love and to obey." She sputters briefly about not obeying any man but quickly laughs it off. The happy couple are officially wed and share their first kiss.
The high-energy reception starts, with abundant dancing and laughter. "Today was one of the happiest days I've ever seen Angela," her friend and marriage witness Jojo smiles. "I truly believe they do both truly love each other."
Angela crowns Michael her "king," and even his aunt Lydia is convinced that they will make it as a couple. The long-awaited wedding is a true success.
Back to Brazil
Paul, Karine, and Pierre go to the airport to depart for Brazil. Paul's mother says a last-minute goodbye to them and starts crying while holding her grandson Pierre. Karine remains steadfast in her decision to return to Brazil, especially so she can be back with her own family. "I don't regret moving to America because we tried. But it's time for us to go home to Brazil to visit my family," she states in a confessional. "After spending a little time at home in Brazil, we will think about returning to the United States."
Paul isn't so sure of their plan. "It makes me nervous that Karine won't want to come back," he stresses. "But I owe it to Karine at this point to go to Brazil. I love Karine and Pierre very much and I'll live with them wherever they are. But hopefully things will work out and we'll be back."
Self-Destruction at Adonis' Equinox
Colt breaks a sweat at a public outdoor gym. While he loses control of his limbs, he does retain a grasp on his goals. "Ever since my breakup with Jess, I'm at a weird spot in my life," he explains to the camera. "I don't really like what I see in the mirror. I've decided to just really work on myself and try to lose weight." However, his self-reflection stops skin-deep, and there is no mention of his compulsive infidelity or self-righteousness. He also vomits into a trash can.
His friend Steve meets him at the park. Steve at least has a little more perspective. "My takeaway from spending time with Colt is that he really needs to dig deep internally and figure out who he is as a person," he muses. "Colt has a lot of self-destructive behaviors. He really needs to work on himself before he figures out what the future holds."
Colt explains that Vanessa recently moved out and now he's "all alone again." Is that implying that he was intimate with her? Steve tries to impart some self-care wisdom on Colt, including a mini meditation session. Colt says he usually just drinks when he's upset.
Colt's crossroads is evident: A few years ago, he was living in Seattle and preparing to marry Larissa. Now, divorced and alone, he is living in Las Vegas with his mother, Debbie. He started dating Jess only three months after Larissa left.
Steve pushes Colt to admit that Debbie might not be the best influence. "I know Debbie really comes from a good place in her heart. She has the best of intentions," Steve explains. "But sadly her interfering in these relationships is putting a lot of undue pressure and stress on Colt, and it's not allowing him to start from a clean, honest place. There's tension from the beginning and I think that's really working against him."
Colt admits that he needs to have boundaries with Debbie and he needs to "take responsibility more." The impromptu therapy session concludes with a The Room-level football game.
Open Your Eyes
Eric apparently wasn't listening when the doctor said three hours, because he is in the waiting room fretting over how long the procedure will take. There are some disgusting shots of Larissa mid-surgery, and eventually the doctor comes out telling Eric the procedure was a success. However, Larissa takes longer than anticipated to wake up from the anesthesia.
She does come to, and Eric chuckles at her bandaged appearance. "I'm in too much pain, Eric," Larissa mutters. Once again, he is way too eager to catch a glimpse of her new figure.
"Double the Marriage"
Elizabeth smiles that their wedding is "like a fairytale" in the ornate Orthodox Church. "Same woman, no divorce, double the marriage. That's pretty cool, right?" Andrei jokes.
Even Elizabeth's family admits the wedding was beautiful, and everyone is excited for the reception.
Meet in the Middle
Kalani and her parents meet with Asuelu, his mother, and his sisters Tammy and Rosa. The tense lunch begins as Kalani asks for "answers" as she felt disrespected. Tammy continues her brainwashing conspiracy theory about Kalani's influence on Asuelu, and Kalani's mother Lisa steps in to defend her daughter. "It sounds like whatever's not good enough is her fault, and that's not OK," Lisa clarifies to Tammy.
"You can't send all your money back to Samoa and let your family starve," Kalani's father Low chimes in.
"I think Asuelu's family kind of pushes the Polynesian culture card a little much," Lisa opens up in a confessional. "My husband and I had our issue with these types of things but they weren't so over the top and outlandish."
Asuelu echoes that his family is trying to drive a wedge between him and Kalani. Eventually Asuelu's mother apologizes to Kalani, but Tammy still holds her ground.
State of Emergency
Angela and Michael go for drinks to discuss the spousal visa process. He is somewhat nervous to move to America, but he's proud of his "Nigerian hustle" and is ready to work. The newlyweds are all smiles and kisses, especially after Angela teases that she's not wearing any underwear.
A few hours later though, she receives upsetting news from her daughter Skyla. Angela's mother was found unresponsive and brought via ambulance to the ICU. "I wish I could leave tonight, but I can't. It's upsetting to me that I can't go," Angela cries. "All I know is [my mother] could not be there when I get back."
Show Us What You've Got
Elizabeth and Andrei's elaborate wedding reception begins, featuring professional dancers, acrobats, and numerous buffets. Elizabeth's family is in awe of the spectacle. Of course Jenn and Charlie have their complaints though. "The way that [Andrei and Elizabeth] were describing this reception was that it was kind of going to be low key and everything, but then we walk in and it's like 'oh, this is the f**k all the money has gone that my dad has given them," Jenn says in a confessional. "I feel like Andrei is trying to impress everyone here back in Moldova, like 'look what I have now, look what I have.' But you don't have that, we do. Our family does, but like, you don't."
Charlie refuses to eat the raw salmon at the table and progressively gets drunker and drunker. "I mean, [Andrei] could be royalty in Moldova, but he's a f**king b***h a** in America," Charlie vents at the table, attempting to start a chant. "The King of Moldova, not s**t in America!"
His father Chuck steps in and tries to calm him down. Charlie later grabs the microphone from Chuck during the speech portion of the evening, and that's when he really lets loose on Andrei: "Get your s**t together. Don't come to America and try to live off my dad. Don't ask my dad for s**t."
Later on the dance floor, Andrei finds Charlie and escorts him outside. "You trying to fight me in Moldova?" Charlie slurs as Andrei looks furious.
Previews
We'll have to wait until next week to see if Charlie gets the beating he deserves and also see Larissa's new and apparently improved figure. Angela packs to return home, and Kalani confides in her mother that she put a tracker on Asuelu's phone. Also, Syngin has reservations about going back to the U.S., and Colt stands up to Debbie.
Until next time!
90 Day Fiancé: Happily Ever After?, Sundays, 9/8c, TLC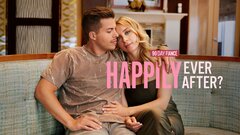 Powered by