'Outlander': Jamie & Claire Protect Young Love in 'The Company We Keep' (RECAP)
[Warning: The below contains MAJOR spoilers for Season 5, Episode 4 of Outlander, "The Company We Keep."]
After a dark third episode, Season 5 of Outlander continued on a more hopeful note in its latest installment. Titled "The Company We Keep," Episode 4 saw Jamie (Sam Heughan) and Claire (Caitriona Balfe) reconvene with the growing militia in Brownsville, but after Roger's (Richard Rankin) brief time in charge, it would seem there's more drama to face.
Below, we're breaking down the episode's key moments, but beware of major spoilers.
The episode opens with Roger and Fergus (César Domboy) arriving with the militia in Brownsville only to be met by loaded guns. It would seem that the town has a vendetta of sorts against one of the Fraser's Ridge men — Isaiah Morton (Jon Tarcy) — as the words "you'll pay" are thrown his way.
Just as Roger's about to ask why there's such a row about Morton's presence, a young woman named Alicia (Anna Burnette) comes running out of one of the buildings. She shouts an apology, claiming she had to tell her family about their relationship because they were trying to marry her off to someone else that she didn't love. But that's just scraping the surface of that dramatic situation.
In an effort to cool tensions, Roger tells Fergus they'll need whiskey and some Dutch courage for what's to come. But before we can find out what's going to happen, the action shifts to Fraser's Ridge, where Bree's (Sophie Skelton) arriving home after a trip into town and she's greeted by Marsali (Lauren Lyle) and Lizzie (Caitlin O'Ryan).
When she looks into Jemmy's basket, she finds a coin and asks the old woman who looked after him in town how it ended up there. The lady tells Bree an Irish gentleman put it in there after ruffling Jemmy's hair and asking whether the baby took after his mother or father. The already-on-edge Bree begins to spiral with this news as she's paranoid it was Stephen Bonnet (Ed Speleers), and she pushes for more information, but the old lady can't remember. So Bree appears to shrug it off, but does mention moving everyone into the big house on the land to Lizzie, in a hidden "safety in numbers" ploy.
Meanwhile, in Brownsville, the guns have been put down, and while Alicia continues to cry over Isaiah, her father Lionel (Ned Dennehy) is willing to give the Fraser whiskey a shot. While speaking with Roger and Fergus though, he offers to buy a cask and Roger brushes him off, pushing the man to drink more. This doesn't have the desired affect though when the man asks if they're whiskey sellers and Roger says he's there to remind the Brownsville men of their militia obligation. Instead, Lionel tells them about his obligation to Alicia who has been dishonored by Isaiah, and explains that the man won't be leaving with the militia no matter the cost.
In a less troubled state, Jamie and Claire continue to make up for lost time in their travels as they approach Brownsville, now toting Fanny's (Bronwyn James) baby. Jamie admires seeing his wife with the child, but they question what they'll do with her now that they're continuing their journey to find the regulators.
As for Roger and Fergus, their situation goes from bad to worse in the new light of day when Roger learns that some men who didn't agree with his tactics deserted the militia. Just in time, Claire and Jamie arrive to meet up with them, but before they can be filled in on the news, Jamie believes Roger's won over the town as he sings and converses with crowds.
Before the illusion can be shattered, the Frasers fill Josiah (Paul Gorman) in on his and twin brother Kezzie's (also Gorman) new status as free men. While this thrills Josiah, he asks Jamie whether he can join the militia himself or not, and when he's prompted to give his age, Jamie suggests that he's "14" and therefore too young to fight. But it's clear that Jamie just doesn't want to put the boy in harm's way and wishes to keep him as a hunter for Fraser's Ridge, so Josiah concedes.
When Jamie and Claire finally catch up with Fergus, he mentions the difficulties that he and Roger encountered when they arrived in Brownsville. While Claire goes in search of a nursing woman to feed the baby she's caring for, Roger's then forced to reveal why some men deserted when Jamie notices some absences. As Jamie's told for the reason behind the desertions, the men bring him to Isaiah, who's being held prisoner in a store room.
Looking for an explanation, Jamie tells Isaiah he must make an honest woman out of Alicia by marrying her, but he reveals that he's already married as Jamie's cutting him loose from his bindings. Isaiah defends himself, saying that he truly loves Alicia and that his current marriage was an arranged one, but this isn't a good enough explanation for Jamie who takes vows seriously. Roger argues that "love makes fools of us all," before Jamie advises that Isaiah make a run for it — which he does.
In a nearby tent-like setup, Claire meets Alicia, as well as Lucinda — a currently-nursing woman — chatting about the Beardsleys, who are certainly considered strange by the people of Brownsville. But they are welcoming of the days-old child Claire brought with her, while being judgmental of Alicia's actions. Claire picks up on the tension just as someone remarks on notes that appeared in a recent issue of the newspaper. Alicia notes that a Dr. Rawlings gave tips on how to prevent pregnancy — Claire realizes that her preventative healthcare pamphlet somehow made it to the printers. Shocked, she asks to take the copy with her and Lucinda offers to keep the baby in the meantime.
Finding Jamie, Claire learns about Alicia's predicament with Isaiah just as she inquires about her health tips in the paper. Fergus admits that when he brought an ad to the printer for Jamie, there was writing on the other side of the sheet. Worried that it will cause trouble, Claire questions if it's bad, but Jamie brushes the development over Claire's health tips aside, telling her that the only concern would be if someone wanted to meet "Dr. Rawlings."
In the midst of their conversation, the town finally realizes that Isaiah's escaped from the confinement he was being held in. Rushing into the street, Jamie finds himself in a standoff of sorts as he reminds Lionel and his men that by harming Isaiah, it would be seen as traitorous to the Crown. Things settle a bit when Lionel's brother Richard (Chris Larkin) arrives bringing news that Alicia's former marriage prospect is essentially off the table. Despite the ongoing tensions, the men come to a somewhat agreement, and Richard offers Claire and Jamie respite for the evening.
Back at the big house, Bree watches over her baby Jemmy and nephew Germain who are playing while she does chores. In a quick trip outside to grab wood though, she hears what she thinks is a scream and heads back inside spooked. It's at this point she discovers Jemmy's missing and she begins screaming after him, scrounging up the attention of Marsali, Lizzie and more. "He took him," she declares, but Marsali is quick to find the baby who crawled after his toy that landed near the side door. Relieved, Bree holds her baby tight as Marsali tells her to meet in the kitchen after for a cure to her nightmares after sending everyone else to bed.
Meanwhile, Roger's busy logging new recruits from Brownsville for the militia when Claire learns that nursing mother Lucinda's lost her baby, leaving plenty of room for the Beardsley child if Claire wishes to leave her in Brownsville. She says she'll speak to her husband about the possibility before giving an answer. As she's settled into her room by Alicia, Claire's asked if Isaiah's really gone and the wise Mistress Fraser confirms the young girl's fear.
Crying, Alicia tells Claire that she doesn't know what to do because she'll never want anyone else, but Claire explains he's not worth her sadness or family tension because he's married. This update causes more crying as the young girl holds her stomach, and Claire questions if she's pregnant to which Alicia confirms that she believes so, before saying she wishes she was dead.
Back at Fraser's Ridge though, Marsali tries to ease Bree's nerves, asking her what devil she conjured for herself to be thrown into such a tizzy earlier, but Jamie and Claire's daughter stays mum on the answer. As for Marsali, she tells Bree she killed her abusive father by thinking and praying that he would be taken away and die. After he was imprisoned and died while jailed, Marsali believed it was her fault, but then realized if bad thoughts could do such harm, then certainly wishful thinking would earn her all of the baubles and riches she prays for, but it didn't. Bree lets this information sink in and tries her best to be less paranoid.
Meeting with Josiah and Kezzie again, Claire notices Kezzie's fever and peeks at his throat which is infected. She tells Jamie he'll need surgery, but she'll need penicillin, which means returning to Fraser's Ridge. Despite not wanting to leave her husband, he insists on saving the boy they fought so hard to free in the last episode, so she agrees. Jamie then tells Roger he'll escort Claire to the Ridge, and while he's disappointed that he's being sent away from the militia, Claire objects over Roger's upset, claiming that he's been put in charge of the thing Jamie loves most in the world — her.
As for Bree, she's trying to vanquish her demons by burning the dark drawings of Stephen Bonnet that she created and Jamie and Claire share a dance by the fire in Brownsville. Their merriment leads into the woods as they drunkenly stumble around. She brings up the topic of Fanny's baby, and he asks if she'd like to keep her as their own, allowing them to actually raise a child together.
Even though she loves her husband for the idea, she tells him about Lucinda and advises they leave the baby there with the fight they'll face in the near-future. Despite the regret of not sharing in parenting Bree as a baby, Claire reassures Jamie, "I am grateful for every day we have." Their blissful moment is disrupted when they hear a shot and find Alicia's failed suicide attempt. Holding the gun to try again, they stop her, but she's grazed her arm with the first shot that went off.
Returning to town, Claire goes to treat Alicia, and Jamie wanders off to fetch whiskey when he finds Isaiah lingering nearby. Chiding the man, Isaiah eventually holds Jamie at gunpoint, ordering the man to deliver him to Alicia and explaining that he and his current wife haven't been together for two years, and so Jamie complies. The young lovers share a reunion, and Roger's "fools in love" concept is proven once more.
In the end, the Frasers and Roger devise a plan allowing the couple to escape in the early hour, and as Claire watches from the window of her room, Jamie leads the couple's horse before freeing everyone else's, rendering them unavailable for pursuing Alicia and Isaiah. When Roger knocks over some barrels, the couple is forced to quicken the pace and Jamie hustles to follow through with the plan.
Ultimately they make it out of town, but Claire's narration questioning if the good will outweigh the harm makes us wonder if the young couple are truly out of the woods yet. Either way, Jamie and Claire worked together to defend the young love between Alicia and Isaiah — will they pay for it? Only time will tell. Don't miss what's next when Outlander returns next week on Starz.
Outlander, Sundays, 8/7c, Starz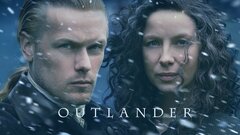 Powered by