'Outlander': Jamie's Dark Deed & Claire's Haunting Memories (RECAP)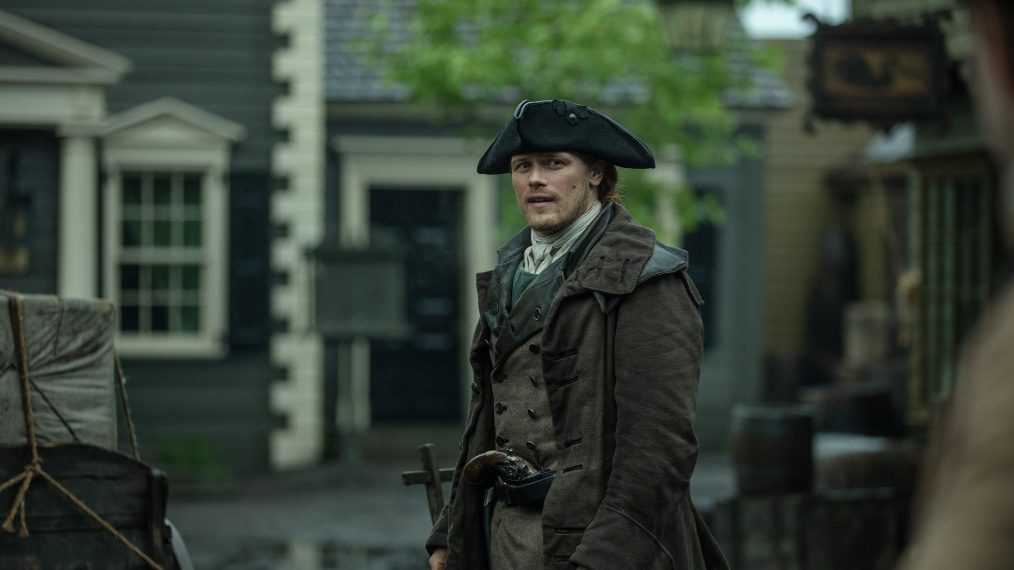 [Warning: The below contains MAJOR spoilers for Season 5, Episode 5 of Outlander, "Perpetual Adoration."]
Outlander returned for its fifth episode of Season 5, "Perpetual Adoration," on Sunday, March 15 and with it came the season's most unique installment so far.
From a '60s-set storyline to bold decisions made by a certain fan favorite highlander, we're breaking down the episode's key moments in the recap below. Beware of major spoilers ahead and note that the format for this week's recap is slightly altered to account for the varying timelines.
Claire's Successes and a Haunting Failure
The episode focuses a lot on Claire's (Caitriona Balfe) story in both the past and present, focusing on her care for the Beardsley twins Josiah and Kezzie (both played by Paul Gorman) and their infected tonsils in the 18th century while flashing back to a specific period of time in the '60s. Beginning with a church scene, Claire — done up in her '60s fashion — sits in a pew looking at the altar. In voiceover, Claire asks herself how many times she's prayed and how often those prayers are answered.
This question is answered with success in the past as she and Marsali (Lauren Lyle) discover they've managed to make penicillin. Sharing a sweet moment of celebration, Claire declares "Eureka!" to which Marsali is slightly confused but goes with it. The voiceover returns and pronounces that if you give anything enough time, problems usually solve themselves, but that "memory" is a "devil."
Back in the '60s, Claire meets Bree (Sophie Skelton) in a Boston park as they're going to have lunch together. Claire shares that she's upset because she lost a patient to a penicillin allergy, to which her daughter points out you can never know what's coming. Moving slightly back in time, we see Claire's first meeting with this lost patient, a Scottish man named Mr. Menzies (a nice nod to former costar Tobias Menzies, no doubt).
The man is blunt with Claire, telling her that he believes there's some Scot in her and she gives him a knowing smile but tries to bring him back to business, revealing that he has kidney stones and cholangitis that will need to be treated with surgery but will require a round of antibiotics beforehand. This instance is mirrored with her own testing of Kezzie in the present day as she prepares to give the twins tonsillectomy surgeries. While it appears successful, Claire warns Marsali to always be prepared for possible disappointment.
Eventually she performs the surgery with the help of Marsali and Lizzie (Caitlin O'Ryan), and when Kezzie's finished, he wants to stay for Josiah before retiring for the day. Back at the '60s-set church, Claire is approached by a priest who notes he's never seen her at adoration before and asks if she was a friend of Graham aka Mr. Menzies. She tells him about her relation to him as a doctor and the priest notes that strangers can make their way into people's hearts and that Mr. Menzies was definitely one of them.
Claire tells the priest he reminded her of someone she had lost in her own life and the priest tells her "no one's lost who's not forgotten." In a present-day moment she runs into Roger (Richard Rankin), who is dealing with his own problems with Bree. Claire offers some sage advice including "don't be careless with the time you have together."
Once again transported to the hospital where Mr. Menzies awaits his surgery, and Claire speaks with him about the procedure. He agrees to any and all dealings as long as he's out in time for adoration at 4 pm on Friday, which we can assume is the one Claire attends. He tells her it's his perpetual adoration that he hasn't missed once, even after his own beloved wife died. Claire then tells the man that she misses someone in Scotland, hinting at Jamie as this is taking place before their Season 3 reunion.
When Claire returns to the hospital, she's told what we already knew after her first chat with Bree in the episode, Mr. Menzies died after an allergic reaction to penicillin, even though he'd been tested. She laments the loss with her coworker Joe Abernathy (returning star Wil Johnson), when he checks on her, she begins questioning things, asking, "Do you ever feel like everything's pointing you towards something?" He answers by telling her she clearly has something on her mind but that the problem is in her heart.
This leads Claire to tell Bree she wants to take her to London for a trip that Frank (Tobias Menzies) was meant to bring her on. By the episode's end, when Claire reunites with Jamie (Sam Heughan), she tells him that she owes a lot to Mr. Menzies. She reveals that if she hadn't met him, she would have never taken the trip which led them to attending Reverend Wakefield's funeral where they met Roger and eventually brought her back to Jamie. This spurs a sweet embrace between the spouses who have somehow managed to conquer time and space with their love.
Jamie's Dark Deed
Continuing on his promised path to Hillsborough, Jamie arrives in the town with Fergus (Cesar Domboy) and crew. At first the townspeople are cold, believing them to be regulators, but all is quickly cleared up and Jamie's men are welcomed. While Hillsborough doesn't believe their lives are worth the price of militia wages, they agree to make them comfortable and direct them to a band of red coats who are taking refuge there. Throwing knives at Murtagh's (Duncan Lacroix) wanted poster, Jamie encounters Lieutenant Knox (Michael D. Xavier) once again.
Apparently, Governor Tryon (Tim Downie) has pardoned the regulators they were hunting and while Knox isn't pleased, Jamie tries to make it seem like a small deal, telling the red coat that there are "other battles." Knox then reveals that a roster from Ardsmuir prison where Jamie and Murtagh were together has been summoned, which could reveal their previously unknown connection to the military, blowing Jamie's undercover antics.
Not letting Knox see him sweat, Jamie agrees to throw the knife at Murtagh's poster but misses. Later on, Knox informs Jamie that while the regulators are pardoned, Murtagh is not, and so Jamie's militia is disbanded and told to return home as Knox takes over. Unable to let this happen, Jamie visits Knox that night in his room and the pair play a game of chess but they're interrupted by a knock at the door and the red coat is given the Ardsmuir list.
Instead of trying to steal the paperwork, Jamie outright tells Knox his name will be on the list, at first the man thinks Jamie's joking and reassures him that there probably is more than one James Fraser in Scotland. But once he learns the truth and sees the list for himself, Knox is appalled. He questions Jamie's loyalties to which Jamie says his loyalties have always gone first to his family.
Turning to exit the room and alert authorities, Jamie takes quick action and pushes Knox into a wall before choking him to death. Carrying his body to bed, Jamie shuts the fireplace's flue causing smoke to become trapped. Escaping through a window with the paperwork, Jamie hides at first and meets the long-awaited Fraser pet, kitten Adso. When Jamie meets Fergus outside as men carry Knox's lifeless body out, believing his death is accidental, he advises his adoptive son to leave quickly with him. Later, when he returns home, Jamie tells Claire how happy he is to be home at Fraser's Ridge without revealing what he's done, but introducing her to Adso instead.
Roger and Bree's Clarity
When Roger and Bree first enter the episode, they talk about his persuasive nature and Bree mentions his past as a professor at Oxford. While musing on this, he wonders if he should start his own school, when Bree suggests she can teach math, he kind of brushes the idea off, thinking it's a pipe dream. Later, we see him playing with Jemmy who is crying, in an effort to distract the baby, he picks up a necklace from Bree's jewelry box and accidentally knocks it over.
Cleaning up the mess, Roger finds a gem wrapped in cloth and he's instantly transported back to a card game he played with Stephen Bonnet (Ed Speleers). It's clear the pirate wouldn't part with the stone for anything, so when Roger questions Bree about it, she gets upset and tells him how Bonnet had given it to her because she'd told the rapist that Jemmy was his son. Appalled, Roger tells Bree she's never said that to him about Jemmy, even though he's raising him.
She tries to explain she kept the gem for all of them as a ticket back to the future since it's needed to travel through the stones that brought them there, but he leaves. The next morning when he wakes, he has a chat with Claire, asking if she ever regretted lying to Bree about her parentage when she was young, and Claire says no.
Taking her advice about time, Roger brings Bree mushrooms for soup she'd been wanting to make and apologizes for everthing. This is when she takes the opportunity to tell him that Bonnet's alive. Unbelieving at first, Roger is told about Jemmy's encounter with an Irishman in town, but Bree backs the information up by saying it was confirmed by Lord John Grey (David Berry) at their wedding. Telling her that Bonnet means nothing, Roger promises that they'll take the gem and return through the stones as soon as Jemmy can. Looks of relief and concern are both present in Bree's eyes as they hug.
What will happen next? Don't miss Outlander when it returns with a new episode next week.
Outlander, Sundays, 8/7c, Starz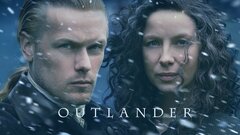 Powered by