'Outlander': Jamie & Claire Face an Unusual Dilemma in 'Free Will' (RECAP)
[Warning: The below contains MAJOR spoilers for Season 5, Episode 3 of Outlander, "Free Will."]
Outlander gave fans an episode unlike any they've had before in this week's installment, "Free Will," in which Claire (Caitriona Balfe) and Jamie (Sam Heughan) are faced with an unforeseen dilemma.
Taking to the road to fulfill Jamie's assignment of gathering a militia, the Frasers endure despite the challenges that face them. Below, we're breaking down the episode, but beware of major spoilers ahead.
Continuing where the story left off, Claire continues to teach Marsali (Lauren Lyle) medical skills as they search for a particular mold on the bread and other food scraps Claire's been working on in an attempt to create a batch of penicillin. A voiceover narration from the Fraser matriarch notes that she's tempting fate by trying to make something far ahead of its time, but that she has to do what she must to keep her family and others safe.
Later that night, Jamie arrives home from his hunt and he utters a prayer as he watches over Claire's sleeping form. When she wakes and asks what he's thankful for, he tells her, "The sight of you, Sassenach." He then fills Claire in on what happened with Knox (Michael D. Xavier) and the regulators, and admits he had liked Knox until he had murdered the imprisoned regulator without cause.
Jamie admits he's returned home because he's been asked to gather a militia, and while both of them worry about the possible fight ahead, she tries to reassure him that there isn't much information recorded on the regulator's history. If there's little information, that could mean Jamie's godfather Murtagh (Duncan Lacroix) will be spared in the rising revolutionary tensions.
With this news, Claire also tells Jamie she'll accompany him on the road as the men will need a physician if things do actually evolve into a fight. "You need my help," she tells him. Jamie in return says,"I always have and I always will." The next morning, Jamie asks Fergus (César Domboy) to bring a draft announcement to the papers for printing, and so the young man fetches what he thinks is a spare piece of paper but is in fact one of the informational sheets Claire had been making up in the last episode on preventative health care.
When the people of the ridge who are joining the militia gather, Claire gives Marsali a rundown, telling her new apprentice to keep up with her studies, what kinds of molds to look for in order to make medicine and how pig skin is a good alternative for human tissue. Brianna (Sophie Skelton) agrees to assist Marsali with her readings and speaks with her mother, reassuring Claire that it won't be a war.
Roger (Richard Rankin) is also among the ranks and he bids his new bride farewell. Bree complains that she feels like Scarlett O'Hara sending the men off to war. But he tries to boost her spirits, applauding the fact that Jamie left her in charge of the Ridge in all of their absences, before the couple shares a kiss.
On the road, Jamie takes a moment away from everyone to reveal the news about Stephen Bonnet's (Ed Speleers) being discovered alive to Claire. She worries about Bree, but Jamie reassures her that their daughter doesn't know her rapist is alive — though of course fans already know this is false because Bree overheard Jamie's talk with Lord John Grey (David Berry) in the Season 5 premiere and has been haunted since.
Later that night, things get silly around the campfire, but it all turns serious in the light of day the next morning when Morton (Jon Tarcy) apprehends a young man he believes is Josiah (Paul Gorman) — the hunter Jamie planned to hire for the Ridge — but by looking at the boy's hand which bears no scar, it becomes clear he's not actually Josiah, with whom Jamie suddenly walks up to the building crowd.
Josiah tells them that the lookalike is his twin Keziah (also Gorman) — Kezzie for short — and explains that they'd been indentured to a man named Mr. Beardsley who would torture them. Josiah escaped in order to try make a better life for his brother and himself. When he went back to the home where his brother was staying in the barn, he was starving and ran off when he saw the provisions at the Fraser's camp. Jamie and Claire reassure them that they can eat and ask about the boys' family.
Josiah tells them Mr. Beardsley got them after their family died during a sea voyage and Kezzie's been deaf since they were five because the man had harmed him. Asking to remain with the Frasers, Jamie vows to retrieve their indenture papers and purchase their freedom.
Venturing to the Beardsley home, Jamie and Claire get an eerie feeling as they divide and conquer, with her exploring the barn out back where a litter of kittens and a horse sit among the cold and desolate space. Meanwhile, Jamie knocks on the door, receiving no answer, and looks around the side, peering in through a window to find goats running around indoors. When he looks back for Claire, he's startled to see a face peering back at him the next time he gazes at the window.
The woman is Mrs. Beardsley (Bronwyn James) who we later learn is named Fanny. Jamie tells her he wants the boys' papers and asks if Mr. Beardsley's around, but she tells him her husband is dead and that he can keep Josiah and Kezzie. This isn't good enough though, and Jamie knocks on the door again when Claire joins him, saying he needs the papers for it to be official. Inside, Claire and Jamie take in the hoarders' space and note a terrible smell as they block their noses.
While Fanny looks for the documents, Jamie and Claire are startled by a knocking noise on a closed door, and so he investigates. They discover another goat that Fanny was trying to keep away from the others. When Jamie lets the goat out of the house, Claire remarks that the smell isn't the goats and notices a wet stain on the ceiling. She then asks Fanny how long ago her husband had died — the woman says months ago, but Claire drifts towards the stairs curious. Franny protests and says not to go up there.
Claire doesn't listen though and she discovers what appears to be the corpse of Mr. Beardsley, but when she kneels beside him, his eyes open and he groans in pain. Jamie arrives then and asks what's happened. Claire says she believes the man had a stroke to which Fanny reveals that he's been that way for a month, that Mr. Beardsley had been chasing her and then fell where he stood and she was unable to move him.
Meanwhile, Roger, who was left in charge of the militia in Jamie's absence, works on recruiting more men for the cause. One woman questions the job, wondering if her sons should join, but agrees to let them when she learns compensation will be provided. But it's more than that for Roger and he promises to get them home safe.
Meanwhile, at the Beardsley's, Claire and Jamie move the man downstairs where she cleans his wounds — which include bedsores covered in maggots as well as trauma inflicted by Fanny, including scorching his feet over and over again. Jamie questions if the woman did this to Beardsley, and he blinks in response affirming the assumption made by Jamie and Claire.
When Jamie and Claire take a minute to speak they turn to find Fanny pulling a rope around Mr. Beardsley's neck. This leads to a scuffle as they stop her actions and she complains that she wanted the man to die slowly, but Fanny stumbles into a wall and her water breaks, revealing she's pregnant. Claire helps her deliver a baby girl who turns out to be half black. This news thrills Fanny, who exclaims that the baby isn't Mr. Beardsley's with the intention of mentally harming the man.
That night, Fanny tells Claire about herself — how she's from Baltimore and had been with Beardsley for two years. His fifth wife, Fanny, says "he killed them all" — his first four wives — and buried them under the tree outside the house. She tells Claire the baby's father is a good man, but just because she's had a baby doesn't mean she's a mother. This conversation is also where Claire learns Fanny's name, which is actually Francis.
After Fanny goes to sleep with the baby settled beside her, Claire and Jamie talk about the situation and Claire feels torn about what comes next because she feels compelled to provide her medical services. She then wonders out loud what kind of world this is to bring a baby into and when Jamie says "the only world," she tells him no. This leads the conversation down a darker path as she informs her husband that she thinks Brianna, Roger and Jemmy should return to their own time.
Jamie isn't on board and reminds Claire about her penicillin progress. When she begins to protest, he adds that they'd be leaving the only family they have. Claire doesn't push though, and the pair decide to go to sleep. In the morning Fanny is gone and she's left her baby behind. Claire goes to scoop up the child when she finds the deed to the Beardsley house and Josiah and Kezzie's papers.
And so the couple pack their things and plan to bring the baby with them to where they're heading next. Unsure of what to do with Mr. Beardsley, Jamie hints at putting the old man out of his misery, and so Claire leaves him to it. Jamie asks the man if that's what he wants through blinking and Beardsley confirms this. When Jamie asks if the man will pray for forgiveness for the things he's done, the old man blinks no. It's a dark note as Jamie shoots the man in the head, but when he joins Claire outside it's another matter.
He tells her he thought you died instantly from an apoplexy (stroke), which his father supposedly perished from. Jamie worries that his father suffered after seeing Mr. Beardsley suffering, but Claire assures him that his sister Jenny (Laura Donnelly) would have told him. It's then that he makes Claire promise that if he ever finds himself in such a state as Mr. Beardsley that she put him out of his misery the way he just did, and she responds by saying she'll do what has to be done.
Hopefully it will never come to such measures for Jamie and Claire though. Don't miss what awaits them on their next leg of Season 5 when Outlander returns Sunday on Starz.
Outlander, Sundays, 8/7c, Starz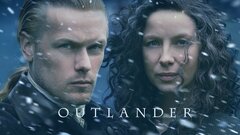 Powered by