'The Walking Dead' EP on Rick's Exit, the Whisperers & New Romances in Season 9
Much like a small-town Georgia sheriff's deputy felt when he awoke from a coma to a world of ravenous reanimated corpses, Andrew Lincoln is struggling to wrap his head around his upcoming exit from AMC's horror hit The Walking Dead.
"It's very strange. I'm still in the stages of processing it," says the man who has embodied Gary Cooper–esque hero Rick Grimes for eight seasons.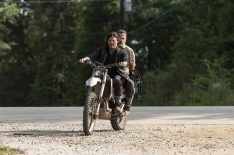 See Also
A more peaceful world awaits... or does it?
The job of crafting the perfect farewell — set to air during the first half of Season 9 — falls, of course, to Dead's writers, led by executive producer Angela Kang. And she is well aware what a big deal this is: "We want to do right by this character. That's been foremost on my mind pretty much every day when I wake up."
To compound the pressure, Lauren Cohan, who has played farm girl Maggie since Season 2, will leave after six episodes. (She's joining Scott Foley in ABC's midseason drama Whiskey Cavalier.)
See Also
Have you ever wondered what your former favorites are doing now? Click through our gallery to find out!
The story picks up a year and a half after April's finale, and life seems surprisingly simple. Vital supplies like gasoline and bullets have dwindled, leading to a more primitive world.
"The switch away from cars to horses and from guns to hand weapons gives a fresh feel to what our characters are doing," Kang says. Lincoln likens this round to the show's first, right down to the visual of Rick on horseback. "Cowboys and zombies is what we've been moving toward," he says. (Another similarity to early days: a reported visit from Jon Bernthal as hothead Shane, killed in Season 2.) Here's what else is in store:
See Also
From Rick and Michonne to Daryl and Negan.
Carl's legacy
Although the junior Grimes (Chandler Riggs) died last season (he shot himself after a walker's bite essentially sealed his fate), Carl's presence continues to loom large. "A lot of the energy, certainly from Rick's point of view, is driven by grief and not letting Carl's death be in vain," Lincoln says.
Kang adds, "People still carry the [message] of Carl's letters [which he left for them to read posthumously] since he foresaw a future that didn't just end in mutual slaughter." Upholding Carl's vision of peace will be a challenge.
Fallout Over Rick's Betrayal
Rick's unilateral decision to allow bloodthirsty Saviors ringleader Negan (Jeffrey Dean Morgan) to live still angers Maggie and fellow allies Jesus (Tom Payne) and Daryl (Norman Reedus). "They had made a pact to avenge the deaths of all the people they lost over the course of the war," says Kang.
Maggie, now leading the agrarian Hilltop colony and mom to baby Hershel, harbors especially complicated feelings about Rick. "They have a deep, fundamental disagreement about how things should have gone down," Kang notes, "and how things should move forward."
Finding Happiness
What counteracts all the conflict and the growing threat (no ammo, remember?) of walkers? Love! Rick and Danai Gurira's Michonne are enjoying a "mature, loving, deeply supportive and respectful relationship," notes Lincoln.
And jaded Carol (Melissa McBride) and optimistic Ezekiel (Khary Payton) have coupled up. "Carol went through so much abuse and trauma, and Ezekiel is so different from her," Kang says. "They balance each other."
Villains, Old and New
As Negan bides his time in solitary confinement, "Rick has taken to visiting him, and others interact with him in really interesting ways," Kang teases. But the reprieve is short: New antagonists the Whisperers are on their way. Fans of the comics know them as the group that lives among walkers wearing Silence of the Lambs – style skin suits.
Led by Alpha (Samantha Morton, Harlots) and her right hand, Beta (Ryan Hurst, Sons of Anarchy), the Whisperers will challenge Hilltop's democracy, Kang says. "They will force our characters to really face these questions of who they want to be in the new world." And they will be plenty creepy too.
The Walking Dead, Season 9 Premiere, Sunday, October 7, 9/8c, AMC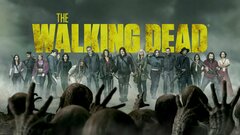 Powered by