'Nightwatch Nation' Follows Real Life EMTs Saving Lives Across the U.S. (VIDEO)
We're used to mega-producer Dick Wolf taking us inside the scripted world of medicine with NBC's popular Chicago Med. But with A&E's unscripted series Nightwatch Nation, which premieres Thursday, it's all about the unscripted.
The dramatic reality series follows EMTs in multiple U.S. cities — Yonkers, Austin, Tucson, Baton Rouge — as they risk their lives on one of the toughest shifts out there: the night shift. There are 10 episodes in the first season, which will show the paramedics in a variety of stressful situations, dealing with things like stroke victims, drug overdoses and accidents involving more than one ambulances trying to save lives.
Below is an exclusive clip from the premiere, in which Alex and Jamal, two Yonkers-based EMTs, talk about what made them choose to be first responders. But midway through the interview, as is often the case, they get a call from dispatch about a possible stroke and have to head out in hopes they can save another life.
Nightwatch Nation, Series Premiere, Thursday, August 16, 10/9c, A&E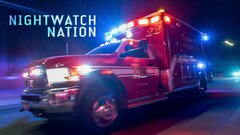 Powered by