Hannah John-Kamen of 'Killjoys' Will Never Say Goodbye to Dutch & Her Blue Leather Jacket
It has been a big year for Hannah John-Kamen on the big screen, with roles in two blockbusters: She portrayed F'Nale Zandor in Steven Spielberg's Ready Player One and Ava Starr/Ghost in the most recent Marvel Cinematic Universe feature, Ant-Man and the Wasp. Her comic-book and sci-fi cred continues to grow.
However, loyal fans of Killjoys were already well in love with the British actress thanks to years of seeing her playing Dutch and Aneela. After numerous guest spots on other projects, John-Kamen nabbed her first starring gig on the Syfy television series in 2015. Since then, audiences have followed Dutch, D'av (Luke Macfarlane) and John (Aaron Ashmore) on their space bounty hunter adventures.
The series is currently in its fourth season, where the trio was found initially scattered to the far corners of the J galaxy and beyond. They are united by the knowledge of the name of their true enemy: The Lady, an immeasurable manifestation of evil without beginning or end. The Lady is making her play and our trio has something she wants – the Hullen Heir.
In 2017, Syfy renewed the show for two more seasons, with the fifth to be its swan song. No matter what comes next for John-Kamen, she will never forget her roots. During a break from a family visit in London, the actress took time out to reflect on the series, compare Dutch to recent movie roles and tease what's to come on Killjoys.
You've been a part of two blockbuster films in 2018. How do you think this has helped grow Killjoys' audience and awareness because when people find out about you and your background, they find out about the show? Do you feel that opened the door to getting more eyes on it?
Hannah John-Kamen: I think the most beautiful thing that actually started with the show that [the fandom] was so organic. I remember Luke, Aaron and I in Season 1 went to a fan expo. We went there with one picture and one paragraph describing the show, but we already had so many fans hooked on the show. I remember it being wonderful. We were really surprised how many were already interested in the concept of what Killjoys.
It has been so heartfelt to have the fans that I've had and to be involved in the world outside of Killjoys and be inspired by that. It's beautiful to see the fans of Killjoys and have their support. But absolutely, the Ant-Man fans and the Ready Player One fans who have discovered Killjoys and are now new fans of Killjoys, it's amazing. Absolutely opening up that world.
You can see in the characters that you play in these movies are similar in some ways to traits and background we see with Dutch and Aneela in Killjoys. All empowered and strong women yet facing deep rooted challenges. Do you see similarities in the roles whether it's rough childhoods or an us versus the world mentality?
I'm a sucker for a deep-rooted, amazing female character that has conflict. I'm a real sucker for those characters. One hundred percent. I think there is so much to play. I think when you have so much stakes and conflict within yourself and others. When you start off as character that has conflict and has more conflict to play, I think it gives me as Hannah the actor really something to play with. It really is the unknown. You don't really know where you're going.
You have the ultimate goal and the objective with the characters I play, but it's really fun to rediscover who she is. Whether she is Dutch, or she is Ava or F'Nale Zandor. The only thing that separates F'Nale Zandor from Ready Player One is she was quite set in who she is. She has a job to do and do it well. I think she is quite a stickler for her job and a stickler for rules. But actually, playing Ava and Dutch, within a society of rules you break them. And I enjoy breaking them.
I think with these characters I've been playing at this moment in my life, I suppose been a reflection of me discovering these really juicy, meaty characters that have a lot to say as well. I think there are obvious differences in the characters, but yeah, they are strong empowered women. I say keep these roles coming.
When Syfy announced Killjoys was getting two seasons to finish up the series after Season 3, what was your reaction? Surely there is sadness knowing the show is ending. However, there have been a lot of shows canceled abruptly where writers and actors didn't have the time to end it the way they'd like. With Killjoys, you have the ability creatively to build to a definitive, and hopefully fan-satisfying, conclusion.
Creatively, I'm honored. I'm absolutely honored. By the time we finish Killjoys and actually finish the show, we can bow to it respectively. We will know we've done five seasons, which is a huge amount in this day and age with the amount of shows that come and go. It really is thanks to the fans and everyone for really investing in us and our story that we have to tell. It really was a privilege to know we have two seasons left, and we get two seasons to have fun and finish this properly. And actually, for fans as well, tie up the story properly so it's not ending on a nervous cliffhanger or on a place where we don't know if we are going to come back.
I'm sure it's the same for the writing team as well. I have spoken to them, the creative teams. We all feel so happy and put our hands on our hearts like tapping our hearts like Killjoys do. Just saying thank you, and we get to end this show with a bang.
So where are you filming-wise? Have you imagined what that last day on set will be like?
We've already started filming Season 5, but the end is near. The question of what it is going to be like on the last day on set. I think, I know it's going to be hard to say goodbyes. We've had the same crew come back, which is really a testament to the joy we've had on the show. We've had these familiar faces who have wanted to come back and continue to be a family with us. It is really going to be difficult to hang my badge up and say goodbye to Dutch. I don't know if I will though, personally. I think she has definitely inspired me in my life. It will be very hard on the last day. I hope it will be laughter and tears, which I think it will be.
Do you have anything from set or a memento in mind that you'll use to remember the experience? Or have you not gotten that far in thinking yet?
We are at the point where I'm talking to costumes saying to them, "Well, I need Dutch's blue leather jacket." That was the iconic Dutch leather. I asked for my space gun, but I don't think I'm allowed to travel with that around. It's going to be the Dutch leather jacket. The blue iconic color of Dutch.
I would love to bring the ship, Lucy, with me as well, but I can't do that. I'd love to bring her back with me in London and put her in my yard. That would be so fun with the neighbors. We'd have open Lucy days. I think for now it's just the leather jacket, but when you've done so many years on the show, there have been so many moments and happy memories you have with props and things.
Through your experience on Killjoys, you've these opportunities and doors open up for you. How do you think you've grown as an actress from your time on the show?
I think when I was introduced to Dutch as a character has completely engulfed me in a way that was kind of unexpected. I embraced this role. I love her. I love her tenacity. I love her sass. I love her tough exterior, but also, vulnerable interior she is not afraid to show.
I've learned a lot in my own personal life from Dutch. It has opened doors for me. I never really looked at approaching other roles like that. It is kind of engrained in me with my own life. The last time you did see Dutch and Aneela, I have to give credit to the other character I play as well in Aneela. She is kind of the opposite of Dutch, But in terms of strength, holy hell. She is kind of even tougher in a very quiet and timid way.
What can you tell us about the remainder of Season 4 and beyond? What can we expect?
It's basically the world keeps getting bigger for everyone. When you think someone is bad, they're not necessarily the bad guy or girl. We've now discovered there is The Lady, and we are all fight tooth and nail to bring her down. You will see different eb and flows in relationships between Dutch and Johnny and Dutch and D'av and the team.
I have to also say a family is introduced as well. That is going to be fun to see and fun to get used to as well with all the different characters and how they approach that. The world just constantly gets bigger and bigger. So, more action, more lasers, more leather, more ships and more bad ass from Dutch and Aneela.
Killjoys, Fridays, 10/9c, Syfy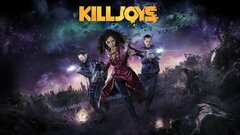 Powered by