First Look: Final 'Sharknado' Movie Time Travels to The Revolutionary War
The British are chumming! The British are chumming!
For The Last Sharknado: It's About Time, the sixth and final installment in the gloriously gory franchise, history is set to be made — or mauled — when the film series' central hero, Fin Shepard (Ian Ziering), his bionic wife, April (Tara Reid), and waitress turned storm tracker turned secret society leader Nova Clarke (Cassie Scerbo) figure out how to travel back in time to stop the all-too-hungry flying fish.
It sounds like the squad winds up scattered to the heavy winds in the process. "Nova finds herself in the middle of the Revolutionary War," Scerbo previews. But "it's not the Brits they're fighting against in this scene."
Washington is definitely gonna need a bigger boat to cross the Delaware! ­
The Last Sharknado: It's About Time, Movie Premiere, August 19, 8/7c, Syfy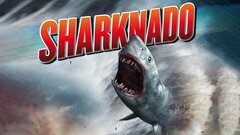 Powered by