How Will 'The Expanse' Be Different in Season 4 on Amazon?
[Spoiler Alert: This recap contains spoilers from "Abaddon's Gate," the Season 3 finale of The Expanse.]
Wednesday's The Expanse Season 3 finale left many fans wondering what's next for their beloved cast of characters, especially now that they're heading to Amazon.
The Syfy series will make the jump from the cable network to its new streaming home for Season 4, which makes it possible that the show will change a bit in the process. With less restrictions on profanity, nudity, and running time the showrunners have been set free to conquer new land… just as Season 3 left off for the team on the Roci.
See Also
Plus, could 'Lucifer' be saved?
After they opened the Ring gates, a whole new world was suddenly within their grasp. "You've given us a new frontier. 1,300 inhabitable systems on the other side of those Rings. You know we're gonna go. We won't be able to resist. It's gonna be another blood-soaked gold rush," Holden (Steven Strait) said in the final moments of the finale.
So what does this mean for him and the rest of the crew?
Well, starting with that energy burst that took place as the Roci went through the Ring, showrunner Naren Shankar notes that the moment serves as a set up for Season 4. "When the Roci goes to the Ring at the end, it comes to kind of an ominous little harbinger of things to come," he told Entertainment Weekly. "That there is something inside that Ring space, in places between the Ring gates, that's gonna come into play at some point as the series goes on."
Referring to Holden's line about a "blood-soaked gold rush," Shankar further revealed that Season 4 will play out like a Western of sorts. "It's like the discovery of the New World — suddenly there's land, there's resources, there's the potential of making incredible fortunes right there," Shankar continued. "What's going to happen? Well, readers of the book know that these are things that that destabilize societies, and that's what you are going to see the beginnings of in Season 4."
Fans of the book know that Shohreh Aghdashloo's character Chrisjen Avasarala isn't in the action going on currently but Shankar promises she'll be present in the fourth season. "She's a big part of what goes one, and we've got a great storyline for her on Earth and other places as well."
Shankar can't say how much of the fourth book will be part of the season, and whether or not it will extend to Season 5, but he can share that it "changes kind of season to season."
The biggest change that could come to Season 4, though, is the lifted restrictions that the series has, now that it will stream on Amazon. One thing Shankar seems most pleased about is not having to limit the length of episodes to 43 minutes. "
There were times in Season 3 where I wished that I had been able to put another four or five minutes into certain shows, it would have been great… and that's the beauty of being on another platform like this."
Fans can look forward to all of these exciting teases when The Expanse returns.
The Expanse, Season 4, Coming Soon, Amazon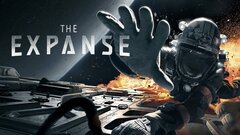 Powered by