16 Things We Learned at TV Guide Magazine's Fan Favorites Comic-Con Panel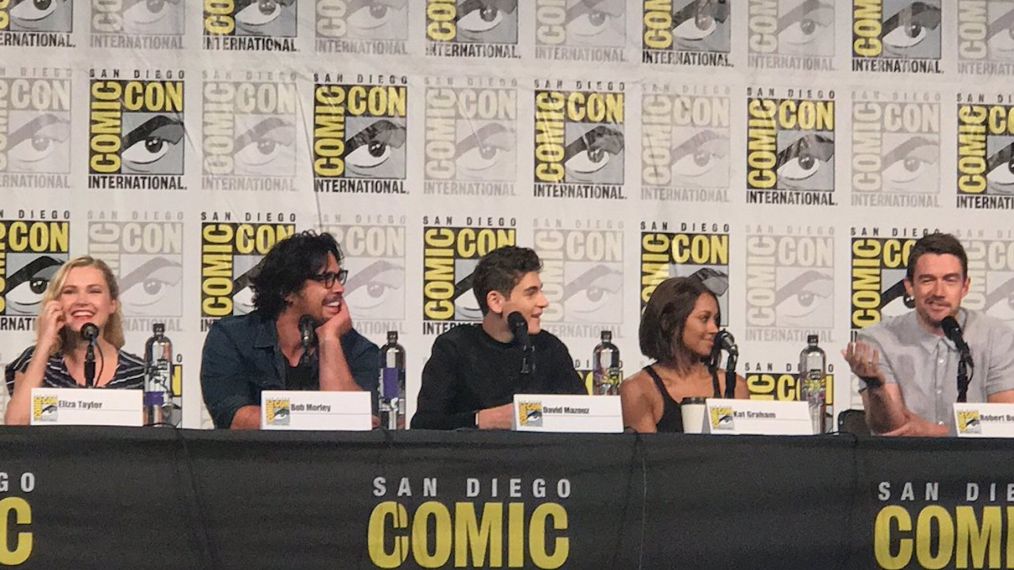 Yeah, we're a little biased by the TV Guide Magazine San Diego Comic-Con Fan Favorites 2018 might be the best panel of the whole weekend!
It's certainly been the most diverse! The stellar lineup, moderated by TV Guide Magazine's Damian Holbrook, consisted of Tom Ellis (Lucifer), Eliza Taylor and Bob Morley (The 100), Cameron Cuffe (Krypton), Amber Nash (Archer), Summer Bishil (The Magicians), Robert Buckley (iZombie), Melanie Scrofano (Wynonna Earp), David Mazouz (Gotham), and Kat Graham (The Vampire Diaries and Rise of the Teenage Mutant Ninja Turtles).
A variety of questions were asked by both Holbrook as well as some fans, ranging from what it feels like to have such diehard devotees to which celebrities the panelists themselves are fans of!
Read on to get the scoop!
Ellis on how Lucifer fans campaigned to bring the show back after it'd been canceled: "I was gutted when we got canceled. As soon as the news broke (that fans were trying to save us), I started to feel better. The response from the fans really picked me up off the floor. It kept going and as it did, my smile kept getting bigger. As an actor, you hope what you've done has touched people. If we hadn't been canceled, I wouldn't have this knowledge of how much the show is loved. The fans saved us and for that we'll be eternally grateful. Thank you."
Scrofano on Wynonna Earp being written about in the New York Times: "The piece in the New York Times gave us credibility. Our fans always knew we deserved that. It's such a special show. It has so much heart. Shows with great fandom have [fans who have] such great love for each other. To be recognized and grow, we're so grateful for that."
Nash on being recognized even though she mostly does voice work: "I was with my parents in IKEA buying a cheap couch when woman came up to me and said, 'Oh, my God! Oh, my God!' I was like – no, my mom hates the show! The great thing is I can walk around Comic-Con and nobody knows who I am. I've done lots of video messages and bachelor parties, too. Guys, you can hire me for bachelor parties."
On how Taylor and Morley navigate fans wanting to see their characters, Clarke and Bellamy, together: "Um, we defer to the writers," says Morley. "It's an emotional roller coaster," says Taylor.
On what Mazouz hears from Batman fans (one in the room yelled out, "You rock!"): "Apparently, I rock! I'm really nervous. I've been playing Bruce Wayne for the past four years. There are so many emotions I have with this final season. I don't know what to say but thank you for having me, Damian. The fan response has been overwhelmingly positive. I wouldn't be here if it weren't for you guys."
Cuffe on how this year's Comic-Con differed from last year's: "It's amazing. When we came here last year nobody knew what the show was. (Some) thought we were going to tell a story that you didn't think you were going to see. We ended up not doing that. We've created an alternate timeline with a show that we're super proud of. It's great to talk to fans about what Krypton really is."
Bishil on when she started connecting with fans of The Magicians: "It's come in layers. I felt so much love in season one before we even premiered. We have such a strong support system. Over the past six months, people's response to Margo has both floored and surprised me."
Buckley on how fans responded to him pre and post-becoming a zombie: "Before he was a zombie, he was this romantic punching bag. After he became a zombie, he was this romantic punching bag – only with a slower pulse. This was the first show that [producers] let me run in the comedy lane. It's been a blast for me. I was happy when people laughed."
Mazouz on Gotham ending next season: "There are so many emotions. Gotham is an origin story. It bridges it bridges the story of my character losing his parents to becoming Batman. To be going into our final season means everything. It means we're going to do it right."
Buckley on iZombie coming to an end: "Season 5 is for the fans to give them closure and to finish up the stories. It's a chance to go big and blow it up. Come January, I'm unemployed. Hey, Eliza and Bob can we make it The 101?"
On what panelists think Buckley could do next? "You could be Superman's great uncle," suggested Cuffe.
"Last season, I was pregnant; I would let you impregnate me on the show if you need a job," joked Scrofano.
"My work is here is done. Enjoy your Con," quipped Holbrook.
Bishil on the TV landscape becoming more diverse so that everyone can feel included: "It's incredibly important. I struggled for years to find work. The feedback I received was that I was 'too ethnic' or 'too exotic.' The language I heard was not healthy. When Margo came along, I was overjoyed. I was not a stereotype. Now, the world and Hollywood are changing. It's beautiful and I'm excited."
Graham on the future of diversity and inclusion: "It's great that there are so many LGBT characters, but there aren't enough. There are so many [people] out there who deserve a chance and shouldn't be used as tokens are background. What's so amazing about what happened with my character is it sparked a conversation. I was pretty young when I started in Vampire Diaries and it turned into this visceral thing. It created a dialogue."
On who panelists are fans of:
"I had a geek out moment backstage and the cast of Preacher walked by; those guys are my favorite," says Nash.
"I saw Sigourney Weaver (Aliens) last year at Comic-Con and lost it on the inside," recalls Ellis. "I'd had a couple of drinks and I walked over to her and said, 'I love you and I love everything you've ever done.' She said, 'Yeah? That's because you don't know me,' and then she walked off. I think she was being funny. I was a little bit crushed, but I still love you Sigourney."
"I'm a big fan of Danai Gurira," says Taylor. "I've been seeing all these posters here for The Walking Dead."
"I'm a big fan of Brooklyn 99," says Morley.
"My top three are Zachary Levi [because] Chuck is my favorite show of all time," says Mazouz. "I met Zachary at a party and it took me a bit to work up the courage to talk to him. I blacked out, I think. Also, Neil deGrasse Tyson (Cosmos) and South Park."
"I'm a fan of so many people," says Taylor. "I was having a geek out at last year's TV Guide Fan Favorites panel."
"So many people," says Scrofano. "Mel Brooks – I can quote Spaceballs if you like. Also, (journalist) Malcolm Gladwell and actress Zoe Saldana."
"The coolest person I met was Daniel Kaluuya (Black Panther)," says Cuffe. "He's been a star in Great Britain for years. I saw him in a play called Blue Orange. I loved meeting him."
"I love everybody," says Bishil.
On if Ellis could punish anybody, who would it be and why? "Honestly, I hate getting political, but I'd punish the President of this country right now. I think he has a responsibility to the world he doesn't uphold. He deserves punishing for that – and his hair."
On what challenge panelists would like to tackle?
"I'd love to do a comedy," says Buckley.
"I don't know," muses Graham. "My hardest challenge is being myself. I'd love to do something that inspires people but I don't know what that is yet. I'll let the universe guide me."
"Writing and directing," says Morley.
"This doesn't sound cool but I've always wanted to do one of those crazy [James] Bond action scenes, jumping off boats and guns blazing," says Taylor. "I'd train for it and then eat pizza afterwards."
"I got to direct a little bit this season," says Scrofano.
"I've never felt like someone who didn't get really lucky," says Cuffe. "I'd like to feel like I really earned it."
"I could think of a million things," says Bishil. "If I had to choose one it'd be to finish a script that I've been writing for a year, sell it and get it made!"
"I'd like to do a musical," says Ellis.
"This will never happen, but I want to drop a rap album," says Mazouz. "I'm serious. I've thought about this. Trust me. If I were in a group I'd call it 17A."