Ask Matt: 'Instinct' Making History, a Broken 'Heart,' 'Roseanne' Revival Weightier Than 'Will & Grace,' and More
Welcome to the Q&A with TV critic (also known to some TV fans as their "TV therapist") Matt Roush, who'll address whatever you love, loathe, are confused or frustrated or thrilled by in today's vast TV landscape. One caution: This is a spoiler-free zone, so we won't be addressing upcoming storylines here unless it's already common knowledge. Please send your questions and comments to [email protected] (or use the form at the end of the column) and follow me on Twitter. Look for Ask Matt columns on most Tuesdays and Fridays.
Instinct Breaks Ground With Its Lead Character
Question: I just wanted to point out a subject that has mostly gone unnoticed this season. The incredible and historic fact that CBS is now airing Instinct, which is historic for, if I'm correct, being the first time in history that a mainstream drama on a U.S. broadcast network has featured an openly gay lead character played by an openly gay man (Alan Cumming). The show itself is otherwise kind of generic and bland, but I would like to acknowledge the historic fact that CBS is able to air a show like this without a single whiff of criticism from the anti-gay right-wing tangent. I only wish the show itself was more memorable for its content. I also appreciate the fact that the character in question is part of a committed, monogamous relationship, and that CBS has thus far been unafraid to show the couple show affection and kiss each other. That said, what do you think are the renewal chances of this show? — MJ
Matt Roush: I wouldn't say that Instinct's distinction of featuring a gay lead in a formula procedural went unnoticed. Our own coverage pointed it out specifically, as did many others, and we also featured a Q&A with Alan Cumming on the very subject. But as my own mini-review pointed out, this is just about the only interesting aspect of Instinct, which otherwise follows the CBS crime-by-numbers playbook to a fault. If the show were nearly as interesting as its lead character of Dr. Dylan Reinhart, and (my opinion) even if CBS had allowed Cumming to use his own voice with its Scottish lilt to enhance the character, Instinct might be making more noise. There's no question the matter-of-fact portrayal of Dylan's happy marriage breaks ground within this genre, and maybe because the show is in all other regards predictable and tame, it hasn't been treated like a cultural watershed with the attendant reactionary protests. As for the show's future, it seems to be holding its own on Sundays, neither flop nor phenom, so its future really depends on what CBS is developing for the new season. We'll know more next month. I'd be OK if it came back, especially if it raised the bar a bit in its storytelling. (Wouldn't count on it.)
---
Broken-Hearted Over a Fallen Mountie
Question: Hallmark's When Calls The Heart killed off the character of Mountie Jack in Sunday's fifth-season finale. Was it because Daniel Lissing wanted to leave the show? — Pam
Matt Roush: That appears to be the case. As fans were learning of Jack's tragic fate, co-star Lori Laughlin tweeted: "We will miss him, but understand his choice to move on." This is not uncommon for a show that runs this long, and it does shake things up for when Heart returns for a sixth season, with widowed Elizabeth expecting their child (I predict it will be named Jack or Jacqueline).
---
Roseanne Evolving More Than Will & Grace
Question: Just wanted to say how much I am enjoying the Roseanne revival. They are dealing with surprisingly serious issues and the characters really seem to have evolved and grown. Is there any chance for a second season? I enjoyed Will & Grace, too, but there didn't seem to be a whole lot of emotional growth. — Unsigned
Matt Roush: ABC wasted no time signing up Roseanne for a second season within the week of the show's blockbuster return in late March. The order is for at least 13 episodes, up from this season's nine, and I wouldn't be surprised if they don't try to milk this the way NBC has with Will & Grace. Speaking of which, part of the premise of the much broader W&G is that these heightened and theatrical characters remain purposefully immature, neurotic and silly. That's the joke. Only in the episode where Karen (Megan Mullally) grieved for Rosario did you get much in the way of an emotional payoff. Whereas Roseanne lives in a real world full of struggle and conflict, and it's only going to get more serious in weeks to come, as an opioid addiction within the family reveals itself. The ability to wring hard laughs out of hard times is what distinguished Roseanne then, and it's happening again now. Will & Grace is more of a lark (though in its own way groundbreaking), and never apologizes for that.
---
Give Killing Eve a Break From Commercials
Question: I absolutely agree with your review of Killing Eve: a great, great show with great actors/characters. But talk about killing, the commercial breaks are killing ME! I know the show has to make money, but could they limit the amount of breaks? — Cin
Matt Roush: I have the luxury of reviewing most shows like these in advance without always being made aware of how intrusive the commercial breaks can be. And when I do watch shows on the nights they air, it's almost never in real time, so again, I rarely feel affected by this economic necessity of the way TV (in many cases) still works. If you are watching in real time, or viewing On Demand where you can't fast-forward through commercials, I feel for you. But these shows don't pay for themselves (and that includes when you're paying for some commercial-free streaming option), so I'm afraid you'll just have to bear up through the ad barrage. For Killing Eve, it's worth it.
---
Girls Gone Bad
Question: What is your opinion on NBC's Good Girls? I've watched the first five episodes and I'm still on the fence. The three leading ladies have zero in common, with the exception of needing money desperately. Suburban moms working for gang bangers to earn cash for a sick child's medical expenses, legal bills in a child custody case, and saving a home from foreclosure because an inept cheating husband got them deep in debt. Now said husband is faking cancer. Each episode the girls say they are getting out only to double down on the illegal activities. Do you think this show has a future if it evens out? — Dawn
Matt Roush: My opinion hasn't really changed since I first reviewed the show, which wraps its first season April 30, in that I have issues with Good Girls' uncertain tone between broad suburban satire and actual crime drama. Love the primary cast, but it often feels to me more like a show that's Breaking Silly, and even when the stakes are high (like with Ruby's daughter's health crisis), I rarely feel the urgency or the comedy. I've fallen behind a bit, and if it's not renewed, I probably won't bother to catch up. The series was pretty heavily promoted during the Olympics, and hasn't capitalized on its Voice lead-in, so I'd say the chances for it to get a second season to figure itself out are pretty iffy. These days, you just never know.
---
Benny and the Whats?
Question: The Elton John tribute on CBS could have been much better if you could actually hear the singers. The fact that the band drowned out the singers in this day and age is an indication of the skill of the sound team. I would have loved to hear Miranda Lambert, but was only able to hear a few lines. And Elton's songs are known for their words. and those few singers that could be heard could not be understood. Is anyone taught how to enunciate anymore? The best performance, in that you could hear and understand the lyrics, was Lady Gaga. My opinion of her goes up. — Eloise
Matt Roush: I wasn't able to watch, so can't comment whether this was an actual technical issue or more a matter of taste regarding the interpretations of the Elton John songbook. I am sorry I missed Lady Gaga's rendition of "Your Song," though. This does, however, call to mind the bottomless pit of complaints I get every week about the sound quality of shows where musical underscoring drowns out the dialogue. I can't publish these gripes every week, but know you're not alone in your misery.
---
Fate of Fox's Sunday Sitcoms
Question: With Brooklyn Nine Nine's time change, do you think this might have saved this brilliant show and there will now be a new season for the next TV year? — Charlotte
Matt Roush: Moving Brooklyn back to Sundays, where it belongs, has probably raised the show's profile, it not its overall ratings. This has always been something of a cult hit, and we're lucky to have had it for five full seasons (albeit stop-and-start some years). The Fox network is in flux these days, and it's unclear which series will continue on Fox if the Disney takeover of 21st Century Fox (which doesn't include the broadcast network) goes through. Brooklyn is produced by Universal, so it's possible if Fox drops it prematurely, NBC or one of its offshoots could pick it up.
Question: What the hell is happening with Ghosted? — Unsigned
Matt Roush: The correct term is limbo, which is a different sort of hell. Fox pulled Ghosted to give Brooklyn Nine-Nine its new Sunday berth, and hasn't announced when the remainder of the first season (including episodes with a new show-runner) will air. It's looking like it could be burned off over the summer, which makes a second season look like a remote possibility.
That's all for now. We'll pick up the conversation again soon. Thanks as always for reading, and remember that I can't do this without your participation, so please keep sending questions and comments about TV to [email protected] or shoot me a line on Twitter (@TVGMMattRoush), and you can also submit questions via the handy form below.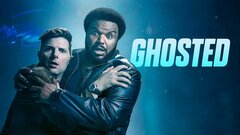 Ghosted
where to stream