'Instinct': The New Crime Series Isn't Your Average Procedural Drama
It's an early December morning at the Brooklyn soundstage where CBS's latest procedural, Instinct, is filming. Dylan Reinhart (The Good Wife's Alan Cumming)—a brilliant criminal profiler turned university professor—and NYPD homicide detective Lizzie Needham (Bojana Novakovic) are trying to crack the curious case of a victim who was found dead with a shaved head and a mouth stuffed full of bread. As they follow the trail of proverbial crumbs, the duo exchange playful barbs and finish each other's sentences. Finally, they home in on a suspect, and their eyes lock in a triumphant, conspiratorial gaze.
Ordinarily, this brand of on-the-job chemistry between costars would be a clear signal to the audience of the predictable push-pull ahead, eventually culminating in an inevitable romance. Except on this show, that day will never come, because Lizzie is heartbroken over the death of her former partner—and Dylan is gay. "Dylan and Lizzie's dynamic has fun tension, but it's not sexual tension," confirms executive producer Michael Rauch (Royal Pains). "There's no 'Will they or won't they' here."
See Also
Cumming reflects on portraying the first gay character in a lead role in a network TV drama.
In fact, this series—based on a novel by James Patterson—marks the first time that a network drama features a gay character in the lead role. "Because of that, we have an awesome responsibility," acknowledges Cumming. But while Instinct is unquestionably breaking new ground, he's quick to point out that Dylan's sexuality isn't front-and-center—rather, it's being treated as incidentally as if he were any of the scores of straight folks on TV. "Dylan just happens to be gay," Cumming says. "Of his traits and characteristics, it's probably the fifth down on the list to mention."
At the top of that list: Dylan is a former musical prodigy with a phonographic memory—meaning that after he hears a sound, he can recall it perfectly—and an uncanny knack for tapping into the twisted psyches of villains. "He's able to see the world through an abnormal lens, which allows him to understand the minds of sociopaths and psychopaths," Rauch says. When we first encounter Dylan in the premiere, his gift has been languishing. He's safely ensconced in the world of academia, having walked away from a treacherous career in the CIA to settle down with his husband, Andy (Daniel Ings).
Alas, domestic bliss has its drawbacks, as noted by Dylan's editor (Whoopi Goldberg), who points out that the pages he's been turning in for his second book about criminology are a total snooze. (The first one was a lauded bestseller.) So it's only fitting that he perks right up upon meeting Lizzie: She's been tracking a serial killer with a specific MO that makes Dylan uniquely qualified to lend a hand. And—presto!—a fast-talking, crime-solving odd couple is born. "I don't want to compare us to anyone else. It's not Mulder and Scully or Watson and Holmes," Novakovic says. "It's Dylan and Lizzie, and it's unlike anything I've seen."
During the season, they'll evolve from strangers to de facto brother and sister as they tackle a range of unorthodox whodunits with laughs along the way. "There's a screwball quality to our cases—this isn't Law & Order: SVU," Cumming says. "I shot a glass of iced tea out of Whoopi Goldberg's hand and we did a scene in a barn where I was tackled by a woman with a sickle. The campiness is great."
See Also
Pics include a first look at Whoopi Goldberg in her guest-starring role.
Of course, it won't be all fun and games. Lizzie may look like a tough cookie, but she's still grieving her lost partner—and her mental state could get worse before it gets better. "It's going to be an emotional roller coaster as she deals with stuff about her past and family," says Novakovic.
Meanwhile, Dylan's reentry into the risky realm of catching baddies will have ramifications, like ghosts from his CIA days resurfacing and an extremely worried hubby. "There's a conflict between Dylan's need to live in danger versus the promise that he made to his spouse to be more safe," Rauch says. "That comes to a head."
See Also
'It's incredible, and awful, that it's taken this long,' says the actor.
The pair's fate remains to be seen. The same could be said for Instinct as it heads into uncharted territory—on the highest-rated (and arguably most traditional) network, no less. "It's exhilarating and terrifying to imagine how some of our storylines will be received," Rauch says. "There aren't any examples for us to look to, because it hasn't been done." But Cumming is cautiously optimistic. "Obviously, some people out there are going to be like, 'What the hell? We can't have that on our CBS procedural show!'" he says. "Hopefully we can change their minds."
Instinct, Series Premiere, Sunday, March 18, 8/7c, CBS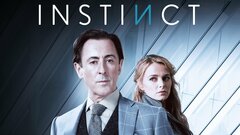 Powered by