Roush Review: 'Good Girls' Go Bad, Global Crime in 'McMafia,' Perils of 'Living Biblically'
With the Olympics no longer dominating the schedule, the rest of TV comes back to life with a vengeance, with a torrent of new and returning series this week. Here's a quick look at three of Monday's higher-profile premieres:
Girls Gone Bad
You couldn't ask for more appealing partners in crime than the leading ladies of NBC's Good Girls, even though their wacky capers tend to break more silly than bad. After three episodes of misguided choices and uncertain consequences, I'm still not sure whether to laugh with, or at, this lightly suspenseful dramedy of financially and emotionally strapped suburban moms who turn to hapless larceny to make ends meet.
I'm sold, though, on this cast, led by Mad Men's Christina Hendricks as Beth. This wronged and, yes, desperate housewife finds inner steel in her negotiations with a gangster (Manny Montana) whose loot they inadvertently stole during a slapstick-y grocery-store burglary. Retta (Parks and Recreation) is a delight as the more grounded Ruby, fending for a sick child and always there for a reality check: "You're going to tell the man with the crying skull tattoo that Friday doesn't work for you?" Mae Whitman (Parenthood) has the unenviable task of playing the aggravatingly unreliable single mom Annie, caught in a lopsided custody battle. You feel for her, but she really shouldn't be asking anyone, "Who is the adult here?"
Even at its most ridiculous, Girls is good company, but I was kind of hoping for great.
Good Girls, Series Premiere, Monday, Feb. 26, 10/9c, NBC
---
Small and Crooked World
The scope is simply staggering in AMC's McMafia, an ambitious drama about the deadly business of organized global crime, iwith location filming in London, Croatia, Mumbai, Belgrade, Moscow, Prague, Istanbul, Cairo, Tel Aviv, Paris and Belize. You'd think with all of that scenically dizzying travel, the storytelling would be a little less inert.
Though always intelligent and generally compelling, McMafia (a too clever-by-half title) follows the punishingly slow and predictable descent into corruption of banker Alex Godman (Grantchester's charismatic James Norton, mistaking sulky for serious). Russian-born and British-raised, Alex has kept his own private fund separate from his family's shady past, until a fatal clash with a vengeful Moscow mobster (Merab Ninidze) aligns Alex with a cagey Israeli investor (David Strathairn, using a bizarre and shaky accent).
A sex-trafficking subplot adds a human dimension to the brutal yet somehow bloodless entanglements, and a harrowing sequence in the fourth episode, when hackers attempt to disrupt a heroin shipment, suggests a more exciting series waiting to break out. For now, though, this seems a McMiss.
McMafia, Series Premiere, Monday, Feb. 26, 10/9c, AMC
---
By the Book
In the beginning, there was the laugh track. Oh wait, that's apparently from CBS's sitcom how-to bible, which doesn't deliver much in the way of divine inspiration in the new comedy Living Biblically, based on journalist A.J. Jacobs' whimsical account of having spent a year trying to obey the Bible literally. "To the letter," affirms his TV alter ego, Chip Curry. Biblically is at least blessed with the rumpled charms of Jay R. Ferguson (Mad Men, the dad on last season's The Real O'Neals) as Chip, a lapsed Catholic who goes on this quixotic and holy "soul cleanse" when his world is rocked by the death of his best friend and the pregnancy of his skeptical doctor wife (a generic Lindsey Kraft).
For guidance, Chip turns to two glib men of the cloth: Father Gene (Ian Gomez) and Rabbi Gil (David Krumholtz), who sound and act like they ought to be in vaudeville, awaiting a rim shot after each wisecrack. At least their shtick resembles comedy, which is more than you can say for the antics in Chip's fantasy newspaper workplace, where he's a movie critic hounded by Camryn Manheim as his bellowing boss.
The set-up is promising, with Chip wondering how to apply rigid Old Testament rules to his 21st-century life. (Seriously, dude, just move past Leviticus.) It's a passable sight gig when, to adhere to ancient rules about not mixing fabrics, he shows up at work all in white—less so when someone describes it as "business casual ghost"—but when the office lech brags about his adultery, what to do about that stoning mandate?
Here's a revelation: I'm giving this one up for Lent.
Living Biblically, Series Premiere, Monday, Feb. 26, 9:30/8:30c, CBS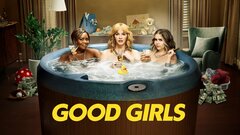 Powered by
McMafia
where to stream
Powered by