'Instinct': Alan Cumming on Being the First Openly Gay Lead Character in a Network TV Drama
Nobody ever said that maintaining a work-life balance was easy, especially Dylan Reinhart (The Good Wife's Alan Cumming), the former CIA operative at the forefront of CBS's new procedural Instinct. Dylan gave up his high-octane career for the love of a good man—he's a happily married author and professor now—but when the NYPD needs his help to stop a serial killer, playing house loses its luster. Cumming explains.
Dylan has a devoted husband and a cushy gig. Why return to the criminal-catching fray?
He tried to change, but there's a little wanderlust left in him—with a background like his, it's hard not to be drawn back in!
This is the first openly gay lead character on a network drama series. Do you anticipate any objections?
It's incredible, and awful, that it's taken this long. Anyone who would object probably hasn't known gay people or been witness to a same-sex couple. By showing a positive, loving relationship, hopefully we can change minds.
How are you adjusting to the case-of-the-week aspect?
I really love the fact that a major part of my life is now spent stepping over dead bodies. I just sold a place that I owned in [my native] Scotland, and I basically did the whole negotiation over the phone while a corpse was lying at my feet. It was hilarious!
Instinct, Series Premiere, Sunday, March 18, 8/7c, CBS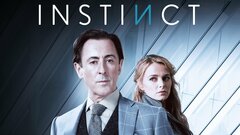 Powered by