'Trust' Creator Simon Beaufoy Talks His Dark Comedic Twist on the Getty Family
Creator and executive producer Simon Beaufoy describes the pilot of his new FX drama Trust as "Downton Abbey on acid."
Directed by Danny Boyle (Slumdog Millionaire), the series centers on eccentric oil tycoon John Paul Getty Sr. (Donald Sutherland), who is ensconced in an old English country manor wallowing in disappointment over his adult sons' recent forays into drugs and antiquities, with only four mistresses, a taciturn butler and a pet lion for company.
See Also
March brings the return of critical favorites to the prestigious network.
Did we mention this actually happened? "The extraordinary parts to the story are true," Beaufoy says. And it gets a lot weirder from there.
The Getty scion's relatively quiet existence is disrupted by the arrival of his grandson John Paul Getty III (Harris Dickinson). The teen owes a lot of money to some shady characters, and after Gramps refuses to fork over the cash, young Paul teams up with the people he owes to fake his own kidnapping in the hopes of splitting the hefty ransom. One glitch: Getty Sr. refuses to pay up.
Unlike the recent big-screen adaptation of the 1973 Getty abduction, All the Money in the World, Beaufoy has injected Trust with a wry, comedic tone. "It's a dark-hearted caper," he explains. "There was a kind of ridiculousness to the whole business."
Of course, not everyone involved is as emotionally divested. Brendan Fraser plays Getty Sr.'s Stetson-wearing, God-fearing head of security, who tries to find the boy in earnest. And Oscar winner Hilary Swank stars as Getty III's devastated mother, Gail.
Despite the show's rollicking tone, Trust is "about consequences," Beaufoy says, "when people have the most money and the least empathy."
Trust, Premiere, Sunday, March 25, 10/9c, FX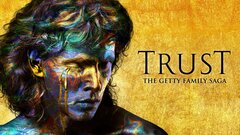 Trust
where to stream
Powered by