'Trust' Star Brendan Fraser Describes Season Finale as 'Long Epilogue'
As the Stetson-wearing, fourth-wall-breaking fixer Fletcher Chace, Brendan Fraser has found a career-defining role on Trust.
The drama about the 1973 kidnapping, ransom and homecoming of wealthy scion Paul Getty (Harris Dickinson) wraps up its run tonight, with Chace — taciturn head of security for John Paul Getty Sr. (Donald Sutherland) — back in the driver's seat to explain the far-reaching effects of what went down.
Fraser gives us a preview of the story's conclusion.
The penultimate episode, when Paul returns, basically serves as the season's climax. But Trust isn't done with Chace and the Gettys.
Brandan Fraser: The finale is a long epilogue. It takes a look at what everyone has been through and lets us know that things don't always turn out so pretty and perfect. And they didn't in this case.
Why do you think creator Simon Beaufoy decided to use your character as a guide for the audience?
Someone had to have the duty of explaining what's going on here, to make this accessible. He's a one-man Greek chorus.
He's also a reassuring presence.
He's loyal to the family, but he won't do anything that's nefarious or harmful. He's Mr. America! He wanted everyone to know he was there to find this kid. There's something reassuring about looking at the cowboy persona and feeling like, "Everything's gonna be all right as long as the sheriff is in town."
You've continued to wear your character's cowboy hat and boots in real life. Why?
It hooked into me! I didn't know I would be at home in a Stetson. Fletcher Chace is a brassy American and he needs to stand apart in this complex story.
Trust is reportedly going to be an anthology series. Would you return to play a different role in a different story?
I really want to answer that, but I don't know at this moment. I'm hopeful.
Trust, Season Finale, Sunday, May 27, 10/9c, FX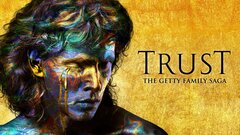 Trust
where to stream
Powered by