'The Good Doctor' Cast Talks the Show's Impact on Autistic Community & More
Maybe it should be called The Great Doctor. ABC's warmhearted drama starring Freddie Highmore as an autistic surgical resident has cemented its spot as the unquestionable smash of the current television season. The series finished 2017 as the fourth-highest-rated scripted show. But this is no fall fluke.
Coming back from its winter hiatus, The Good Doctor continues to earn massive primetime Monday ratings (9.63 million viewers on February 5), making it the alphabet network's biggest hit on the night in 21 years. That's nothing to sneeze at. Neither are the awards or accolades the show is getting from the autistic community.
"I'm surprised and heartened by its success," says executive producer David Shore (House), who adapted the series with the actor Daniel Dae Kim (Hawaii Five-0) from a popular South Korean drama. "This is a character networks would have been afraid to put on the air not that long ago. They would have thought that viewers couldn't empathize with him."
Shore attributes a lot of the instant-hit status to its diverse cast, led by the 26-year-old Highmore (Bates Motel). "Freddie is fantastic," he says. "It's important to us—and to him—that this be an accurate and fair portrayal of someone on the spectrum, and he works very hard to do that. But I'm not taking anything away from him when I say the lead of an ensemble show is only as good as the support he gets from the people around him. And we got ourselves some really talented actors."
Recently, six of them—Highmore, Nicholas Gonzalez, Hill Harper, Richard Schiff, Antonia Thomas and Tamlyn Tomita—gathered on the Vancouver set (in the fictional San Jose St. Bonaventure hospital's luxe boardroom) for a wide-ranging chat with TV Guide Magazine. They told us why they think the show resonates with viewers, what's coming up—and why we shouldn't expect these doctors to hook up in the supply closet any time soon.
The Good Doctor is huge! When you signed up for the pilot, were you confident that the show would be as successful as it has become?
Freddie Highmore (surgical resident Shaun Murphy): I think we were all confident that what we were doing was good. We were invested in it: Both the storylines and the characters were exciting. But you never know if that's going to translate into people tuning in. There's always a bit of throwing of the dice.
Did anybody have concerns that the audience may not find Shaun relatable as a protagonist because he's on the spectrum?
Tamlyn Tomita (hospital chairman Allegra Aoki): I thought that was the best part of it.
Richard Schiff (hospital president Aaron Glassman): I was drawn to The Good Doctor because my son is autistic. He is special and brilliant—but his challenges are extraordinary. We can all relate to the feeling of having challenges greater than what's fair.
Highmore: Shaun speaks not only to those who have autism, but to everyone who is somewhat different. Some may have a more direct connection because of someone close to them on the spectrum, but I don't think that's why a majority of people watch.
Do you think viewers were looking for something that had a more hopeful tone?
Antonia Thomas (surgical resident Claire Browne): It's not saccharine. The doctors make mistakes and things go wrong, but it is a drama about good people trying to do good things. That goes a long way at the moment.
Highmore: And we're definitely not politically correct all the time. We don't ram one opinion about Shaun down people's throats. We've seen the positive ways in which Shaun has influenced the hospital and those around him. But we've also learned that he has weaknesses. He isn't this all-saving hero.
Nicholas Gonzalez (attending surgeon Neil Melendez): No, that's Melendez! [Laughter]
Highmore: Everyone's opinion gets a fair shot. Including Melendez, who questions whether Shaun can survive in this high-pressure environment.
Still, a lot of people do believe in Shaun. Glassman—certainly a father figure—has always defended Shaun and Shaun's ability to operate despite his condition. But recent episodes have seen their dynamic shift as Shaun has demanded more independence. Where is that headed?
Schiff: The writers are like, "Glassman has to let Shaun go so he can grow and learn." But even a surrogate father like Glassman doesn't want his child to go through pain. Glassman's no all-wise Yoda, though. I think he has selfish reasons for wanting to maintain a certain kind of relationship with Shaun.
Will Shaun's newfound autonomy lead to a stronger bond with his fellow resident Claire?
Thomas: Their relationship is special because he can immediately see through her walls and her bulls–t. When he does that, she has to look at herself. It's not just Shaun who's changing.
Speaking of relationships: The Good Doctor tackles the characters' personal lives, but it's not the kind of show where doctors go for an afternoon quickie in a supply closet—as they have often done in other medical series. How come?
Thomas: David [Shore] seems less interested in that. It's kind of refreshing.
Hill Harper (chief of surgery Marcus Andrews): Allegra has a nice timely storyline about making relationship choices in the workplace.
Tomita: The show brings up issues that we all have to talk about.
Freddie, what's the hardest part of playing Shaun?
Highmore: I had to make bold choices on how to play Shaun from the beginning, and now there has to be a consistency. Hopefully, I haven't set off down the wrong path, because I can't double back now and be like, "I should have done something completely different!"
Tomita: It's amazing to watch you, Freddie. I've said it before. Our No. 1 on the show really, truly is No. 1. To see you at such a young age lead this cast and crew is really quite amazing.
For everyone else: Is it hard working with an actor whose character doesn't look you in the eye and sometimes barely acknowledges the person talking to him?
Highmore: That's what I've feared—that they have the tougher job!
Harper: I admit that I sometimes feel uncomfortable, thinking, "Oh, maybe I shouldn't look at Freddie." Because I could catch his eye and mess him up!
Has anyone observed a real surgery to get a feel for the technical aspects of it—like how to hold certain instruments?
Gonzalez: I shadowed my brother, who's a doctor, during Christmas break. I was in scrubs just watching. This one patient kept looking back at me over her shoulder. The nurse told me afterward that the lady was so excited because Dr. Melendez was scrubbing in on her surgery. She was like, "Wow, is he doing a visiting fellowship here?" [Laughs]
Highmore: "He's a real doctor?" [Laughs] I forget about the medical [specifics]. It's sort of like…of course, it's important, but it's not important, really! [Laughs]
Thomas: Headline from Freddie Highmore!
Gonzalez: "The medical profession isn't really important!" [Laughter]
Schiff: They live, they die, who cares?
Highmore: What I mean is the scenes aren't about that! The scenes are about the emotional content. You have to embrace that criticism, because no one's going to say, "This is the perfect depiction of a surgery."
Thomas: Yeah, we're not making a documentary here, are we?
Well, apparently, there are people in the real world who think you're all doctors, and there are some who think Freddie is really on the spectrum.
Schiff: Yeah, and there are also people out in the real world who think I'm actually bald! [Laughs] They're nuts out there!
The Good Doctor, Returns Monday, Feb. 26, 10/9c, ABC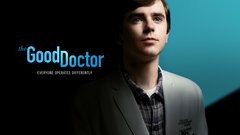 Powered by