Sam Waterston Returns to 'SVU,' Skinner's Past on 'X-Files,' a 'Waco' Gun Battle, Return of 'Queer Eye'
A selective critical checklist of notable Wednesday TV:
Law & Order: SVU (9/8c, NBC): A blast from Law & Order's past when Sam Waterston returns as the legendary Jack McCoy, which suggests something important is brewing in what promises to be a pivotal episode of the long-running crime drama. ADA Barba (Raul Esparza) is the catalyst for the conflict, interfering in an emotionally charged right-to-die case that puts the DA's office on the hot seat. Another familiar face emerges amid the brouhaha: Philip Winchester as prosecutor Peter Stone, formerly of NBC's short-lived Chicago Justice.
See Also
The cable network will flip the switch to become Paramount Network on Jan. 18.
The X-Files (8/7c, Fox): A must episode for fans of FBI stalwart Walter Skinner (Mitch Pileggi), whose past as a Marine during the Vietnam War returns to haunt him. When he goes missing, Mulder (David Duchovny) and Scully (Gillian Anderson) go in search, but not before being told by Deputy Director Kersh (James Pickens Jr.) that Skinner's career was probably held back because of his dedication to this unorthodox duo. But really, who can blame him? Especially once they come to his aid in a case involving Vietnam-era mind-control experiments. The monsters may not be real this time, but they're no less deadly.
Waco (10/9c, Paramount Network): A harrowing episode of the powerful limited-series docudrama opens with a terrifying gun battle when ATF agents storm the Mount Carmel compound of the Branch Davidians. As David Koresh (Taylor Kitsch) lies wounded, assessing the damage inside and outside the compound, thoughts of surrender turn to apocalyptic ravings, and FBI negotiator Gary Noesner (a restrained Michael Shannon) attempts to find a way to get Koresh and his followers out without more damage. Viewers, however, know the siege and standoff is just beginning.
See Also
The fashions and the hairstyles have certainly changed ... we're talking about you, Uncle Jesse!
Inside Wednesday TV: Netflix revives a classic reality-TV franchise after a decade off the air, transplanting Queer Eye (streaming Wednesday) to Atlanta and environs for eight episodes of "make-better" makeovers, counseling people who might lack certain essentials of confidence and style. The new Fab Five include Bobby Berk (interior design), Karamo Brown (culture), Tan France (fashion), Jonathan Van Ness (grooming) and Antoni Porowski (food and wine). … Another reality show gets a twist in CBS's alternative to the Olympics, Celebrity Big Brother (8/7c)—and we're using that "celebrity" title loosely—airing several times a week. The metaphor of Omarosa leaving the White House to this haven for C-listers speaks for itself. … TNT's The Librarians (8/7c) wraps its fourth season with Baird (Rebecca Romijn) trying to save the world from losing all knowledge. … As History's Knightfall (10/9c) concludes its first season, the Knights Templar wage a battle to the death against the Red Knights.
See Also
The TV exec calls the Netflix show a 'beautiful full circle moment.'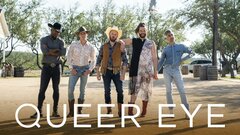 Powered by