'Queer Eye' EP David Collins Calls Netflix's Reboot 'True and Authentic' to the Original
Reality TV is about to become a little more stylish—and definitely a whole lot more culturally informed.
After 15 years off the air, the Emmy-winning series, Queer Eye, is returning with a new format, a new network in Netflix, and a new cast.
Series executive producer David Collins spoke with TVInsider.com about the revival and how it feels to be back on TV, transforming people's lives. "I'm humbled and so grateful to have this beautiful full circle moment in my life," says Collins, who worked on the original series that debuted on Bravo in 2003.
As for the new Fab Five? Meet Bobby Berk (Design), Karamo Brown (Culture), Antoni Porowski (Food/Wine), Jonathan Van Ness (Grooming), and Tan France (Fashion).
Collins recalled the intensive, grueling process behind finding the Five. "We had a big international search and that went on for almost five months," Collins detailed. "But we narrowed it down to our top 100. Then we narrowed it down to out top 50 and brought them to Los Angeles and put them all into one hotel which was crazy."
He continued, "We did all kinds of speed dating, meeting all of them. Ultimately, it was chemistry. [The men] all kind of linked hands early on in the casting process and looked at each other and said, 'We feel this.' You felt it."
Viewers can expect a few changes to the beloved show, as well. Of course, Queer Eye is now on Netflix, making the show one of the first unscripted original series on the streaming service. That means it will be commercial free with no leads in and lead outs. Also, according to Collins, we should expect more storytelling and to "get to know the Fab Five much better in his incarnation." The men spend a full five days with each "episodic hero," hanging out and having much more meaningful, in-depth dialogues.
"The show has always been about transformation through information and it's always been about comedy that has heart," reasoned Collins. "I really hope that continues. That we get to have some levity and laugh around some topics that need discussing. We've been saying, 'It's your life, design it well.' We get to have these guys come in and not do a makeover but do their make-betters. We all like to feel good about ourselves."
The EP's objective with the reboot (as with the original) is to always to promote tolerance and acceptance, and to show audiences how the five, diverse gay men can—and do—live robust lives. "It's been interesting to take a look back at the original guys and think they would have never been to talk about their husbands or boyfriends or kids," he says. "That's the cool part about the new Fab Five because Bobby's been married for 14 years and Karamo is a dad of two. Those elements are true and authentic. I love that our guys get to talk about being real gay men."
Queer Eye, Series Premiere, Wednesday, Feb. 7, Netflix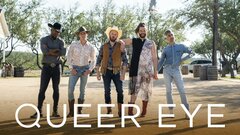 Powered by