5 Women Accuse James Franco of 'Inappropriate or Sexually Exploitative Behavior'
UPDATE:
James Franco has been accused of inappropriate or sexually exploitative behavior by five women, according to a new report by The Los Angeles Times. Four out of the five were his students at one point, while another said he acted has her mentor.
"I feel there was an abuse of power, and there was a culture of exploiting non-celebrity women, and a culture of women being replaceable," said Sarah Tither-Kaplan, according to the exposé. She was a former film student of Franco and was one of the women who, during the Golden Globes, tweeted her disappointed over his win.
Tither-Kaplan claims Franco, on the set of their 2015 film The Long Home, removed the protective guards women wear during a oral sex scene. Two other students also came forward alleging Franco became angry when the women on set didn't want to take their tops off on camera.
Hilary Dusome, who took a class taught by Franco in 2012, had a similar experience. She claims Franco acted inappropriately on set and she was also asked to take her shirt off for a commercial.
"I felt like I was selected for something based on my hard work and my merit, and when I realized it was because I have nice [breasts], it was pretty clear that was not the case," Dusome explained. "I don't think he started teaching with bad intentions, but he went down a bad path and damaged a lot of people in the process."
Another student of Franco, Katie Ryan, told The Times he "would always make everybody think there were possible roles on the table if we were to perform sexual acts or take off our shirts."
Franco and his attorney, Michael Plonsker, have denied the allegations, calling them "not accurate."
On Wednesday night, Franco made an appearance on Late Night with Seth Meyers and the host asked him to respond to the allegations. He said, "Yes, I was sent a couple of the tweets, so yeah, I did read them. I haven't responded. I think—well the ones I read were not accurate."
"There are people that need to be heard. I have my own side of this story, but I believe in, you know, these people that have been underrepresented getting their stories out enough that I will, you know, hold back things that I could say just because I believe in it that much. And if I have to take a knock because I'm not going to, you know, try and, you know, actively refute things, then I will, because I believe in it that much."
Franco currently has a show on HBO and in a statement to Deadline, the network said they haven't heard of any allegations made against him while on set. "We have verified that no complaints about Mr. Franco have come in on The Deuce production," HBO said.
ORIGINAL STORY:
On Tuesday night, while making an appearance on The Late Show with Stephen Colbert, James Franco was given the floor to respond to recent sexual harassment and assault claims made against him on Twitter.
The Deuce actor answered Colbert's questions about the tweets, which were spurred by the actor's choice to wear a Time's Up pin—promoting sexual harassment preventio—at Sunday's Golden Globes. "There were some things on Twitter, I haven't read them. I've heard about them," Franco stated to the late night host.
Those tweets were from actresses Violet Paley and Sarah Tither-Kaplan, whose claims include Franco exposing himself, inviting underage girls to his hotel room (on more than one occasion), and exploiting their bodies for his movies.
Cute #TIMESUP pin James Franco. Remember the time you pushed my head down in a car towards your exposed penis & that other time you told my friend to come to your hotel when she was 17? After you had already been caught doing that to a different 17 year old?

— Violet Paley (@VioletPaley) January 8, 2018
A couple weeks ago, James offered me & a few other girls an overdue, annoyed, convenient phone "apology". I don't accept, but maybe some other people's lives would be made easier if he donated all of his earnings from "The Disaster Artist" to @RAINN01.

— Violet Paley (@VioletPaley) January 9, 2018
Hey James Franco, nice #timesup pin at the #GoldenGlobes, remember a few weeks ago when you told me the full nudity you had me do in two of your movies for $100/day wasn't exploitative because I signed a contract to do it? Times up on that!

— Sarah Tither-Kaplan🌈 (@sarahtk) January 8, 2018
The 39-year-old actor also addressed allegations made by actress Ally Sheedy on the same night. Franco directed the Breakfast Club star in an off-Broadway play in 2014, and Sheedy has since insinuated that he's the reason why she left the entertainment industry.
During the Globes, the 55-year-old actress tweeted, "Why is a man hosting? Why is James Franco allowed in? Said too much" and "James Franco just won. Please never ever ask me why I left the film/tv business." She's since deleted both tweets.
"I have no idea what I did to Ally Sheedy. I have total respect for her. She took the tweet down, I can't speak for her," Franco told Colbert.
"The others, in my life I pride myself on taking responsibility for what I've done," he continued. "The things I heard are not accurate, but I completely support people coming out because they didn't have a voice for so long. I don't want to shut them down in anyway. I think its a good thing and I support it."
"I can't live if there's restitution to be made," he added. "If I've done something wrong, I will fix it. I have to. I don't know what else to do. As far as the bigger issue of how we do it, I really don't have the answers. I think the point of this whole thing is that we listen. I'm here to listen and learn and change my perspective where it's off. I'm completely willing and want to."
Watch his full explanation here: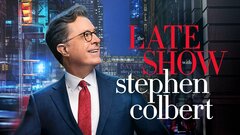 Powered by