Did Seth Meyers Nail His Golden Globes 2018 Opening Monologue?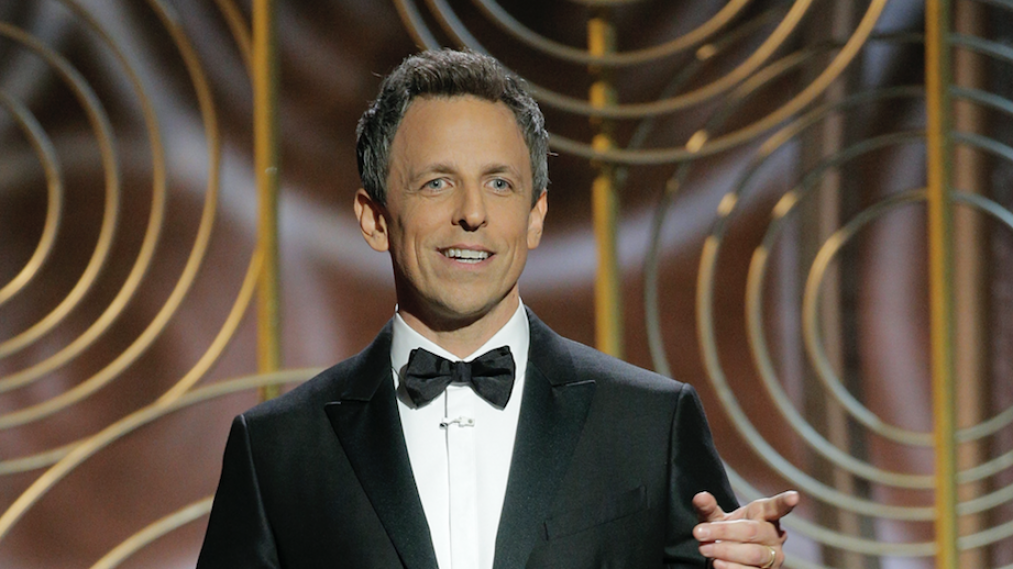 For this year's Golden Globes 2018 opening monologue, host Seth Meyers took on the difficult task of combining humor with sociopolitical awareness.
Yes, this year was difficult. The floodgates of sexual harassment accusations opened and offenders like Harvey Weinstein and Kevin Spacey were exposed. Over the course of a few months, hundreds of brave women came forward and told their stories of sexual misconduct in the workplace.
Tonight, women and men stood in solidarity by wearing black on the red carpet, with many stars wearing Time's Up pins to shed light on a new movement to help women who face "sexual assault, harassment and inequality in the workplace."
When it came time for his monologue, Meyers did not hold back. The late night host called out Weinstein, Spacey, and director Woody Allen for their behavior towards women in the film and TV industry.
Of course, Twitter erupted in a fury of opinions about whether or not Meyers was forceful enough or if he took the easy way out.
Some users were not impressed:
I'm reading so many tweets saying Seth Meyers is "actually doing not bad considering" and while that's true, can we stop hiring white guys who will do a "not terrible" job over women and/or POC who would knock it out of the park? #GoldenGlobes

— Lane Moore (@hellolanemoore) January 8, 2018
Seth Meyers jokes SUCK on the Golden Globe Awards!

— Dr.Darrell Scott (@PastorDScott) January 8, 2018
Okay, @sethmeyers, we get it. You really really really really hate your own race and your own gender. Next joke please. #GoldenGlobes

— Dylan Brandsema (@SneakyOstrich69) January 8, 2018
what if Seth Meyers did a version of "Jokes Seth Can't Tell" and just let a bunch of woman come out on stage and ROAST FOLKS #GoldenGlobes

— Carly Lane (@carlylane) January 8, 2018
Amy Poehler Saved Seth Meyers' Golden Globes Opening Monologue https://t.co/KEUJUBHSQ4 #GAY #NEWS #GLBT

— Gay News 365 (@gaynews365) January 8, 2018
While other couldn't appreciate him more:
Seth Meyers is doing an incredible job of walking the line acknowledging the issues without diminishing the issues by punching down and still actually being funny.

— Emerson Collins (@ActuallyEmerson) January 8, 2018
I am here for Seth Meyers naming Hollywood's sexual predators one by one and eviscerating them during this monologue. #GoldenGlobes

— Emma Gray (@emmaladyrose) January 8, 2018
This was a very difficult opening monologue for ANYONE to do, and @sethmeyers is nailing it!! #GoldenGlobes

— Perez (@ThePerezHilton) January 8, 2018
"For the male nominees in the room, it'll be the first time in 3 months you aren't terrified to hear your name read out loud," Seth Meyers not holding back in his opening monologue

— Elizabeth Landers (@ElizLanders) January 8, 2018
Thank you @sethmeyers for supporting our movement. "I look forward to you leading us to whatever comes next." #TIMESUP pic.twitter.com/hdaJDJtgIg

— Amber Tamblyn (@ambertamblyn) January 8, 2018
Harvey Weinstein will be back in 20 years, when he's the first person ever booed in the In Memoriam section," says Seth Meyers, who is killing it.

— Jacob Bernstein (@BernsteinJacob) January 8, 2018
Watch the entire monologue here:

What did you think o