'Lucifer' Star Tom Ellis Explains Why the Devil's Got Daddy Issues
The devil's going down to Southern California for one hell of a good time. In the new Fox drama Lucifer, Tom Ellis (Rush) stars as the titular lord of Hell who gets bored in the underworld and moves to Los Angeles to start anew as a nightclub proprietor. We put the heat on the charming British actor.
What is your show's new spin on the devil?
We're taking the epitome of evil and putting him in a redemption story. His main objective in life is to have fun and enjoy the finer things, but he wants people to take responsibility for their own actions instead of putting the blame on him. He has the ability to draw out people's deepest and darkest desires. But underlying all of this seemingly inconsequential fun is a daddy issue.
How so?
He was rejected by his dad and he bears that chip on his shoulder massively. His dad is represented in his brother, the angel Amenadiel [D.B. Woodside], so therefore he hates his brother as well.
RELATED: 5 Things You Should Know About Lucifer
Lucifer partners with LAPD detective Chloe Decker (Lauren German). Might there be romance between these two?
Coming from a successful TV show in the U.K. [the sitcom Miranda] about whether two people got together or not, we realized if they ever did, that would be the end of the show. But Lucifer feels compelled to Chloe and they help each other in a very roundabout way.
Since Lucifer lives a life of opulence, what is your favorite toy on set?
You'll notice how much Lucifer drinks. He has a very formidable Scotch collection. Fortunately, it's not real or I'd have no liver by the end of Season 1!
Lucifer, Series premiere, Monday, Jan. 25, 9/8c, Fox
RELATED: More New Shows Premiering in Winter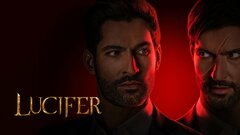 Lucifer
where to stream
Powered by