5 Things You Should Know About the Devilish 'Lucifer'
The devil is heading to the City of Angels on the new supernatural procedural Lucifer. When the lord of Hell (Rush's Tom Ellis) gets bored with his post, he moves to Los Angeles and becomes the proprietor of a swanky Hollywood nightclub while helping Detective Chloe Decker (Lauren German) solve crimes. Executive producer Joe Henderson breaks down all the devilish details.
RELATED: More New Shows Premiering in Winter
1. The character rose from the pages of Vertigo Comics. Lucifer Morningstar first appeared as a supporting player in a 1989 issue of The Sandman written by Neil Gaiman before being spun off into his own comic series by Mike Carey in 2000. "But we've been given a lot of license to make it our own," Henderson says. "What we're carrying over is the personality of Lucifer and the idea that he is less the embodiment of evil and more of a wayward son who just wants to live his own life."
2. Ellis is irresistible. The 37-year-old Welsh actor is poised for a major breakthrough as he brings his charm, wit and dashing good looks to make the character mischievously likable. "He is so good at turning a phrase while adding a sense of darkness and innocence all mixed into one," Henderson raves. "He takes a guy who could be outlandish and gives him a bit of soul."
RELATED: 8 TV Devils Who Make Being Bad Look Good
3. The mythology is deep. As Lucifer settles into his new digs on Earth, viewers will learn more about his life back in Hell, thanks to regular visits from his brother, the angel Amenadiel (D.B. Woodside), who comes with plenty of family drama. "It's this huge mythological dynamic of angel versus devil, but in reality it's just two brothers fighting and one of them trying to impress his dad," Henderson says.
4. The romantic tension is red-hot. Lucifer finds an unlikely ally in Decker in the series opener when the two team up to track down a pop star's murderer. But could the partnership evolve into a deeper relationship? "We're definitely going to play with that," Henderson promises. "I love building a friendship off the eternal teenager and the girl who grew up too fast and letting that potentially turn into something more."
5. Rachael Harris steals the show. The Daily Show alum plays Linda Martin, Lucifer's therapist, who is inappropriately infatuated with her new patient. "She brings a sense of humor but also a sense of gravity," Henderson says. "We get to see the devil himself in therapy."
Lucifer, Premieres Monday, Jan. 25, 9/8c, Fox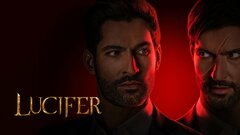 Lucifer
where to stream
Powered by