WATCH: New 'Marvel's Runaways' Trailer Is Super-Powered by Awesome
Take a solid teen drama, a twisty conspiracy thriller, some really bad parents, superpowers and a couple of dinosaurs and you have Marvel's Runaways.
The Hulu original based on the comic-book tales of a group of former childhood friends torn apart by a tragic loss and brought back together by a terrifying discovery about their folks comes with an A+ pedigree (Gossip Girl tag-team of Josh Schwartz and Stephanie Savage) and the streaming-service freedom to be a lot bolder and way more cheese-free than their inhumanly sanitized network counterparts.
It also features cinematic special effects, GG-worthy tunes and a killer trailer, which just dropped with footage from the instantly addictive first four hours of the 10-episode season.
Checkout the Marvel's Runways trailer below:
Clearly, the kids—including Faking It's Gregg Sulkin, One Day at a Time's Ariela Barer and Teen Wolf alum Rhenzy Feliz—are not all right after spying their parents pulling off a creepy culty sacrifice, but it turns out the squad may have other things to worry about as well, like having nascent abilities that could get them (and a lot of other people) killed if they aren't careful. Hopefully, they proceed with a bit of caution, because this is a show we are already hoping will be around for a while.
 Marvel's Runaways, Series Premiere with the first three episodes, Tuesday, Nov. 21, Hulu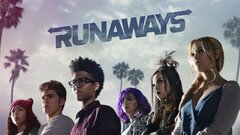 Powered by