Hulu Releases 'Marvel's Runaways' Trailer, Screens First Episode at New York Comic Con
Hulu's Marvel's Runaways panel at New York Comic Con got wild on Friday night when the network surprised con-goers with the world premiere of the series (plus, a teaser clip of the rest of the 10-episode season).
From showrunners Stephanie Savage (Gossip Girl) and Josh Schwartz (Gossip Girl, Chuck), the comic book-based series follows a group of six teens who discover their parents' secret cult-like group called Pride and have to face the repercussions of that discovery. The series stars Rhenzy Feliz, Lyrica Okano, Virgina Gardner, Ariela Barer, Gregg Sulkin (Faking It), and Allegra Acosta.
contentcards url="https://www.tvinsider.com/497561/once-upon-a-time-season-7-new-york-comic-con/"]
The group of teens—old friends who fell out of touch after a tragedy befell their group—find themselves obtaining abilities like super-strength or magical powers. Oh, and there might be a few creepy creatures too. If you've read Brian K. Vaughan, Adrian Alphona, and Christina Strain's Runaways comic, you'll know what we mean by that.
Check out the trailer below for more on the mysterious teen drama.
Marvel's Runaways, Series Premiere, Nov. 21, Hulu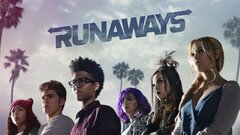 Powered by