The Campy 'Ash vs. Evil Dead' Will (Literally) Raise Hell on Halloween
You can't keep a good man down. Especially one who won't grow up.
"He hasn't changed with the times, that's for sure!" says Bruce Campbell, happily suiting back up as horror-film icon and dim-witted demon hunter Ashley "Ash" Williams for Starz's sequel series Ash vs. Evil Dead (fittingly premiering on Halloween). "That's what I like about him. He has no appreciable skills."
Save for maybe his ability to inspire fan loyalty. Long before he was stealing scenes on USA's late hit Burn Notice, Campbell and his godlike jaw rose to the sort of cult status some actors eschew, thanks to his tongue-in-cheek turns in the campy horror-coms The Evil Dead (1981), Evil Dead II (1987) and Army of Darkness (1993). While the crowd that's rooted for his lothario loser since he first invoked the demonic forces by reading from the mythical Book of the Dead has surely changed over the years, their collective calls for more Ash have not. Which is exactly why Campbell is getting groovy with the ghouls again: He knows he has the fans to thank for his career and wants to give them something back. "This is a love letter to them," he confesses, explaining that the move to TV delivers way more to the devoted masses than another big-screen sequel. "In the first season, we're doing five and a half hours of new material. It took us 12 years just to get [three movies]. So this is the way to give fans a long-lasting stream of Evil Dead."
The love is also on tap off camera, where Campbell has reunited with childhood friend and the trilogy's writer-director, Sam Raimi (the man behind the original Spider-Man movies), to make sure that Ash's return was done right and for the right reasons. "This is not some cheesy, cigar-chomping producer who is going to crank this thing out [for the money]," Campbell says. "We got the Grand Poo-Bah to direct [the pilot], to guide us and give us street cred." Fellow Dead producer and Raimi's longtime producing partner, Rob Tapert, is also on board as an executive producer to maintain the franchise's out-there tone.
RELATED: (Video) Sam Raimi Hints at Ash's 'Tiny Bit of Nobility'
In fact, it was the show's mix of macabre and madcap comedy that won Starz over. "Evil Dead has always been an unrated gorefest with outrageous visuals and crazy goings-on that are really suited for drive-in theaters," says Raimi, shockingly mild-mannered for a man who once shot a scene from the perspective of an eyeball flying into the mouth of a screaming ingenue. "Normal network TV doesn't want that type of entertainment on its airwaves and regular cable didn't seem to either. This is a unique experience that goes over the top with its gore and black humor, and Starz realized they had an audience for it." Even better, the network didn't try to water down the franchise's weirdness. "Starz is a tremendous partner on this," Campbell raves. "They're not breathing down our necks. They're not tormenting us."
He has enough of that on screen. Picking up 23 years after Army of Darkness, the hilarious, blood-soaked opener finds our one-handed hero (he chain-sawed off the possessed appendage in Evil Dead II) still working stock at a low-end superstore, still chasing skirts and still cracking bad jokes. In fact, the one thing Ash isn't doing anymore is battling demons, since it seems they have left him alone since the last movie. That quickly changes after an ill-fated night of partying in his rickety Airstream trailer ends with a chemically altered Ash cracking open his old haunted book (known to diehards as the skin-bound Necronomicon Ex-Mortis) to impress a lady—literally raising hell once again.
This time, however, he won't have to undo his supernatural damage alone. By the time he's fended off the likes of a diabolical doll and a Satanic granny in the first episode, Ash is strapping on his chain saw prosthetic and ready to kick off the show's central Deadite-hunting road trip with sidekicks Pablo (Ray Santiago) and Kelly (Dana DeLorenzo), a pair of coworkers weirdly willing to join this dopey warrior's crusade. "There is a mystical thing about him that they can't deny," Campbell jokes. "It's just one of those crazy things. You shouldn't be friends with Jim Morrison, but you have to be. Otherwise, you'd miss out on being friends with Jim Morrison!"
As for enemies, angry souls aren't the only ones who want a piece of the much-abused Ash. Tough-talking cop Amanda Fisher (Sleepy Hollow's Jill Marie Jones) is bent on linking him to the gruesome murder of her partner, and Lucy Lawless—who starred in Xena: Warrior Princess opposite recurring guest star Campbell and is married to Tapert—is set to bring a whole lot of pain as Ruby, a mysterious badass with a link to the Evil Dead mythos. "Her dad was the original holder of the Necronomicon in the movies, and her whole family was wiped out," Lawless reveals, adding that filming in her native New Zealand was as much a draw as the chance to mix it up with her pal Campbell again. "When they said there's a role out there for me, it was wonderful. And Bruce thrills me—I love him so much," she raves. "I rate him really highly on every level."
Just don't expect to see that affinity play out on screen. Ruby's tragic past (set to unfold over later episodes) has left her feeling only hate, not heat, for Ash. Besides, "she knows he's an idiot," Lawless says. "Ruby has a big old chip on her shoulder and wants to grind Ash into the ground. It's my great pleasure to be punching Bruce in the face."
And that's just fine with Campbell, as well. The bloodier the bruises and the more twisted the body parts, the better. "The audience knows that if Ash is all warm and fuzzy, then Sam Raimi is not doing his job of tormenting me," he says with a laugh. "And the good news [about the show] is, there is no shortage of torment and pain and agony!"
 Ash vs. Evil Dead, Series premiere Saturday, Oct. 31, 9/8c, Starz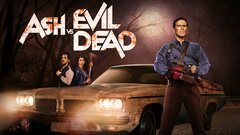 Powered by