'Ash Vs. Evil Dead' Cast Hunts Down Ash's 'Tiny Bit of Nobility' (VIDEO)
https://player.waywire.com/?id=KGHLKR2C7FR9VDLF
Bruce Campbell returns to form as an (aging) Ash Williams in the upcoming Starz series Ash Vs. Evil Dead, based on Sam Raimi's Evil Dead franchise. For fans of the original movies, here's what they can expect from the newcomers fighting demons alongside Ash.
As Ruby Knowby, Lucy Lawless plays a woman with an axe to grind with Ash, who believes he's responsible for her family's demise. "It's my great pleasure to just be punching Bruce in the face all season long," joked Lawless.
Also joining the hunt for evil are Ray Santiago (Pablo Simon Bolivar) "an idealistic guy who's Ash's…biggest cheerleader," said the actor. DeLorenzo (Kelly Maxwell), Pablo's tough and sarcastic best friend, also gets dragged along for the ride. And Jill Marie Jones (Amanda Fisher) stars as a Michigan State Trooper who's on the hunt for Ash.
So what do these sidekicks think of Ash? They see "way down, a tiny bit of nobility," shared Raimi. "Some good person that's willing to stand up against the evil." Added Campbell with a grin, "Write that down, 'Ash is noble.'
Watch the video above to learn more about the painful bloody effects and how Raimi feels about handing off work to other directors.
Ash Vs Evil Dead, premieres Saturday, Oct. 31, 9/8c on Starz
---
Questions? Ask Critic Matt Roush!
TV critic (and occasional TV therapist) Matt Roush answers viewer questions and concerns in his Ask Matt column each week. Wondering about plots, characters and twists on your fave shows? Submit your query to Matt via the form below: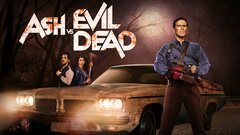 Powered by