'Ash vs. Evil Dead's Bruce Campbell and Lucy Lawless Are Having a Bloody Good Time (VIDEO)
https://player.waywire.com/?id=RWB10710FF6ZQC5R
The world of Ash vs. Evil Dead may be dark, dreary and demonic, but Bruce Campbell (Burn Notice) and Lucy Lawless (Xena: The Warrior Princess) manage to serve up some sarcasm and humor on and off the set.
The co-stars (who hadn't worked together in 15 years!) stopped by the TV Guide Magazine/TV Insider yacht at Comic-Con this year to preview their upcoming series, which airs on Halloween. And because of the spooky holiday season, Lawless warned the show will be "a jolly splatterfest." Added Campbell, "scary stuff happens. blood flows," but there will still be funny lines and scenes.
The co-stars' chemistry was evident in their off-kilter banter and interactions. Watch the video above to see Lawless and Campbell deadpan (and slap) their way through answers about their Comic-Con memories and encounters.
RELATED: More Comic-Con Features | Video chats with the casts of American Horror Story: Hotel, Grimm, Scream Queens and more.
Questions? Ask Critic Matt Roush!
TV critic (and occasional TV therapist) Matt Roush answers viewer questions and concerns in his Ask Matt column each week. Wondering about plots, characters and twists on Ash vs. Evil Dead? Submit your query to Matt via the form below: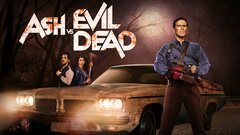 Powered by