'Ash Vs. Evil Dead' Went Through a Beer Keg of Blood—Yes, an Entire Beer Keg!
https://player.waywire.com/?id=N16SQ52RQ4372ZHV
There's no doubt the upcoming Ash Vs. Evil Dead series, based on the movies from horror-meister Sam Raimi, is heavy on camp and heavy on the bloodbath. Just how heavy on the blood? The stars, Bruce Campbell (returning as Ash) and Lucy Lawless (as Ruby Knowby) revealed there was a beer keg on set filled with blood—that emptied rather quickly!
Lawless joked, "Next season, we're going to up the ante with a fire hose."
Watch the clip above with Campbell, Lawless and Raimi reminiscing about their days on set.
RELATED: Bruce Campbell and Lucy Lawless Are Having a Bloody Good Time
---
Questions? Ask Critic Matt Roush!
TV critic (and occasional TV therapist) Matt Roush answers viewer questions and concerns in his Ask Matt column each week. Wondering about plots, characters and twists on your fave shows? Submit your query to Matt via the form below: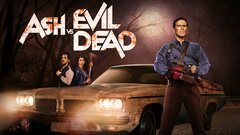 Powered by